As an Amazon Influencer, we earn from qualifying purchases you might make if you click any of the links on this page.
Pros & Cons
Pros of Asus Prime Z690-A:
Future-Proof: Supports latest technologies including DDR5 RAM and PCIe 5.0, making it ready for upcoming advancements.
Strong Performance: Robust power delivery components ensure stable operation and high performance, even under heavy loads.
Exceptional Durability: High-quality materials and excellent build quality ensure long-term durability.
Effective Cooling: Comprehensive cooling solution including active chipset heatsink and hybrid fan headers maintain optimal system temperatures.
Impressive Aesthetics: Sleek design with customizable RGB lighting to enhance the visual appeal of your PC build.
User-Friendly BIOS: Easy to navigate and offers plenty of customization options for both new and experienced builders.
Eco-Friendly: Focus on energy efficiency reduces the board's carbon footprint and can help lower electricity bills.
Cons of Asus Prime Z690-A:
Pricey: Higher price point compared to many other motherboards in the market. However, the advanced features and performance may justify the cost.
Limited RGB Lighting: While customizable, the built-in RGB lighting is not as extensive as some other models in the market.
DDR5 Memory Support: While future-proof, DDR5 memory is currently more expensive and less available than DDR4, making it potentially more costly to utilize this feature right now.
Lacks Wi-Fi 6E: Despite its high-end feature set, it does not come with Wi-Fi 6E support, which could be a drawback for some users.
While the Asus Prime Z690-A brings the promise of reliability and performance, there are several facets to delve into that make it more than just a foundation for your Intel 12th Gen or even 13th Gen build.
Check These:
Why Should You Trust Us?
Navigating through the tech world is daunting, and choosing the right hardware can be a challenge. But you're in safe hands. This review is crafted by Konstantinos Chiotis, a seasoned tech expert who balances a passion for tech with a decade's experience in the industry. His expertise is fueled by a deep understanding of components like motherboards, GPUs, and processors, extending into the realm of PC building and gaming.
When Konstantinos makes a claim about a product, it's not just an opinion; it's an insight rooted in hands-on professional experience and an intimate understanding of tech intricacies. So when he compares the Asus Prime Z690-A and other models, you can trust that the analysis is backed by both technical understanding and real-world experience. We strive to provide trustworthy, detailed reviews, and with Konstantinos at the helm, authenticity and thoroughness are guaranteed.
Build Quality
Starting with the build quality, Asus has gone the extra mile to ensure the durability of the Prime Z690-A. It features a solid metal backplate for additional rigidity, a characteristic that isn't always found in this category of motherboards. This translates to a reliable platform that will resist flex and potential damage during installation or component swapping. The sturdy build quality extends to the components that Asus has chosen, reflecting the manufacturer's attention to long-lasting performance.
Aesthetics and Design
In terms of aesthetics, the Prime Z690-A features a minimalistic yet elegant design. Its color scheme is predominantly black and white, with occasional silver accents on the heatsinks. This neutral color palette makes it an excellent choice for various PC builds without clashing with the rest of your components. The sleek design is topped off with understated RGB lighting effects, offering a splash of color for those who want it, without overwhelming those who prefer subtler aesthetics.
Superior Sound Quality
For those who are into audio production or simply enjoy high-quality sound, the Prime Z690-A offers an impressive onboard audio solution. It boasts the Realtek ALC4080 codec, along with DTS:X Ultra support. This combination promises high fidelity audio playback and immersive 3D audio for games, movies, and music. The board also includes audio shielding and premium Japanese audio capacitors to ensure a pristine audio signal, free of interference.
Thermals and Overclocking
Another interesting aspect of the Asus Prime Z690-A is its suite of tuning and cooling options. Asus offers a rich assortment of tools in the BIOS for customizing performance, including AI overclocking for automated performance optimization. The board's layout has been designed to optimize heat dissipation, with a comprehensive set of temperature sensors, hybrid fan headers, and substantial heatsinks on critical components like the VRMs and M.2 slots. This means that whether you're pushing your components to the limit or seeking a quiet operation, the Prime Z690-A has you covered.
Connectivity And Storage
Speaking of customization, the Prime Z690-A provides a robust array of connectivity options for peripherals and storage devices. While it lacks built-in Wi-Fi, it makes up for it with plenty of USB ports, both in the rear I/O and through internal headers. It also supports Thunderbolt 4, which is a boon for professionals who use high-speed external devices. Multiple M.2 slots with heatsinks and six SATA ports also mean that users have extensive options when it comes to storage configurations.
The Prime Z690-A also makes a strong case for itself as a solid choice for content creators. The high-speed storage support, comprehensive connectivity, and robust performance tuning options make it a viable foundation for workstations. Whether you're into 3D rendering, video editing, or music production, the Prime Z690-A can serve as a sturdy base for your creativity.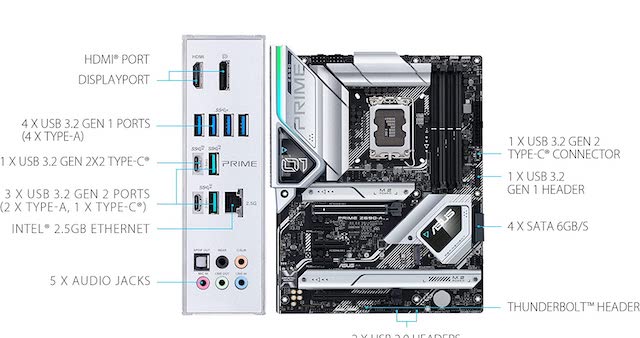 Networking
One aspect that sets the Prime Z690-A apart is the attention Asus has given to network connectivity. The board incorporates an Intel 2.5Gb Ethernet controller, providing ultra-fast network speeds for online gaming, streaming, or large file transfers. While it may lack built-in Wi-Fi, it does offer an M.2 E-key slot for users who wish to add a Wi-Fi card later.
Future Proofing
For users with a future-facing outlook, the Prime Z690-A offers excellent forward compatibility. Its support for PCIe 5.0 and DDR5 memory means it's ready for next-generation GPUs and ultra-fast memory modules. This makes the board an investment for the future, capable of accommodating upgrades without the need for a full system overhaul.
Enriched User Experience
Even with all these features, Asus hasn't forgotten about ease of use. The Prime Z690-A includes several user-friendly features, like the Q-LED system for troubleshooting, Q-DIMM clips for easy memory installation, and a BIOS FlashBack button for safe BIOS updates. Asus also offers a comprehensive software suite, including the Armory Crate for system control and customization, and AI Suite 3 for performance tuning.
The motherboard has a dedicated section for easy access to commonly used system controls, like power and reset buttons, an LED debug code display, and convenient clear CMOS button. This emphasis on user-friendly design is a welcome addition that makes the user experience more enjoyable and less frustrating.
Energy Efficiency and Versatility
One of the key areas the Asus Prime Z690-A excels in is energy efficiency. Equipped with a 14+2 power stage design, it ensures efficient power delivery to the CPU, even under extreme overclocking conditions. This design not only prolongs the motherboard's lifespan, but it also contributes to a more sustainable power usage, which can save costs in the long run.
Furthermore, the Prime Z690-A supports Nvidia SLI and AMD Crossfire for multi-GPU setups. This feature is a testament to the board's readiness to handle demanding graphics loads, a factor that will appeal to hardcore gamers and professionals in the field of 3D modeling or rendering.
Robust Security Features
Moreover, the Prime Z690-A offers robust security features to safeguard your data. With its self-recovering BIOS and integrated I/O shield, it offers a line of defense against potential threats. Coupled with its compatibility with the Asus Control Center Express software, it helps maintain system stability and data integrity.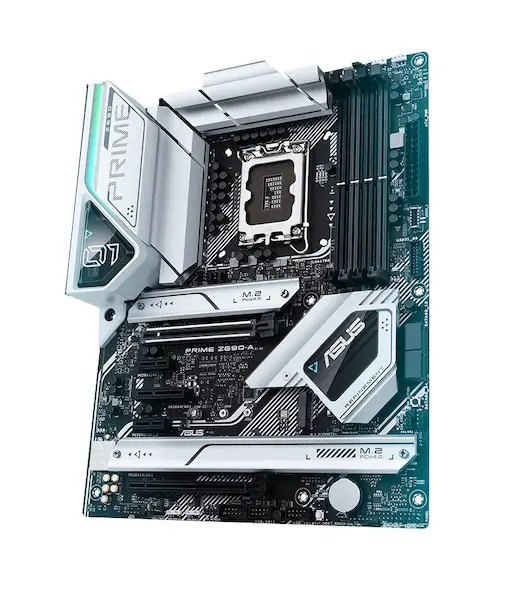 Software Enhancement and Customization
The motherboard also brings value in terms of software enhancement. It comes with the Asus AI Suite, a robust software package that lets you fine-tune various aspects of your system, from fan speeds to energy consumption. The Asus Aura Sync RGB software is another noteworthy feature, allowing users to customize their system's lighting effects to their personal preference.
Comparisons:
Asus Prime Z690-A VS Asus TUF Gaming Z690-Plus D4: The Asus Prime Z690-A outperforms the Asus TUF Gaming Z690-Plus D4 in various crucial aspects, such as higher RAM and overclocking speeds (4800MHz vs. 3200MHz and 6000MHz vs. 5333MHz, respectively). It also includes a TPM connector for enhanced security and supports DDR5 memory for increased future-proofing. Moreover, it provides more connectivity options with an additional USB 3.2 Gen 2 (USB-A) port and an extra USB 3.2 Gen 2 (USB-C) port.
On the contrary, the Asus TUF Gaming Z690-Plus D4 does offer one more PCIe x4 slot than the Prime Z690-A, which may benefit users requiring extra expansion cards. Thus, while the Prime Z690-A leads in performance and connectivity, the choice between the two will hinge on the specific user's needs and priorities.
Asus Prime Z690-A VS Asus Prime Z690-P: The Asus Prime Z690-A takes the lead over the Asus Prime Z690-P in several areas, including greater cooling support with an extra fan header, better connectivity with two more USB 3.2 Gen 1 (USB-A) ports, and an additional M.2 socket for storage expansion. Additionally, it offers two more USB 3.2 Gen 2 (USB-A) ports and an extra PCIe x1 slot, providing more room for peripheral devices and expansion cards.
On the other hand, the Asus Prime Z690-P provides more options for high-bandwidth devices with an extra PCIe 4.0 x16 slot and another PCIe 3.0 x16 slot compared to the Z690-A. It also offers more possibilities for expanded connectivity, with two additional USB 3.0 ports (through expansion) and two extra USB 2.0 ports. Therefore, while the Z690-A excels in general connectivity and storage expansion, the Z690-P could be a better choice for users needing more high-bandwidth and expansion capabilities.
Final Verdict: Who Should Buy Asus Prime Z690-A
The Asus Prime Z690-A is an efficient, reliable choice for users seeking a solid base for their Intel 12th Gen or even 13th Gen build. It's an appealing option for those focusing on raw performance, overclocking potential, and durability over extras like built-in Wi-Fi.
For professionals and creative individuals, this motherboard will serve as a sturdy platform for power-hungry applications, thanks to its robust VRM design and DDR5 memory support. The multiple M.2 slots offer room for high-speed storage, crucial for those dealing with large files and complex workflows.
Gamers, too, will find value in this motherboard. The support for PCIe 5.0, DDR5 memory, and a robust power design means it's ready for demanding game titles and future hardware upgrades. However, gamers who lean towards a highly connected experience may miss the built-in Wi-Fi, necessitating the use of a separate Wi-Fi card or Ethernet connection.
The Asus Prime Z690-A would also make a solid pick for hobbyist builders and overclockers. Its extensive BIOS and strong power delivery can help push Intel's 12th Gen CPUs to their limits. Furthermore, Asus' inclusion of user-friendly installation features like Q-Latch clips and ample space around the CPU socket add to the ease of assembly.
Who Shouldn't Buy Asus Prime Z690-A?
On the other hand, the Prime Z690-A may not be the best choice for users looking for top-tier connectivity or those with a tight budget. The absence of onboard Wi-Fi and a relatively higher price tag when compared to its competitors might turn these users away.
In conclusion, the Asus Prime Z690-A is an embodiment of versatility, reliability, and performance. From its outstanding build quality, high-quality sound, and cutting-edge connectivity to its forward compatibility, user-friendly design, and robust security features, it is a motherboard that covers all bases. Whether you're a gamer, a content creator, or simply a PC enthusiast looking for a reliable and future-proof platform, the Asus Prime Z690-A stands as a strong contender worth considering.
Latest posts by Konstantinos Chiotis
(see all)