Need help finding the best motherboards for Ryzen 5 5600G? Look no further!
Selecting the right motherboard is essential to get optimal performance with the Ryzen 5 5600G, one of the best budget APUs on the market. To ensure that we included only the very best motherboards in our roundup, we established a set of guidelines that prioritize factors such as the VRM setup, cooling system, modern connectivity and storage capabilities, aesthetics, and value proposition.
The VRM setup is especially crucial as it significantly impacts performance, particularly when overclocking the Ryzen 5 5600G. Our chosen motherboards feature high-quality components and an adequate number of phases to optimize performance. Additionally, an effective cooling system is essential to ensure VRM reliability over prolonged use.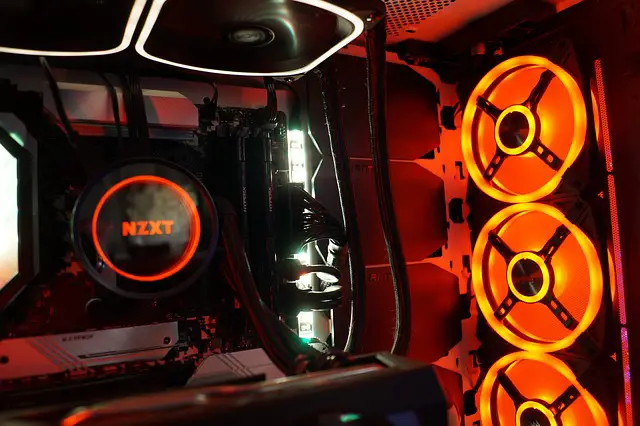 In terms of modern system capabilities, we gave top priority to features such as connectivity, networking, and storage features, which are essential for a modern built around the Ryzen 5 5600G. Of course, the availability of built-in display outputs is a crucial factor to consider with an APU. We also considered the aesthetic appeal, taking into account the feedback of consumers to gauge the popularity of a motherboard's design.
Ultimately, our focus was on finding motherboards that provide excellent value for money while maximizing the Ryzen 5 5600G's performance. Since this is a value-oriented APU, we have to focus more on the price-to-performance factor. To cater to different budgets, we targeted multiple price ranges.
Based on these criteria, we have ranked the best motherboards currently available for the Ryzen 5 5600G.
Before moving on make sure you check the following detailed tutorial on how to choose the best motherboard for you: How To Choose The Right Motherboard For Your Needs: A Comprehensive Guide
The Best Motherboards for Ryzen 5 5600G – Our Picks
ASRock B550 Taichi – Our Top Choice
ASUS ROG Strix X570-E Gaming – Best High End
MSI MAG B550 TOMAHAWK – Best Budget Motherboard For Ryzen 5 5600G
The Best Motherboards for Ryzen 5 5600G – Compared
Form Factor: ATX | Chipset: B550 | VRM: 16+2 Phase | Memory: 4x DIMM, 128GB, DDR4-5200+ | Video Outputs: HDMI, DisplayPort | USB Ports: 8x rear IO, 9x internal | Network: 1x 2.5 GbE LAN, WiFi 6E | Storage: 2x M.2 Slots, 8x SATA Ports
Pros:
Superb Power Delivery
Impressive Networking
Numerous SATA Ports
Pleasing RGB Lighting
Attractive Design
Cons:
Relatively Expensive
Limited Rear USB Ports
Our top pick for the Ryzen 5 5600G delivers an exceptional package of features and performance while being reasonable on the wallet. The ASRock B550 Taichi is a premium AMD motherboard that is specially crafted to offer high-end performance for the Ryzen 5 5600G processor.
It is vital to consider a motherboard's power delivery system when making the purchase decision, and the ASRock B550 Taichi does not disappoint. Its 16+2 Phase power design is a remarkable feature that ensures dependable power delivery even for the most power-intensive tasks. As a result, in terms of VRM and power delivery, the B550 Taichi boasts top-of-the-line performance, which makes it an ideal choice for CPU overclocking.
You can try your hand at overclocking the Ryzen 5 5600G with this motherboard, without having to worry about temperatures or reliability. The VRM cooling system is highly impressive, and the heatsink excels in keeping the motherboard's temperature under control. The aluminum alloy heatsink is a noteworthy addition that guarantees efficient cooling during prolonged gaming sessions.
The Taichi's supreme VRM layout also helps in achieving better performance in games thanks to the 5600G's built-in graphics. The ASRock B550 Taichi's PCB is crafted with high-quality materials and electronic components to ensure the utmost performance. It features the best-in-class chokes and capacitors for the power delivery system, which makes it a great motherboard for achieving high overclocks. This, in turn, allows the 5600G to perform to its maximum potential, both in CPU and GPU applications.
Of course, the B550 Taichi offers a comprehensive suite of features which is to be expected at this price point. The motherboard provides versatile connectivity options, with numerous USB 3.2 Gen 2 ports, dual M.2 slots, and Wi-Fi 6 for seamless wireless networking. The 2.5 Gigabit Ethernet port is also a great addition to the networking suite, making it suitable for high-bandwidth workloads as well.
The total number of USB ports on the rear I/O is rather limited, and that may prove to be a problem for users who tend to connect a lot of peripherals to their computers. We would have liked a few more USB 2.0 ports just as a safety net.
We also like the ASUS ROG Strix B550-F as a competent alternative, but the B550 Taichi is a lot more versatile in its feature set as well as more powerful when it comes to its VRM performance. The additional price difference is justified when you consider the overall package.
The design of the ASRock B550 Taichi is quite unique, with a bronze and black theme that gives it a very distinguished personality. The Taichi boards have always had a distinct design element, and the B550 variant is no different. The golden "cog-wheels" on the chipset heatsink might be a bit too much for some, but still, the board looks fantastic overall and the RGB lighting is well implemented.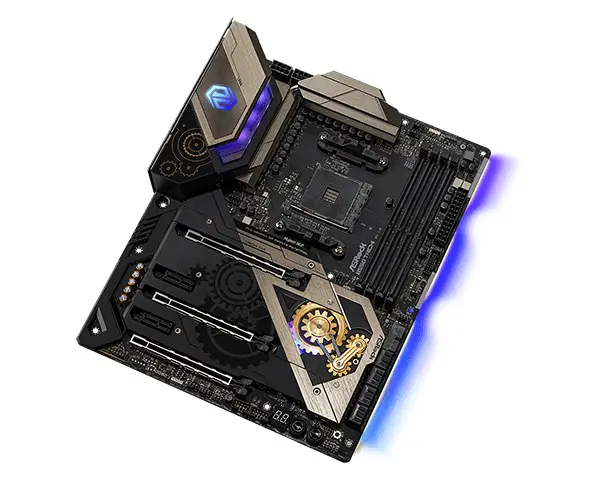 Despite its relatively high price, the ASRock B550 Taichi is an outstanding motherboard to consider for the Ryzen 5 5600G. With its robust power delivery system and top-of-the-line features, this motherboard is sure to satisfy even the most demanding users.
RATINGS:
VRM Design: 9.5/10
Features: 9.5/10
Aesthetics: 8.5/10
Value for Money: 8/10
Overall Rating: 9/10
Memory Capacity: 128GB DDR4 @ 4600MHz | Chipset: AMD X570 | Dimensions: ATX | Power Regulator: 12+4 Phases | Storage Options: 2x M.2, 6x SATA | RGB Lighting: Yes | Connectivity: WiFi 6, Realtek 2.5 GbE LAN, Bluetooth 5.0
Pros:
Distinctive Strix aesthetics
Top-tier components/controllers
Superior RGB execution
High-speed network capabilities
Robust VRM configuration
Cons:
No hardware buttons
Limited to 2x M.2 slots
Expensive
For a motherboard to earn our award for the best motherboard for the Ryzen Ryzen 5 5600G, it must surpass expectations in multiple categories without breaking the bank. Enter the ASUS ROG Strix X570-E Gaming, a motherboard that not only impresses with its features and performance, but also justifies its premium price tag.
While it's undeniably pricey, the cost is justified by its high-end construction, deluxe features, and stellar overall performance. The Strix X570-E Gaming doesn't make our list simply because it's a flagship model; it truly exemplifies top-tier quality, appealing to both gaming enthusiasts and serious hardware aficionados.
The design of this Strix motherboard harkens back to earlier models, incorporating elements from its predecessors while adding noteworthy upgrades. It features a black PCB with streamlined aluminum heatsinks that exude a stealthy, minimalist elegance. The attention to detail and overall build quality demonstrate ASUS's commitment to making a statement in the gaming motherboard market.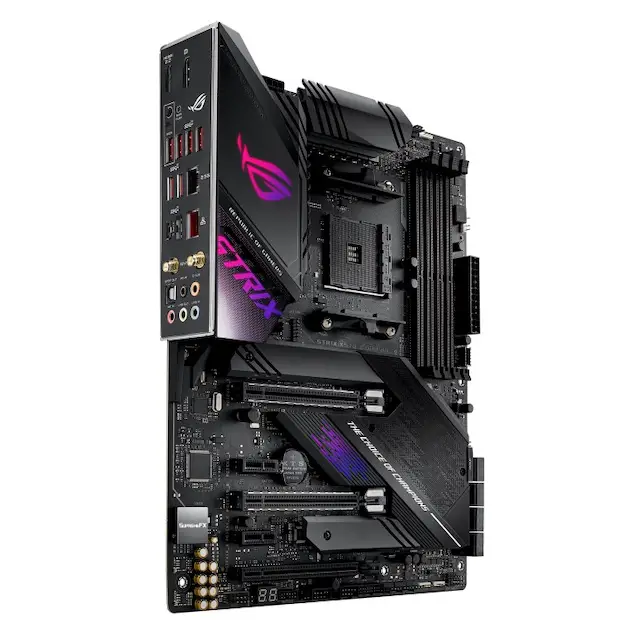 Complementing the exceptional design are the numerous RGB zones, ASUS Aura Sync compatibility, and the X570-E's enduring visual appeal. The customizable lighting options allow users to personalize their rig, creating a unique and eye-catching setup that will stand out from the competition.
But this motherboard isn't just a pretty face. Its high-quality components and controllers elevate it even further. Take, for instance, the 14+2 phase VRM design, which ranks among the best in the market. This robust configuration enables extraordinary overclocking capabilities, allowing users to push their processors to the limit and extract maximum performance from their system.
Power delivery, performance, and efficiency are all remarkable, rivaling or surpassing other high-end motherboards. Additional features, such as the SupremeFX audio codec, sweeten the deal even more, providing an immersive audio experience that enhances gaming and multimedia sessions alike.
Naturally, a premium motherboard should offer exceptional networking, and the Strix X570-E Gaming delivers with 2.5 Gigabit Ethernet and Wi-Fi 6 for blazing-fast connectivity. These cutting-edge networking options ensure that gamers can enjoy seamless online experiences, minimizing latency and lag.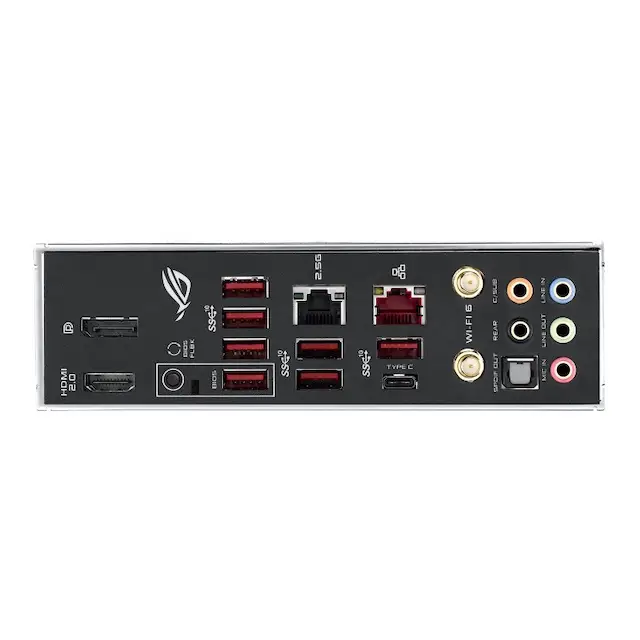 However, there are a couple of minor drawbacks. The board only includes two M.2 slots and doesn't have any onboard On/Off/Reset buttons. While these shortcomings aren't dealbreakers, they're worth considering at this price point, especially for users who require additional M.2 storage or find hardware buttons convenient for troubleshooting and overclocking purposes.
All in all, it's hard to find any significant flaws with the ASUS ROG Strix X570-E Gaming. It truly embodies the spirit of both gaming and hardware enthusiasts, delivering a feature-rich, powerful, and visually stunning boardd that's perfect to pair with the Ryzen 5 5600G.
RATING:
VRM Design: 9/10
Aesthetics: 9/10
Connectivity: 9/10
Value For Money: 8/10
Overall Rating: 8.75/10
3. MSI MAG B550 TOMAHAWK – Best Budget Motherboard For Ryzen 5 5600G
Form Factor: ATX | Chipset: B550 | VRM: 10+2+1 Phase | Memory: 4x DIMM, 128GB, DDR4-5100 | Video Outputs: HDMI, DisplayPort | USB Ports: 6x rear IO, 7x internal | Network: 1x 2.5GbE LAN | Storage: 2x M.2, 6x SATA
Pros:
Budget-Friendly Price
Top-notch VRM Design
Substantial VRM Heatsinks
Understated Aesthetics
Cons:
Limited Rear USB Ports
Minimalistic RGB Lighting
No WiFi
The MSI MAG B550 Tomahawk is an affordable motherboard that delivers outstanding value at its price point. With a solid feature set and robust build quality, it's an ideal pick for those looking to put together an economical gaming rig with the Ryzen 5 5600G.
MSI's MAG B550 Tomahawk features an impressive 10+2+1 phase VRM, perfect for enthusiasts looking to push their CPU to the limits. Thanks to MSI's use of premium-grade chokes and capacitors, this board boasts strong power delivery and exceptional overclocking potential.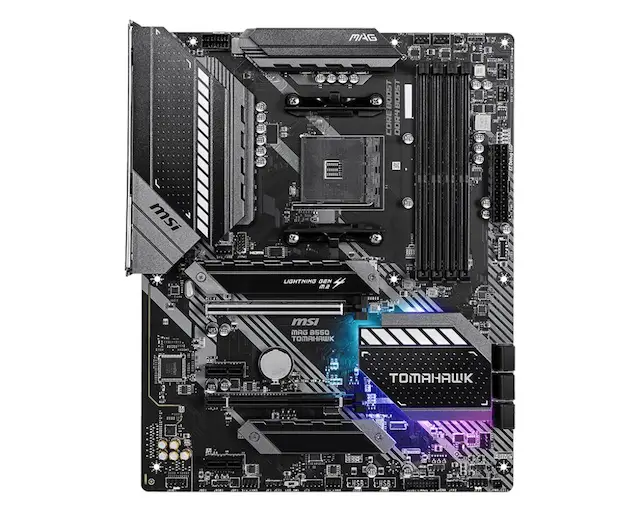 To ensure temperature control, MSI has equipped the B550 Tomahawk with substantial VRM heatsinks, featuring adequate finning. Despite its budget-friendly nature, the MAG B550 Tomahawk can unleash your Ryzen 5 5600g's true power through its VRM.
As for the features, the MSI MAG B550 Tomahawk sits comfortably within the average motherboard category. It offers 2.5 GbE LAN but no WiFi and provides two M.2 slots for lightning-fast storage. Additionally, it includes a reasonable number of USB ports, covering both USB 3.0 and 2.0 standards.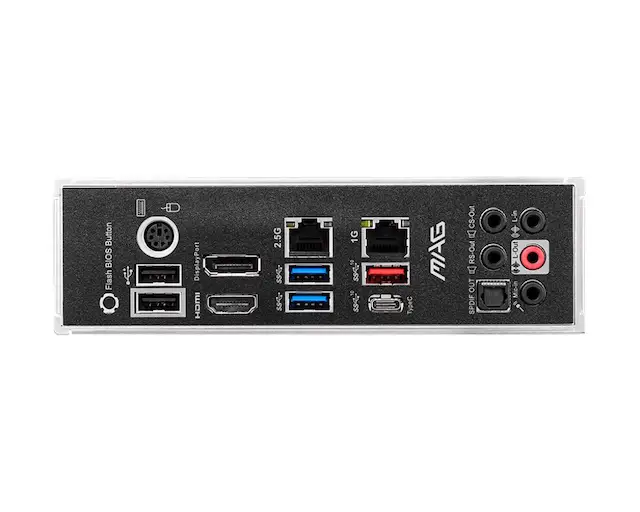 The absence of WiFi and limited rear USB ports may be problematic for some users in the long run. While the feature set is suitable for its price, it does miss out on some advanced features found in higher-end motherboards.
Visually, the MSI MAG B550 Tomahawk adopts a subdued gray color scheme, creating a minimalist yet effective aesthetic. A touch of RGB lighting, customizable to any desired color, adds a subtle accent to the design. However, the lighting is somewhat limited and positioned in less conspicuous areas.
With its clean and uncluttered design, the B550 Tomahawk is an excellent choice for those seeking a straightforward, efficient, and affordable motherboard.
MSI also offers the B550 Gaming Pro Carbon at a similar price point, but we give the edge to the B550 Tomahawk due to its superior price-to-performance ratio and more effective VRM heatsinks. The Tomahawk's thermal management stands out within its class.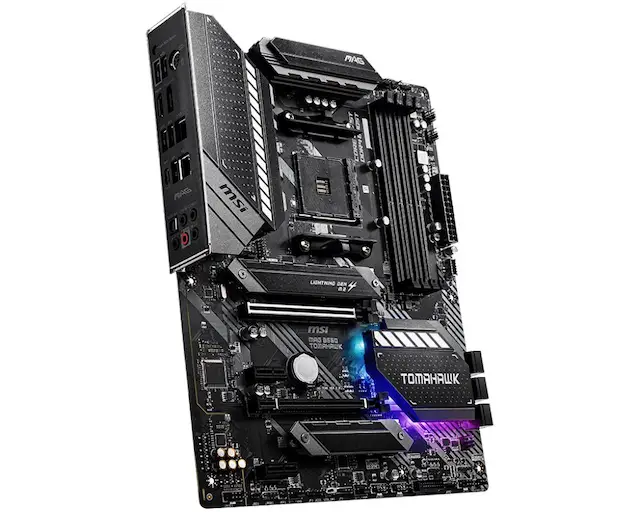 For other budget-friendly motherboard options for the Ryzen 5 5600X, don't hesitate to explore our recommendations for the best budget X570 motherboards.
In conclusion, the MSI MAG B550 Tomahawk's primary appeal lies in its remarkable price-to-performance ratio and top-tier VRM design. This board delivers excellent performance at an attractive price, making it an ideal choice for gamers seeking to pair it with a Ryzen 5 5600G.
RATINGS:
VRM Design: 8.5/10
Features: 7.5/10
Aesthetics: 8/10
Value for Money: 8.5/10
Overall Rating: 8/10
Latest posts by Konstantinos Chiotis
(see all)