Searching for the best motherboards for Ryzen 7 7700x?
Finding the perfect motherboard for your Ryzen 7 7700x can be a daunting task. With a myriad of options flooding the market, it's easy to get lost in the sea of specifications, features, and price points.
But fear not, for we've done the heavy lifting for you. In this article, we'll delve into the top 5 motherboards that will not only complement your Ryzen 7 7700x but also elevate your PC building experience to new heights.
From budget-friendly options to high-end beasts, we've got you covered. So, get ready and let's dive into the world of motherboards, where performance meets aesthetics, and innovation is the name of the game.
Before moving on make sure you check the following detailed tutorial on how to choose the best motherboard for you: How To Choose The Right Motherboard For Your Needs: A Comprehensive Guide
Our Top Picks
ASUS ROG Strix B650E-F Gaming WiFi – Our Top Choice
Gigabyte X670E AORUS Master – Best High-End Motherboard For Ryzen 7 7700x
MSI PRO X670-P Wi-Fi – Best Budget Motherboard For Ryzen 7 7700x
Why Should You Trust Us?
When it comes to PC building and hardware, our lead author, Konstantinos Chiotis, brings a wealth of experience and knowledge to the table. His passion for technology and gaming has been the driving force behind his dedication to understanding the intricacies of components like motherboards, GPUs, and processors.
Konstantinos doesn't just write about these components; he delves into them, dissecting their features, comparing their performances, and providing insightful reviews that are both informative and easy to understand.
With over a decade of experience in the tech industry and a history of PC building that dates back to when he was just 14, Konstantinos has a deep-rooted understanding of the realm of PC building and hardware. His expertise and hands-on experience, spanning over 20 years, lend credibility to his writing and ensure that the information you receive is reliable, accurate, and most importantly, practical. Trust us, you're in good hands.
Curious About How to Pick the Right Motherboard for You? Check This Out:
How We Choose the Best Motherboards For Ryzen 7 7700x
Choosing the perfect motherboard for the new Ryzen 7 7700X CPU can be a daunting task, given the plethora of options available in the market. However, our selection process is meticulous and thorough, ensuring that we recommend only the best of the best.
Power Delivery Components: We pay close attention to the motherboards' VRMs and other power delivery components. A strong VRM arrangement is crucial, especially when overclocking the Ryzen 7 7700X.
Aesthetics: We also value aesthetics, although this is more subjective. We monitor user reviews and adjust our rankings accordingly, ensuring that the motherboards we recommend are not only functional but also visually appealing.
Motherboard Features: Our selection process also involves a deep dive into the motherboards' features. We consider storage, network, and connection options, giving preference to AM5 motherboards with multiple M.2 slots compatible with PCIe 5.0 for lightning-fast storage and graphics.
Future-Proofing: In an ever-evolving tech world, future-proofing is a key consideration. We look for motherboards that support the latest technologies and have room for upgrades, ensuring they remain relevant for longer.
Brand Reputation: We also consider the brand's reputation. Brands with a history of delivering high-quality, reliable products are more likely to offer motherboards that meet our stringent criteria.
Value for Money: Our primary focus is on value for money. We understand that while the X670E and X670 motherboards offer top-notch performance, they can be quite expensive. Therefore, we prioritize b650 options that deliver the most bang for your buck when paired with the Ryzen 7 7700X and suitable memory.
Customer Support: Finally, we factor in the quality of customer support. A motherboard with great features but poor customer support can lead to a frustrating experience, especially if you encounter issues down the line.
5 Best Motherboards For Ryzen 7 7700x Reviews
Form Factor: ATX | Chipset: AMD B650 | VRM: 12+2 Power Stages | Memory: 4 x DIMM, Max. 128GB, DDR5 6400+ | Video Outputs: HDMI 2.1 | USB Ports: 12x Rear, 7x Front | Network: 1x Intel® 2.5Gb Ethernet, ASUS LANGuard, Wi-Fi 6E 2×2 Wi-Fi 6E, 1x Bluetooth v5.2 | Storage: 3 x M.2 slots and 4 x SATA 6Gb/s ports
PROS
Remarkable RAM overclocking potential

Support for PCIe 5.0

Integrated WiFi 6E and Bluetooth 5.2

Understated design with tasteful RGB highlights
CONS
Restricted number of PCIe 4.0 M.2 slots

Limited USB 3.0 ports

Absence of USB4 compatibility
Securing the top spot is the ASUS ROG STRIX B650E-F Gaming WiFi, a premier choice for gamers seeking a high-performance, stylish motherboard that harmonizes perfectly with the Ryzen 7 7700x CPU. This motherboard stands out with its sleek design, characterized by blacked-out heatsinks and minimalist aesthetics, punctuated by just the right amount of RGB accents. It's a refreshing departure from other ASUS boards that often lean towards excessive RGB and metallic heatsinks.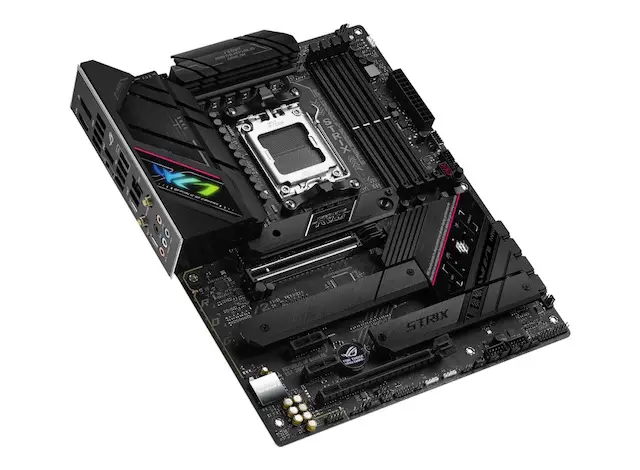 When it comes to features, the B650E-F is a shining star, boasting robust RAM overclocking capabilities that can hit impressive speeds of up to 6400MHz. This level of performance is sure to give you a noticeable advantage in gaming and applications, setting it apart from other motherboards on the market. Moreover, the inclusion of dual PCIe 5.0 slots future-proofs the board, ensuring it stays compatible with new components as they roll out.
One feature that particularly caught my eye is the provision of PCIe 5.0 slots for graphics cards and SSDs. This forward-thinking design choice means gamers can effortlessly upgrade to next-gen components as they become available, enhancing their gaming experience. The addition of a USB-C port on the rear IO is another commendable feature, catering to high-end peripherals that demand faster and more reliable connectivity.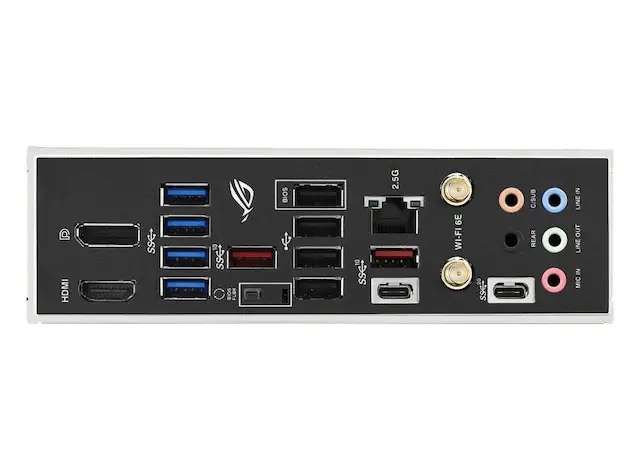 However, it's worth noting a few areas where the B650E-F could improve. Despite offering a broad range of connectivity options, the rear IO includes a significant number of USB 2.0 ports. These ports lag behind the newer USB 3.0 standard in terms of performance and latency. For gamers with a plethora of peripherals and accessories, this limitation means they'll have to prioritize which devices get the faster connections. Additionally, the absence of USB4 compatibility might be a deal-breaker for some users who insist on having the latest tech in their builds.
When compared to similar motherboards, the ASUS ROG STRIX B650E-F stands tall with its potent features and future-proof design. However, if USB4 compatibility or more USB 3.0 ports are essential for your setup, you might want to explore other options.
In conclusion, the ASUS ROG STRIX B650E-F Gaming WiFi is an excellent choice for mid-range and high-end gamers looking for a versatile motherboard that not only supports the Ryzen 7 7700x CPU but also leaves room for future upgrades. Its understated design and robust rear IO make it an appealing option for gamers who appreciate a more refined aesthetic.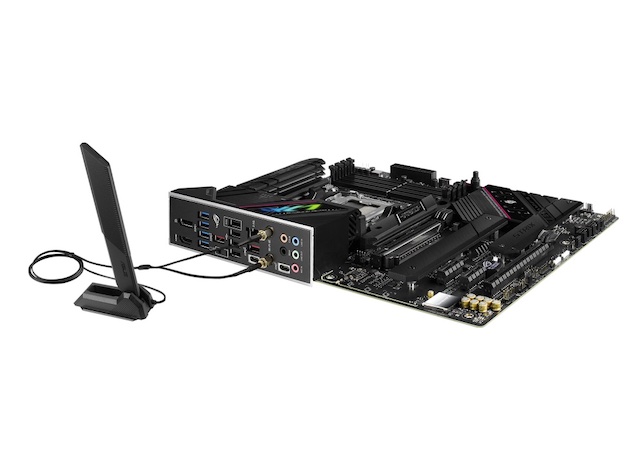 In my view, this motherboard is an ideal match for buyers who prioritize power, future-proofing, and a minimalist design in their gaming rigs. However, it might not be the first choice for those who need faster connectivity or USB4 compatibility in their motherboard.
Want to See More ASUS ROG STRIX Options? Check These Out:
Form Factor: E-ATX | Chipset: AMD X670 | VRM: 16+2+2 Phase | Memory: 4 x DDR5 DIMM, Support for DDR5 Max. 128GB, DDR5 6400+ | Video Outputs: HDMI 2.1 | USB Ports: 1 x USB Type-C port, 2 x USB 3.2 Gen 2 Rear | Network: 1x Intel® 2.5GbE LAN, Wi-Fi 6E 2×2 Wi-Fi 6E, 1x Bluetooth v 5.3 | Storage: 2 x M.2 connectors, 6 x SATA 6Gb/s connectors
PROS
Unmatched cooling solutions

Impressive 16+2+2 phase digital power design

Generous storage and USB connectivity

Outstanding overclocking capabilities

Price point is competitive within the premium X670E motherboard range

Specific heatsinks for VRMs and M.2 SSD slots
CONS
Absence of USB4 ports

Potential need for immediate BIOS update to optimize boot timings
Claiming the second spot is the GIGABYTE X670E AORUS MASTER, a high-end motherboard that's a perfect match for those looking to tap into the full power of their Ryzen 7 7700x processor. This motherboard is a marvel of technology, combining a rich feature set, eye-catching design, and compatibility with the latest tech trends. It's the go-to choice for Ryzen 7 7700x users who aim to push their CPU to its overclocking limits.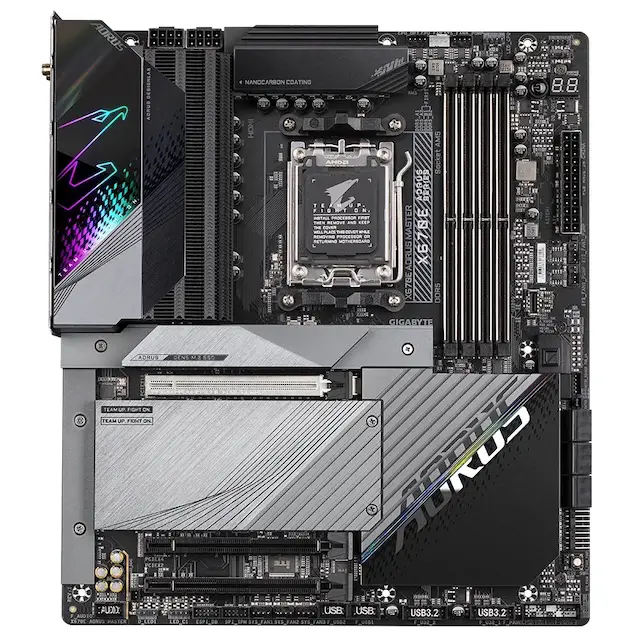 The AORUS MASTER stands out with its robust 16+2+2 phase VRM design and top-tier cooling solutions, including Fins-Array III, Mega-Heatpipe, Thermal Pad, and dedicated M.2 slot heatsinks. These features ensure optimal power delivery and stability, while also delivering superior thermal performance during intense overclocking sessions, meeting the demands of performance enthusiasts.
When it comes to storage, the X670E AORUS MASTER is a star performer. It offers 4 M.2 slots and 6 SATA ports, accommodating a variety of storage configurations, including two PCIe 5.0 x4 M.2 slots for the latest storage technology. With support for up to 128GB of DDR5 memory and a maximum frequency exceeding 6600MHz, this motherboard is a future-proof investment for those who want to stay ahead of the tech curve.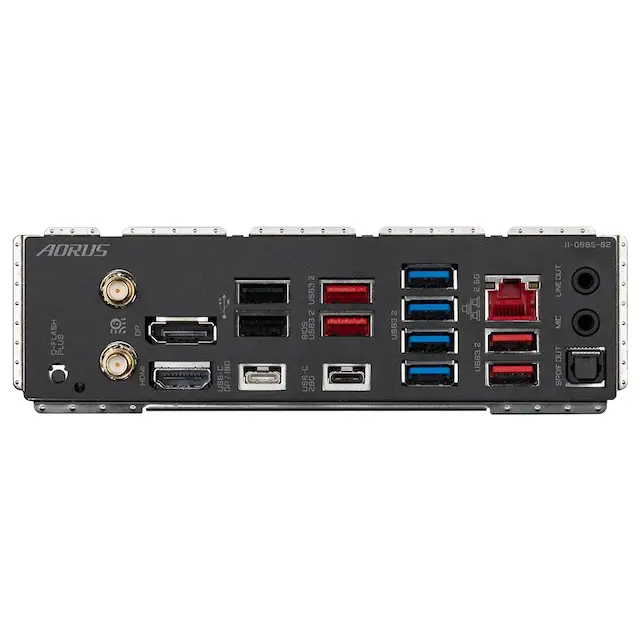 In terms of connectivity, this motherboard is a standout, offering unparalleled PCIe and USB support. It caters to every user's needs with 3 PCIe slots, including one PCIe 5.0 slot for superior graphics card performance, and a comprehensive array of USB ports. The addition of WiFi 6E and Bluetooth 5.3 support further enhances the appeal of this high-end motherboard, making it a versatile choice for gamers and content creators alike.
The X670E AORUS MASTER isn't just a performance beast; it's also a visual treat. With a sleek black finish on the PCB and mesmerizing RGB effects on the IO cover, this motherboard adds a dash of sophistication to any build, making it an excellent choice for those who appreciate aesthetics as much as performance.
However, bear in mind that the X670E AORUS MASTER is an E-ATX motherboard, so you'll need a compatible PC case to accommodate its larger size.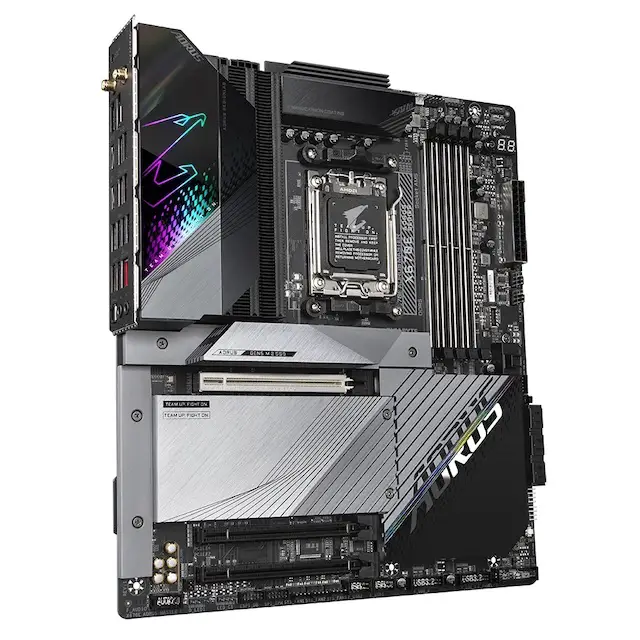 To wrap up, the GIGABYTE X670E AORUS MASTER is a top-of-the-line choice for performance enthusiasts and high-end users who value power, cooling, and advanced features. Its premium price tag is justified by the performance and experience it delivers, making it a worthwhile investment for those who demand nothing but the best.
Want to Explore More Ryzen Options? Check These Out:
3. MSI PRO X670-P Wi-Fi – Best Budget Motherboard For Ryzen 7 7700x
Form Factor: ATX | Chipset: AMD 785E | VRM: 14+2+1 | Memory: 4x DDR5, Maximum Memory Capacity 192GB| Video Outputs: 1x DisplayPort Supports DP1.4, 1xHDMI| USB Ports: 4x USB 2.0 (Front), 4x USB 3.2 Gen1 Type A (Rear), 4x USB 3.2 Gen1 Type A (Front), 2x USB 3.2 Gen2 Type A (Rear), 1x USB 3.2 Gen2 Type C (Rear), 1x USB 3.2 Gen2 Type C (Front), 1x USB 3.2 Gen2x2 Type C (Rear) | Network: Wi-Fi 6Em, Realtek® RTL8125BG 2.5G LAN | Storage: 6x SATA 6G, 4x M.2
PROS
Easy on the wallet

Pleasing visual design

Reliable connection options

Support for DDR5 RAM up to 128 GB at 6600+ MHz

Superior networking with 2.5 gigabit LAN and WiFi 6E
CONS
Absence of RGB lighting

Restricted overclocking potential due to the 14+2 phase VRM layout.
Stepping into the spotlight at a comfortable third place, we have the MSI PRO X670-P WiFi – a budget-friendly powerhouse that's an ideal companion for your Ryzen 7 7700X. This motherboard is a testament to the fact that affordability doesn't equate to compromise on features. It's a dream come true for those seeking top-notch performance without the accompanying financial sting.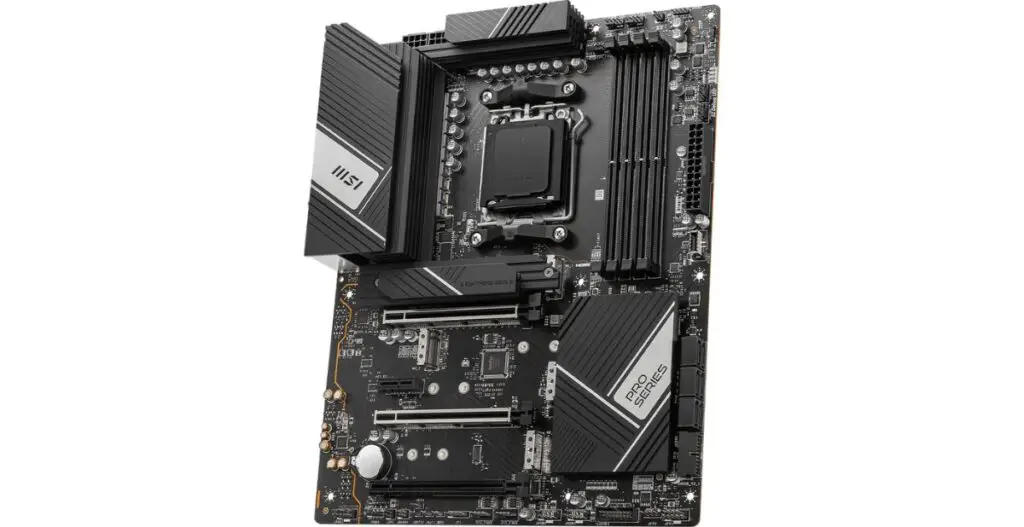 The MSI PRO X670-P WiFi ProSeries sports a 14+2 phase VRM, more than capable of powering your Ryzen 7 7700X at stock speeds. A word of caution to the overclocking enthusiasts among you, though – this motherboard isn't built for extreme overclocking. While you might be tempted to push the boundaries, it's advisable to stick to stock speeds to prevent any unforeseen system hiccups.
Aesthetically, this motherboard is a proud ambassador of the MSI brand, with the ProSeries and MSI logos adorning the VRM. However, if you're a fan of the RGB light show, this might not be your cup of tea. On the bright side, it boasts a generously proportioned heatsink, an essential ally in maintaining VRM temperature and prolonging your system's lifespan.
When it comes to features and ports, the MSI X670-P Pro series doesn't hold back. It offers 4 DIMM slots, supporting an impressive 128 GB of DDR5 RAM, allowing you to crank up memory speeds to a whopping 6600+ MHz. This is a boon for performance enthusiasts who love to extract every bit of juice from their systems.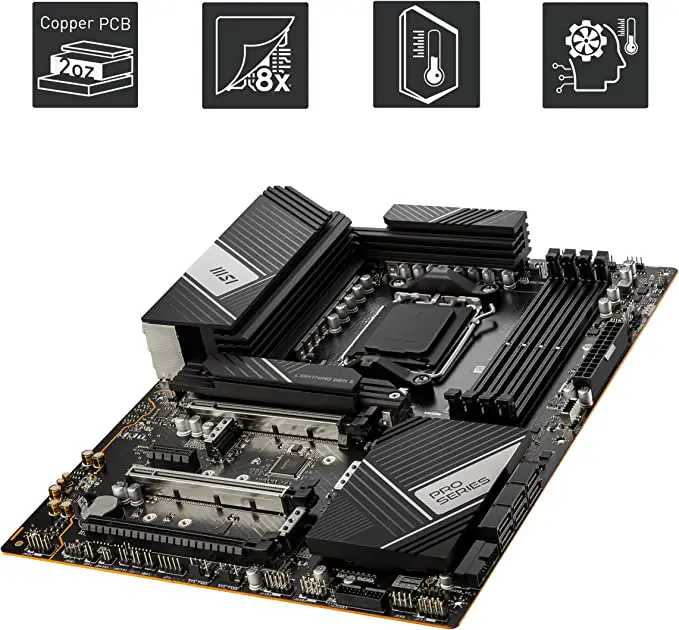 In terms of USB connectivity, this motherboard is a star performer. It houses 8 USB ports at the rear, with the potential to add 9 more to the case, including 2 USB 3.2 Gen 2 ports. This ensures ample space for all your peripheral devices. Additionally, it supports 4 M.2 slots for quick storage and 6 SATA slots for both HDDs and SSDs.
The MSI PRO X670-P WiFi ProSeries also excels in networking capabilities, offering a 2.5 gigabit LAN and WiFi 6E for seamless connectivity. For those who love multitasking, it features an HDMI port and a DisplayPort, enabling dual monitor setup.
So, who's the ideal user for this motherboard? If you're budget-conscious, not keen on overclocking your Ryzen 7 7700X, and are in search of a motherboard that doesn't skimp on features and connectivity, then this is your perfect match. However, if you're an RGB enthusiast or a die-hard overclocker, you might want to explore other options.
Trying to Choose Between the H670 and the Z690 Options? Check This:
Form Factor: Mini ITX | Chipset: AMD X670 | VRM: 10 + 2 power stages | Memory: 2 x DIMM, Max. 64GB, DDR5 | Video Outputs: 1 x HDMI® port | USB Ports: 2 x USB4 | Network: Wi-Fi 6E, Intel 2.5 Gb Ethernet with ASUS LANGuard | Storage: 2 x M.2 slots and 2 x SATA 6Gb/s ports
PROS
Compact, high-performance Mini-ITX design.

Easy CPU cooler installation due to ample socket space.

DDR5 memory support up to 6600 MHz.

Two stacked M.2 slots, with one supporting PCIe Gen 5.0.

Features dual USB 4.0 ports for fast data transfer.
CONS
High price point

Only two DIMM slots, potentially limiting for some users.

Limited port count due to small form factor.
Let's dive right into the ASUS ROG STRIX X670E-I GAMING WIFI, a motherboard that demonstrates impressive features in a compact Mini-ITX form factor, making it my top choice for the Ryzen 7 7700x.
The first thing to note is how ASUS optimizes the available space, raising the VRM and M.2 heatsinks. This smart design not only manages the thermal loads well but also ensures that this compact board can host all the critical components without compromise.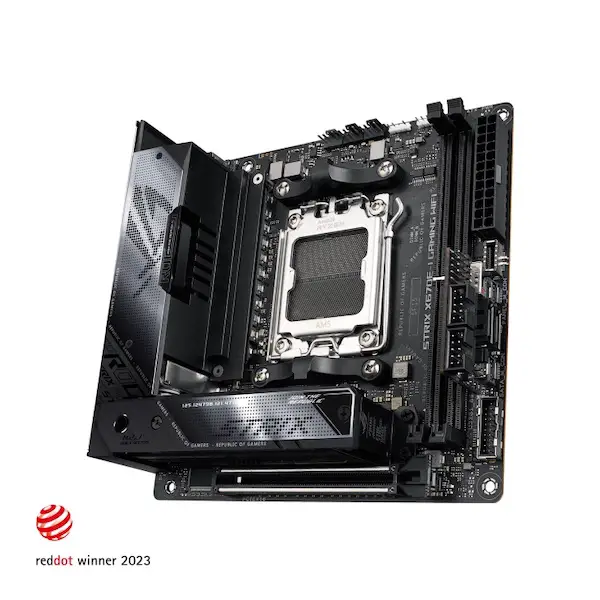 Around the CPU socket, you'll find ample space to install your desired CPU cooler, whether that's a hefty air cooler or an AIO liquid variant. The two memory DIMM slots are available here for DDR5 memory, and they support up to 6600 MHz, ensuring your Ryzen 7 7700x will have access to high-speed memory.
The motherboard features two M.2 slots, following the design trend of its predecessor, the X570E-I. One of these slots is capable of operating at the high-speed PCIe Gen 5.0, enabling faster data transfers. Along with this, the VRM design has been improved to a 10+2 configuration, a step up from the 8+2 setup seen in older boards.
Check more mini-ITX motherboards here: Best Mini ITX Motherboards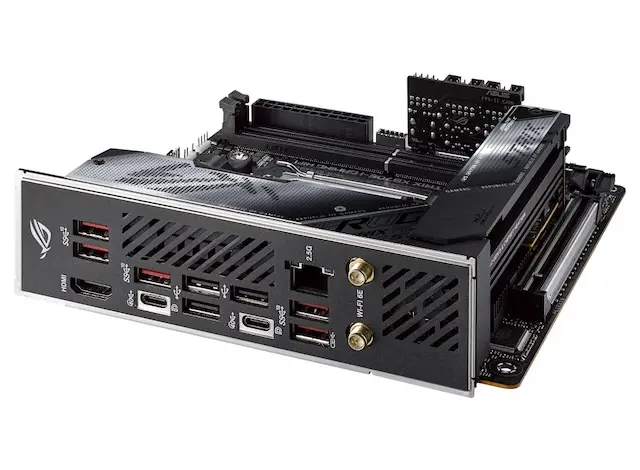 The X670E-I Gaming WiFi offers a PCIe Gen 5 x 16 slot. While it's the only PCIe slot available on this board, given the mini-ITX form factor, it's a fair trade-off. ASUS makes up for the limited connectivity options inherent in a mini-ITX motherboard by providing the ROG FPS-II card, offering extra SATA ports and headers.
What really sets this motherboard apart is the addition of the ROG Strix HIVE. This magnetic extension brings in more features, including a volume dial, debug LEDs, a USB 3.2 Gen 2 port, and a BIOS flashback button. Importantly, the HIVE is equipped with two USB 4.0 ports, providing impressive 40 Gbps data transfer speeds.
Price-wise, it's on the higher end, but considering the features and the quality you're getting, it's a justified cost. Also, while the two DIMM slots might be limiting for some, they should be more than enough for most users who typically run with dual-channel memory.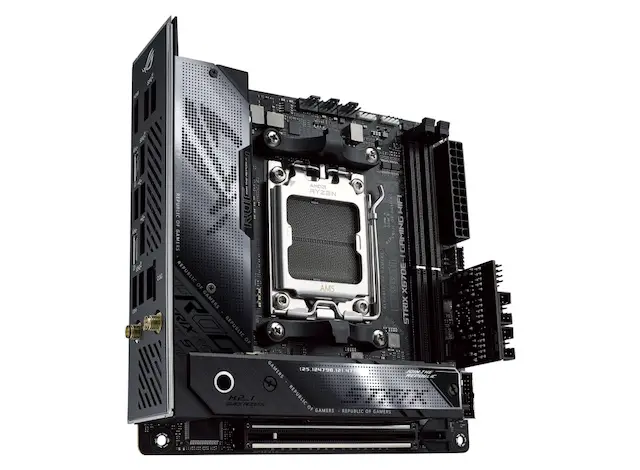 In conclusion, the ASUS ROG Strix X670E-I Gaming WiFi strikes a great balance between offering high-end features, a reliable VRM setup, and a practical design in a compact form factor. For users looking for an X670 board that provides these qualities in a small form factor, this motherboard is the best pick for the Ryzen 7 7700x.
Want to Find Out More About Motherboards? Learn More Here:
THE HISTORY OF MOTHERBOARDS: EVOLUTION OVER THE YEARS
Form Factor: Micro-ATX | Chipset: AMD B650 | VRM: 12+2+1 | Memory: 4x DDR5, Maximum Memory Capacity 192GB | Video Outputs: 1x HDMI™| USB Ports: 4x USB 2.0 (Front), 4x USB 3.2 Gen1 Type A (Rear), 2x USB 3.2 Gen1 Type A (Front), 3x USB 3.2 Gen2 Type A (Rear), 1x USB 3.2 Gen2 Type C (Front), 1x USB 3.2 Gen2x2 Type C (Rear) | Network: 2.5G LAN and Intel Wi-Fi 6E | Storage: 2x M.2
PROS
All four RAM slots are available

Affordable and ideal for Small Form Factor (SFF) builds

Four SATA III plugs for legacy storage connections

Good I/O with eight USB ports including a 20Gbps USB-C
CONS
Limited to two M.2 slots, both of which are PCIe 4.0

Reduced number of fan connectors

No PCIe 5.0 support
For our 5th pick we have the MSI MAG B650M Mortar WiFi. If you're looking for the best micro-ATX motherboard for the Ryzen 7 7700x, this piece of hardware certainly stands out.
One of the top features of this motherboard is its affordability. Given its size, it's a perfect fit for Small Form Factor builds. Despite the size constraints, MSI has managed to provide a good I/O, with room to support a whopping 128GB of RAM and six SATA ports.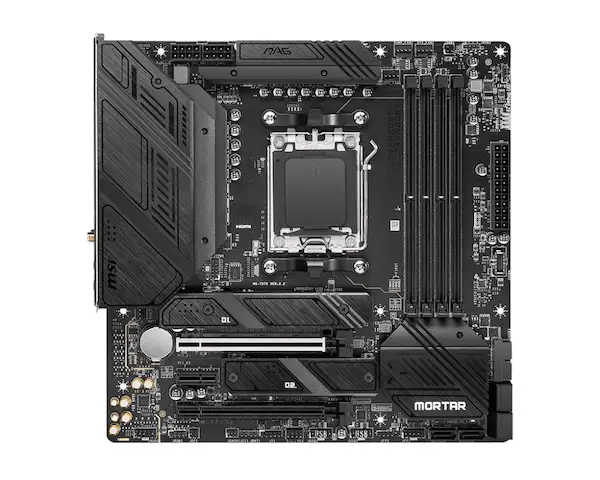 Now, let's address the aesthetics. Some may say the all-black look of the Mortar is boring, but I beg to differ. Its subtle diagonal lines and geometric accents on the heatsinks add an air of sophistication without compromising its no-nonsense functionality. The lack of armor might make it seem less appealing, but this is a telltale sign of its competitive price point.
The Mortar holds its own against pricier competitors. Compared to the more expensive X670E Gene from ASUS, the Mortar comes with all four RAM slots intact, albeit at the cost of one M.2 slot. Don't fret, though, both M.2 slots are limited to PCIe 4.0, which is more than sufficient for most users.
It's worth noting that there is no hint of PCIe 5.0 on this motherboard, which may be a disadvantage to some. But realistically speaking, you wouldn't build a budget pc and buy a ridiculously expensive PCIe 5.0 GPU, so the loss isn't immediately impactful.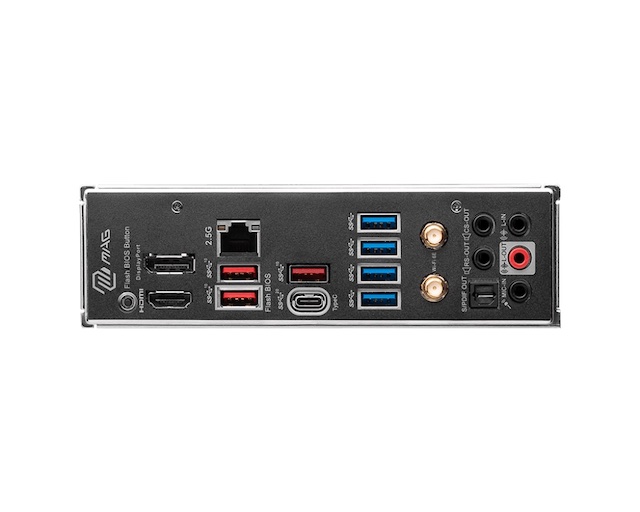 In terms of power, the Mortar doesn't disappoint. Despite its smaller size, it still manages to pack a punch with a 12+2+1 VRM backed by two sizable heatsinks. You can rest assured your Ryzen 7 7700X will be well-fed and satisfied.
The Mortar also includes four SATA III plugs for those of you who want to connect legacy storage drives. While the top x16 slot is reinforced and protected from GPU shearing, the other two may get obstructed with a hefty GPU installed. Not a huge problem, though, since SLI is pretty much obsolete, and anyone seeking multiple GPU setups is likely to opt for a larger board.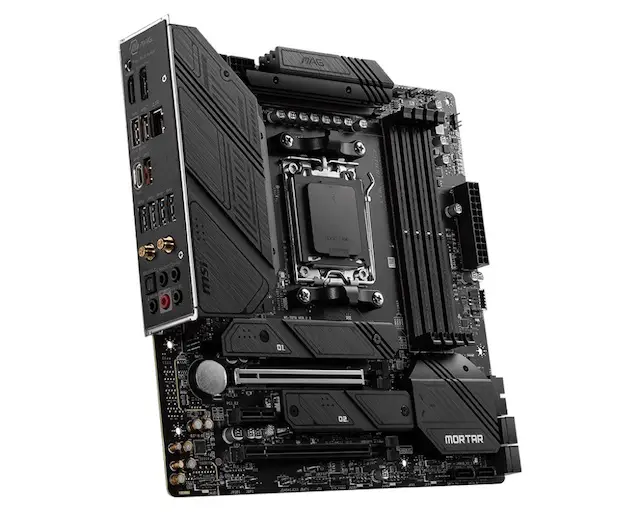 One potential downside is the limited number of fan connectors. However, having three for fans plus two dedicated to CPU cooling is still commendable for a board of this size. And for those of you keen on aesthetics, MSI has included all four RGB headers to brighten up your rig.
Overall the Mortar does an excellent job of utilizing space on the I/O front. With eight USB ports, including a 20Gbps USB-C, you'll have plenty of connectivity. Top that off with a 5+1 stack and Realtek's ALC4080 codec for audio, the latest WiFi standard, 2.5G Ethernet, HDMI 2.1 & DisplayPort 1.4, and a BIOS flash button, and you've got a feature-packed micro-ATX motherboard that's a top pick for the Ryzen 7 7700x.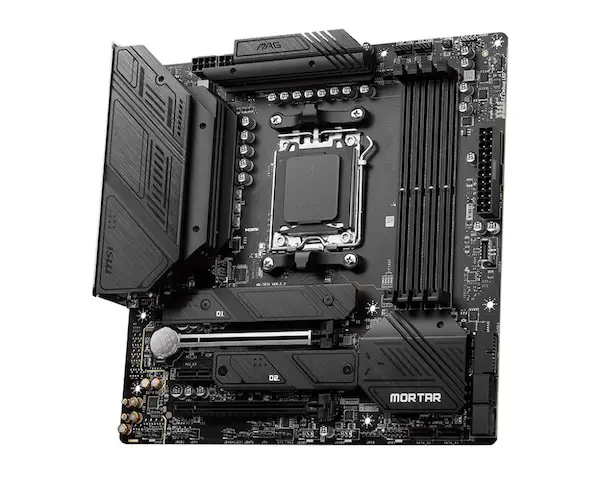 Check Out More Micro-ATX Options Here:
Frequently Asked Questions (FAQs)
What is the best motherboard for Ryzen 7 7700X?


The best motherboard for Ryzen 7 7700X would be one that offers a balance of performance, features, and value for money. It should have a robust VRM design, support for DDR5 memory, and PCIe 5.0 compatibility. The exact model may vary depending on your specific needs and budget.

Is X670 or X670E better for Ryzen 7 7700X?Both X670 and X670E motherboards are compatible with Ryzen 7 7700X. However, X670E motherboards offer more features such as "Extreme Overclocking" capability, more PCIe 5.0 M.2 slots, and superior connectivity, making them a better choice for high-performance setups.
Does Ryzen 7 7700X support DDR5 memory?


Yes, the Ryzen 7 7700X supports DDR5 memory. The AM5 platform from AMD, which the Ryzen 7 7700X uses, is compatible with the latest DDR5 memory generation.

What is the importance of VRM in a motherboard for Ryzen 7 7700X?


The Voltage Regulator Module (VRM) on a motherboard is crucial for supplying power to the CPU. A high-quality VRM is particularly important if you plan to overclock your Ryzen 7 7700X, as it can ensure stability and prevent overheating.

Do I need a motherboard with PCIe 5.0 for Ryzen 7 7700X?


While not strictly necessary, a motherboard with PCIe 5.0 support can offer significant benefits, especially in terms of storage and graphics performance. PCIe 5.0 offers double the bandwidth and half the latency of PCIe 4.0.

What form factor should I choose for my Ryzen 7 7700X motherboard?
The form factor you choose depends on your case size and feature requirements. ATX motherboards offer the most features and compatibility, while micro ATX and mini ITX motherboards are suitable for smaller cases.
How much should I spend on a motherboard for Ryzen 7 7700X?


The cost of a motherboard can vary widely based on its features and brand. However, for a Ryzen 7 7700X, you should expect to spend in the mid to high-end range to ensure you get a motherboard that can fully utilize the capabilities of the CPU.

Can I use my old DDR4 memory with Ryzen 7 7700X?


No, the Ryzen 7 7700X and the AM5 platform only support DDR5 memory. You will need to upgrade your memory modules if you're upgrading to this CPU.

Is overclocking possible with Ryzen 7 7700X?


Yes, the Ryzen 7 7700X is capable of overclocking. However, to achieve stable and safe overclocking, you'll need a motherboard with a robust VRM design and adequate cooling solutions.

Do aesthetics matter when choosing a motherboard for Ryzen 7 7700X? While aesthetics don't impact performance, they can be important if you're building a PC with a windowed case or if you value the visual appeal of your setup. Many motherboards come with features like built-in LEDs or support for LED strips for added visual flair.
Latest posts by Konstantinos Chiotis
(see all)