The GIGABYTE X670E AORUS MASTER sets a new benchmark for performance enthusiasts seeking to push their new Ryzen 7000 series cpu to the limit. With its remarkable 16+2+2 phase VRM design featuring 105A Smart Power Stage, this motherboard ensures optimal power delivery and stability, even under extreme loads. In our opinion, this robust power delivery system truly sets it apart from its competitors.
To complement its exceptional VRM design, the X670E AORUS MASTER boasts an advanced cooling solution consisting of Fins-Array III with NanoCarbon, an 8mm Mega-Heatpipe, and a 12 W/mK Thermal Pad.
These cutting-edge features work in harmony to dissipate heat effectively during extreme overclocking sessions, making it a top choice for those who demand the best thermal performance.
Pros:
Unrivaled thermal solution
Phenomenal 16+2+2 digital power phases
Abundant storage and USB ports
Exceptional overclocking potential
Competitive pricing compared to other premium X670E motherboards
Dedicated heatsinks for VRMs and M.2 SSD slots
Cons:
No USB4 ports
BIOS update may be required out of the box to improve boot timings
Storage Speed That Leaves Competition in the Dust
One of the standout features of the X670E AORUS MASTER is its diverse and ultra-fast storage options. Boasting 4x M.2 slots and 6x SATA ports, this motherboard is designed to accommodate various storage configurations, ensuring maximum performance. The inclusion of two PCIe 5.0 x4 M.2 slots further enhances the appeal of this motherboard for those who seek cutting-edge storage technology.
To maintain optimal performance, the motherboard employs M.2 Thermal Guard III, a double-sided heatsink that effectively cools M.2 SSDs, ensuring that even the most demanding users will be satisfied.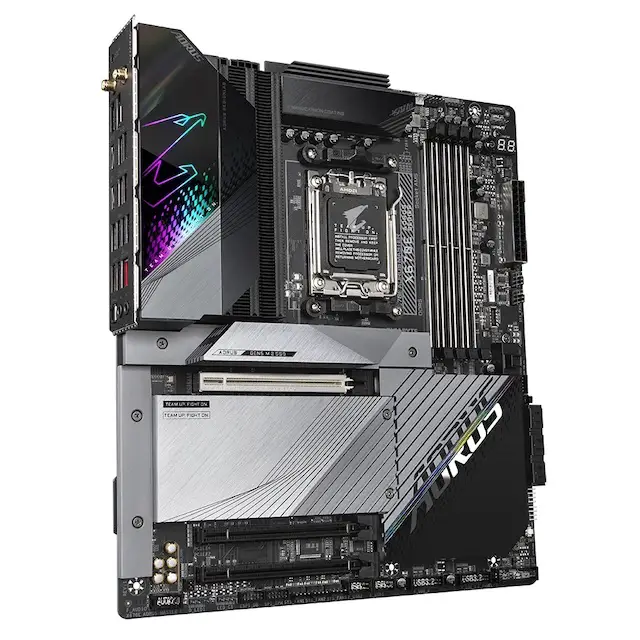 Memory Support That Takes DDR5 to New Heights
The X670E AORUS MASTER truly shines when it comes to memory support, handling up to 128GB of DDR5 memory with a staggering maximum frequency of over 6600MHz when 4x DDR5 sticks are inserted. This unparalleled memory support ensures that users can take full advantage of the latest DDR5 technology, making it a future-proof investment.
Superior PCIe Configurations for Ultimate Performance
With 3x PCIe slots, including one PCIe 5.0 slot, the X670E AORUS MASTER offers superior graphics card performance, ensuring a seamless gaming experience. The additional PCIe 4.0 and PCIe 3.0 slots provide versatility and further expansion possibilities for high-end users.
A USB Port for Every Need
The X670E AORUS MASTER features an impressive array of USB connectivity options, with 12x USB ports on the rear and 9x USB ports on the front. This extensive selection allows users to connect a wide range of peripherals, catering to every possible need.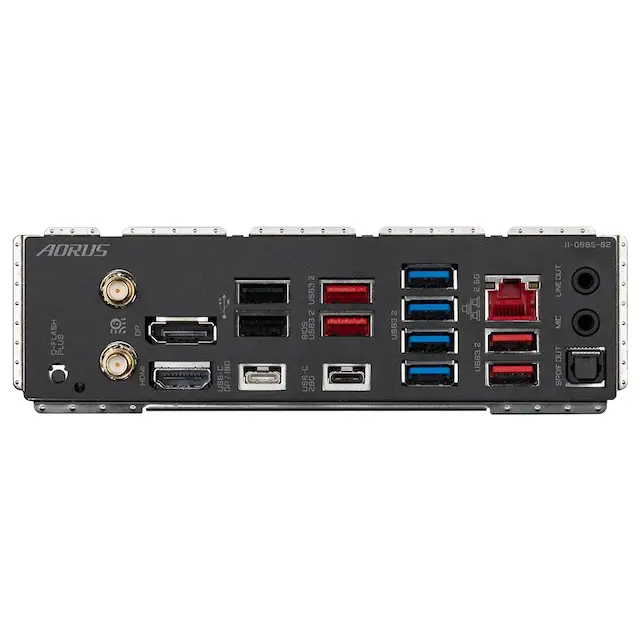 A Visual Masterpiece
The X670E AORUS MASTER is not only a powerhouse in terms of performance, but it also boasts a stunning design that will turn heads. With a sleek black finish on the PCB and captivating RGB effects on the IO cover, this motherboard is a true showstopper, adding a touch of elegance to any build.
The Perfect Fit for Performance Enthusiasts and High-End Users
The GIGABYTE X670E AORUS MASTER is an outstanding choice for users who prioritize high-performance and exceptional power delivery. Gamers, content creators, and overclocking aficionados alike will find this motherboard to be an excellent investment, providing top-notch performance, exceptional cooling, and advanced storage and memory support.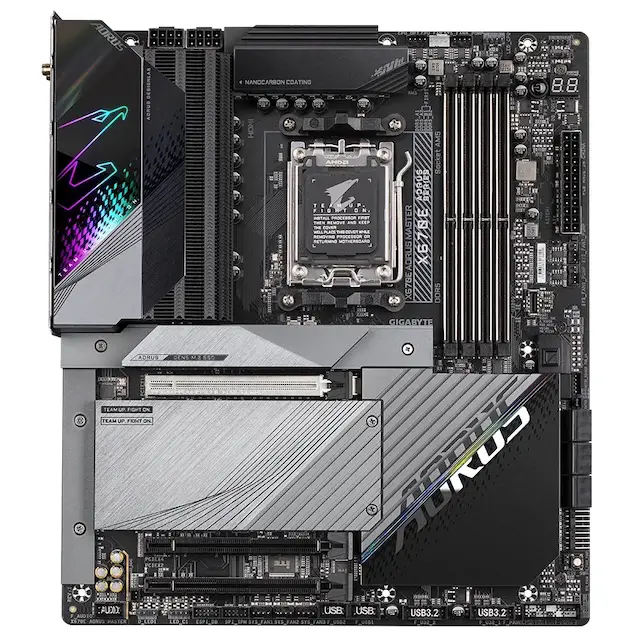 Budget-Oriented Buyers May Need to Look Elsewhere
Although the X670E AORUS MASTER is competitively priced within the premium X670E motherboard category, it may still be too expensive for some budget-conscious buyers. Those seeking a more affordable option may need to consider other alternatives that offer fewer high-end features but come at a lower price point.
Final Verdict
The GIGABYTE X670E AORUS MASTER stands as the ultimate choice for Ryzen 7000 series users who want a performance-oriented motherboard that delivers exceptional power, cooling, and connectivity options. Its impressive feature set, stunning design, and compatibility with the latest technology make it one of the best motherboard for overclocking your Ryzen 7000 processor.
In conclusion, if you're seeking a high-performance, future-proof motherboard that offers unparalleled power delivery, top-notch cooling capabilities, and a plethora of advanced features, look no further than the GIGABYTE X670E AORUS MASTER. While it may come at a premium price, the performance and experience it offers make it a worthwhile investment for those who demand the best.
Latest posts by Konstantinos Chiotis
(see all)