As an Amazon Influencer, we earn from qualifying purchases you might make if you click any of the links on this page.
Looking for the best motherboard for i7 13700K? We have you covered.
To ensure optimal performance with the Intel Core i7 13700K, it's crucial to carefully select a suitable motherboard for it, given that it's one of the best gaming processors currently available. For this purpose, we established a set of strict guidelines for the motherboards included in this roundup.
One of the primary factors we considered was the VRM setup of the motherboards, as it significantly affects performance especially when overclocking the Core i7 13700K. Both the quality of components and the number of phases are important in this regard. We also prioritized motherboards with an effective cooling system to determine VRM reliability over extended use.
Our chosen motherboards had to feature the necessary modern system capabilities for connectivity and storage, essential for a high-end system built around the Core i7 13700K. Features such as LAN speed, WiFi, and the number of M.2 slots were given top priority in the roundup.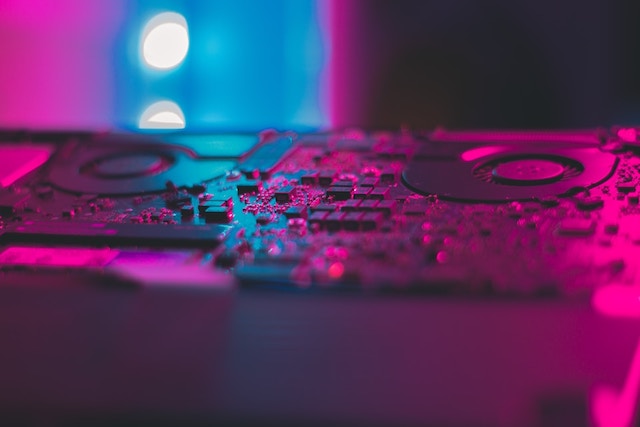 We also took into account the motherboards' aesthetic appeal, which is a rather subjective matter but still an important one to most consumers. It is important to consult the feedback of the general consumers in order to gauge the popularity of a certain motherboard's design.
Ultimately, our main focus was on the value proposition of each motherboard. We aimed to find motherboards that could maximize the Core i7 13700K's performance while offering excellent value for money. Of course, we targeted multiple budgets for this purpose.
With these criteria, we've ranked the best motherboards currently available for the i7 13700K.
Before moving on make sure you check the following detailed tutorial on how to choose the best motherboard for you: How To Choose The Right Motherboard For Your Needs: A Comprehensive Guide
Best Motherboards for i7 13700K – Our Picks
MSI MPG Z690 Carbon WiFi – Our Top Choice
Gigabyte Z790 AORUS Master – Best High End
ASUS PRIME Z690-A – Best Budget
The Best Motherboards for i7 13700K
Form Factor: ATX | Chipset: Z690 | VRM: 18+1+1 Phase | Memory: 4x DIMM, 128GB, DDR5-6666 | Video Outputs: HDMI, DisplayPort | USB Ports: 9x rear IO, 7x internal | Network: 1x 2.5 GbE LAN, 1x WiFi 6E | Storage: 5x M.2, 6x SATA
Pros:
Superb Overclocking Capabilities
Top-notch VRM Cooling
Extensive Storage Selection
Impressive Connectivity
Distinctive RGB Styling
Cons:
High Price Point
Polarizing Design
The MSI MPG Z690 Carbon WiFi has emerged as the foremost choice for the ultimate overclocking Z690 motherboard in the market. This high-end Z690 motherboard is the perfect companion for premium Alder Lake CPUs with an unlocked multiplier. Even if you're not a seasoned overclocker, the exceptional VRM design of this board enables you to achieve commendable results.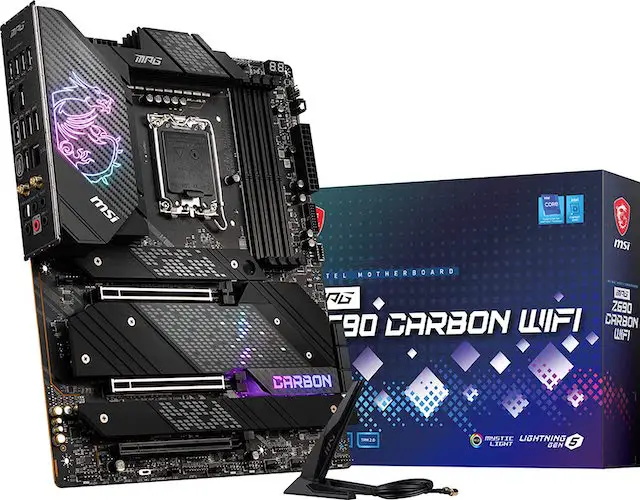 Diving into the power delivery system, the MSI MPG Z690 Carbon WiFi utilizes an 18+1+1 phase VRM for power distribution. The 18 dedicated phases for the CPU guarantee that you can attain and maintain remarkably high clock speeds on your 12th Gen Intel processor.
To ensure sufficient cooling for the VRM, the MSI MPG Z690 Carbon WiFi employs high-quality heatsinks and heat pipes. The VRM on this motherboard is more than capable of handling enthusiast overclocking on high-end CPUs such as the Core i9 12900K without any risk of overheating.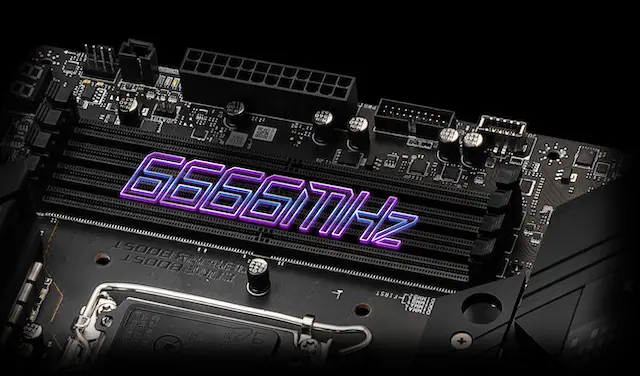 While MSI's Z690 Tomahawk could be considered an alternative to the MPG Z690 Carbon WiFi, we ultimately chose the latter due to its superior power delivery configuration and a more extensive feature set.
A similar MSI option had also been included in our list of top Z590 motherboards.
Being a high-end desktop motherboard, the MSI MPG Z690 Carbon WiFi offers a wide array of features for gamers and PC aficionados. The storage capabilities are quite remarkable, with five M.2 slots for lightning-fast storage and six SATA ports for your older drives.
Additionally, the board comes with built-in Wi-Fi 6 and Bluetooth 5.0, as well as a 2.5 GbE LAN port for wired networking. In terms of connectivity, the MSI MPG Z690 Carbon WiFi boasts a total of nine rear USB ports, which is a generous offering. There's hardly anything to gripe about when it comes to the features provided by this motherboard.
Regarding the aesthetics and design of the MSI MPG Z690 Carbon WiFi, this is where the board might encounter some resistance. The motherboard sports a sleek black color with subtle accents and a faux carbon fiber texture throughout.
Furthermore, the RGB lighting is prominent and visually appealing. The massive MSI dragon logo, paired with the bold carbon pattern on the I/O cover, creates a strong visual statement, which might not suit every build's taste.
In conclusion, the MSI MPG Z690 Carbon WiFi represents the ideal combination of value, features, and overclocking prowess. If you're searching for a top-notch overclocking motherboard to incorporate in your upcoming build, this one should be on your radar. While the hefty price tag is worth considering, the advantages seem to justify the expense upon closer examination.
Form Factor: E-ATX | Chipset: Z790 | VRM: 20+1+2 Phase | Memory: 4x DIMM, 128GB, DDR5-8000 | Video Outputs: DisplayPort | USB Ports: 14x rear IO, 9x internal | Network: 1x 10 Gigabit LAN | Storage: 5x M.2 Slots, 4x SATA Ports
Pros:
Extraordinary 23-Phase VRM
Unique 10 Gigabit LAN
Superb DDR5 Compatibility
Excellent RGB Implementation
Loads of M.2 Slots
Cons:
Very Expensive
Lack of HDMI
The Gigabyte Z790 AORUS Master is our pick for the best high-end motherboard available for the i7 13700K processor. It offers a remarkable power delivery system and exceptional features that make it a powerhouse that is ideal for premium builds. While it has a high price tag, the Z790 AORUS Master is worth every penny for those who are looking for top-tier performance.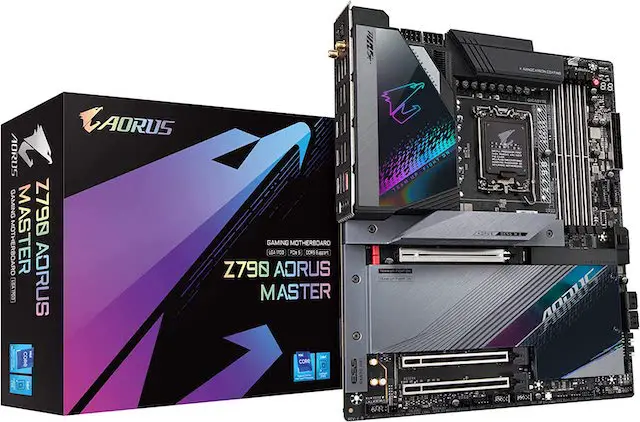 One of the most impressive features of this motherboard is its VRM setup, which boasts a remarkable 23-phase architecture. Of these 23 phases, 20 are devoted to providing clean and reliable power to the CPU. This power delivery system provides 105A directly to the CPU, ensuring that even the high-end i7 13700K CPU can be overclocked with ease.
Moreover, the VRM components are effectively cooled with multiple heatsinks, which means that temperatures won't ever be a problem, even when running an overclocked i7 13700K on a day-to-day basis. This makes the Z790 AORUS Master an excellent choice for gamers and enthusiasts who want to push their systems to the limit without having to worry about overheating issues.
Apart from its potent power delivery system, the Z790 AORUS Master also offers an extensive feature set that caters to the needs of gamers and creative professionals alike. This DDR5 model works seamlessly with current Raptor Lake processors, including the Core i7 13700K, and supports DDR5 memory up to 8000MT/s. It also features four M.2 slots, a host of high-speed USB ports, and support for up to six SATA drives for your storage devices.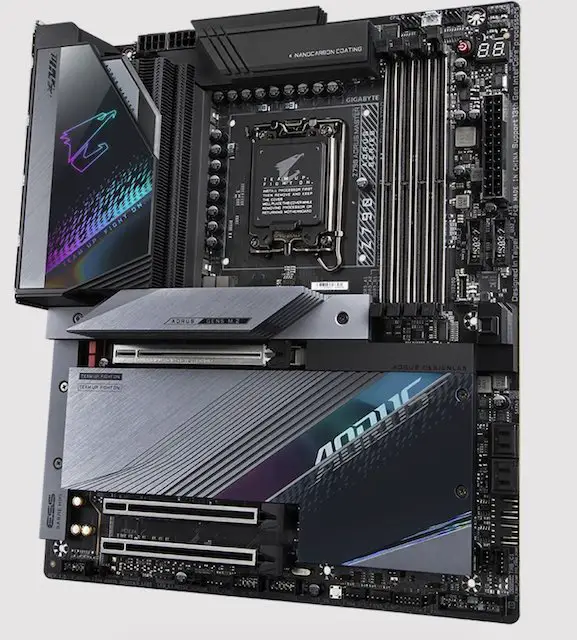 Networking is a standout feature of the board, as the Z790 AORUS Master includes a 10 GbE LAN port for wired connections as well as the WiFi 6E standard for reliable wireless networking. The Marvell 10 GbE LAN is a great contributor to the board's overall capability and versatility, making it the perfect choice for enthusiasts and professionals.
The absence of an HDMI output on the rear I/O may be a minor inconvenience, but it's not a deal-breaker, especially considering the other features that this motherboard has to offer. You can find the ASUS ROG Strix Z790-E at the same price point, but we prefer the AORUS due to its overclocking potential and superior networking features.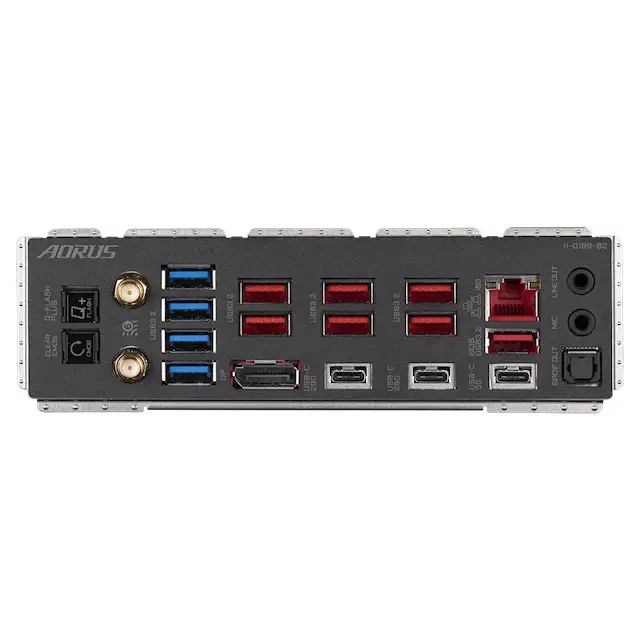 In terms of appearance, the Z790 AORUS Master has a sleek and contemporary design, with a simple layout, attractive lighting, and a neutral color scheme. The RGB lighting is skillfully implemented, and the overall appearance of the board is quite modern and attractive. You might also consider the ASUS ProArt Creator Z790 motherboard at a similar price for a more understated look, but the AORUS has a much better power delivery system and comparable features.
The main drawback to this premium motherboard is its high price tag, which may be a significant investment for some users. However, considering its exceptional power delivery system, extensive feature set, and attractive design, the Gigabyte Z790 AORUS Master is undoubtedly the best high-end motherboard for the i7 13700K processor.
So, if you're looking for a top-tier motherboard that can deliver exceptional performance and reliability, the Z790 AORUS Master is the one to get.
RATINGS:
VRM Design: 9.5/10
Features: 9.5/10
Aesthetics: 8.5/10
Value for Money: 7/10
Overall Rating: 8.5/10
Form Factor: ATX | Chipset: Z690 | VRM: 16+1 Phase | Memory: 4x DIMM, 128GB, DDR5-6000 | Video Outputs: HDMI, DisplayPort | USB Ports: 8x rear IO, 7x internal | Network: 1x 2.5 GbE LAN | Storage: 4x M.2 Slots, 4x SATA Ports
Pros:
Acceptable VRM Design
White Aesthetics
Affordable
High Memory Compatibility
Cons:
Poor VRM Cooling
No WiFi
Limited Rear USB Ports
While there are many high-end motherboards on the market, finding a budget-friendly motherboard that doesn't compromise on quality can be challenging. This is where the ASUS PRIME Z690-A comes in, as it's the best budget motherboard for the i7 13700K that offers excellent value for your money.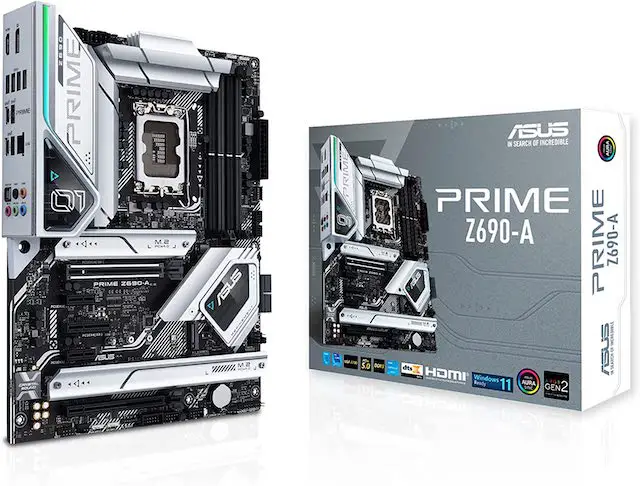 One of the main benefits of the ASUS PRIME Z690-A is its VRM performance. Although it's not the most powerful VRM in the category, it's more than capable of handling the i7 13700K at default voltage settings, thanks to its 16+1 phase design. Since this is a budget choice, it is optimal to run the i7 13700K at stock when paired with the Z690-A, or under minor overclocks.
The VRM components are adequately cooled by substantial heatsinks that are connected via a heat pipe, which ensures decent thermal performance at stock settings. While the temperature numbers may not be as good as some of the premium motherboards, it's still suitable for everyday use in a high-end gaming PC.
In terms of features, the ASUS PRIME Z690-A offers a rudimentary set that makes some sacrifices to keep the cost low. It does offer a 2.5 GbE LAN port for fast networking, but this particular version doesn't include WiFi which is not ideal in the modern era. The connectivity and storage options offered by the board are acceptable and in line with what you would expect in a budget Z690 motherboard.
The eight rear USB ports are limited in terms of connectivity, but the addition of a Thunderbolt 4 port on the back I/O is a nice touch. We would have liked to see a few more USB ports on the rear I/O for the power users and enthusiasts out there.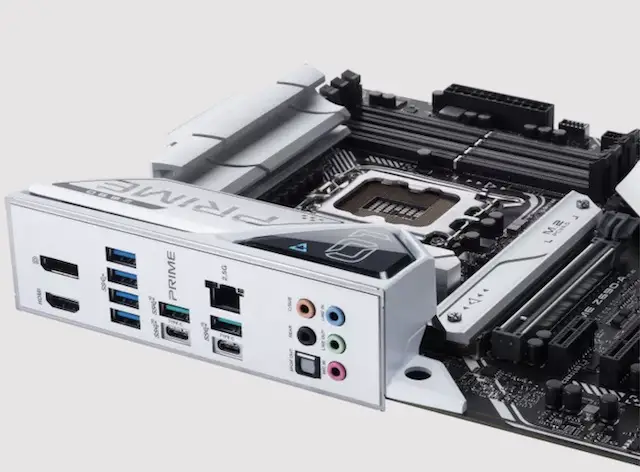 You may also consider the MSI PRO Z690-A motherboard for nearly the same price, but we prefer the ASUS PRIME Z690-A due to its superior power delivery system and versatile connectivity. It might not have built-in WiFi, but it delivers a much better overall price-to-performance ratio.
Another standout feature of the ASUS PRIME Z690-A is its appearance. Its all-white color scheme gives it a stylish and streamlined look that is ideal for a white-themed PC build. The ASUS PRIME motherboards often have unique design features that make them stand out from the crowd, and this particular variant is no exception. We recommend the PRIME Z690-A for all-white builds that are quite popular right now.
Additionally, the board has customizable RGB lighting that can produce a variety of styles, with carefully considered placement and layout of the RGB zones. ASUS has done a great job of integrating design elements into the board while keeping it relatively simple and streamlined.
It's worth noting that the ASUS PRIME Z690-A is not the most feature-rich motherboard on the market. Still, it offers almost everything you need for a high-quality 13th Gen Intel motherboard without breaking the bank.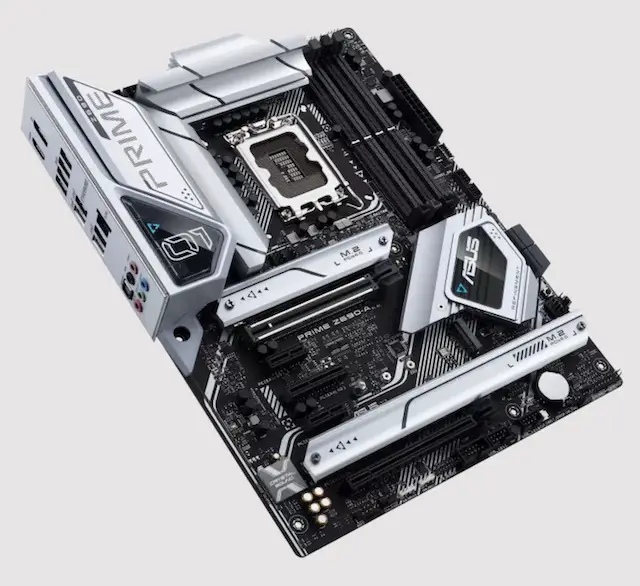 While some may find the lack of WiFi a drawback, the board's other features and performance capabilities more than make up for it, making it an excellent budget-friendly option for the i7 13700K CPU.
RATINGS:
VRM Design: 8/10
Features: 7.5/10
Aesthetics: 8/10
Value for Money: 9/10
Overall Rating: 8/10
Latest posts by Konstantinos Chiotis
(see all)