As an Amazon Influencer, we earn from qualifying purchases you might make if you click any of the links on this page.
Looking for the best B660 motherboard?
For those of you on the hunt for the best B660 motherboard, there's a lot that you need to consider. While the B760 series of motherboards succeeded the B660 series, the differences are minimal. Intel's budget chipsets don't change much between generations, and the case is mostly the same here.
When buying a B660 motherboard, you should stick to DDR4, as DDR5 prices are still relatively unstable right now. Taking that into consideration, we've compiled a list of the best B660 motherboards you can buy today.
Our roundup consists of our editor's choice, which features excellent memory overclocking, VRMs, and a stunning design at a reasonable price. The high-end pick is for people looking for enthusiast-level features, such as a debug panel, excellent connectivity, and beefy VRMs.
Our budget pick is for those of you who want a good motherboard with decent features, but don't want to splurge. Finally, we also have microATX and ITX boards that are the best relative to their form factors.
Before moving on make sure you check the following detailed tutorial on how to choose the best motherboard for you: How To Choose The Right Motherboard For Your Needs: A Comprehensive Guide
Why Should You Trust Us?
Our commitment to providing our readers with accurate, reliable, and unbiased information stems from our team's expertise and passion for technology and gaming. One of our key contributors, Konstantinos Chiotis, embodies this dedication and has helped us establish a strong reputation in the industry.
Expertise: With over a decade of experience in the tech industry, Konstantinos has developed an extensive understanding of motherboards, processors, GPUs, and other components. His passion for tech, coupled with his enthusiasm for gaming, drives him to explore new technologies and share his knowledge in a comprehensive and engaging manner.

In-depth analysis: Konstantinos's expertise enables him to provide detailed hardware comparisons and reviews, examining various aspects of each motherboard, such as VRM quality, connectivity, memory support, and design. By combining his insights with those of our other experienced team members, we ensure that our recommendations are well-rounded and informed.

Comprehensive research: Our team, led by experts like Konstantinos, devotes significant time and effort to researching every product we review. We carefully evaluate user reviews, expert opinions, and market trends to provide up-to-date and relevant recommendations.

Unbiased recommendations: We pride ourselves on maintaining editorial independence to offer unbiased advice. Neither Konstantinos nor any other team member is influenced by manufacturers or brands, and we do not receive commissions or incentives for promoting specific products. Our recommendations are based solely on the merit of the product and its features.

Continuous improvement: We are dedicated to staying current with the latest developments in the tech landscape. Our content is regularly updated to reflect the most recent information and industry trends. With experienced contributors like Konstantinos, we ensure that our readers receive accurate and relevant advice.

Reader-focused: Your satisfaction is our top priority. Our team, including Konstantinos, is committed to creating content that is not only informative but also accessible and easy to understand. We value your input and encourage you to share your thoughts and experiences with us.
In summary, you can trust our recommendations because of the expertise and dedication of contributors like Konstantinos Chiotis, as well as our team's commitment to providing well-researched, unbiased, and accurate information. We strive to help you make informed decisions when purchasing a B660 motherboard or any other pc component.
How We Choose the Best B660 Motherboards
When evaluating B660 motherboards for our recommendations, we take a variety of factors into account to ensure that we provide you with the best possible options. These factors include:
Performance: The primary focus is on the performance of the motherboard. We consider the quality of the power delivery system (VRMs), memory overclocking capabilities, and overall stability. This ensures that the motherboards we recommend can handle the latest Intel Alder Lake and Raptor Lake processors.

Connectivity: We look for motherboards that offer a wide range of connectivity options, including USB ports, SATA ports, M.2 slots, and networking options like Ethernet and Wi-Fi. This ensures that you can connect all of your devices and peripherals without any issues.

Design and Aesthetics: While the appearance of a motherboard might not affect its performance, we understand that many PC builders value a clean and attractive design. We take into account the overall look of the motherboard, including color schemes, heatsink designs, and any RGB lighting features.

Price: We consider the price of the motherboard relative to its features and performance. Our goal is to find motherboards that offer the best value for their respective price points, whether you're looking for a budget, mid-range, or high-end option.

Form Factor: We understand that different builders have different preferences when it comes to the size of their systems. That's why we include options for ATX, microATX, and mini-ITX form factors in our list of recommendations.

User Reviews and Feedback: We take into account the opinions of other users and experts in the field. By considering the experiences of others, we can provide a more comprehensive and accurate evaluation of each motherboard.
By considering these factors, we aim to provide a well-rounded selection of B660 motherboards that cater to different needs and preferences. Whether you're a budget-conscious builder or someone looking for enthusiast-level features, our recommendations are designed to help you find the perfect motherboard for your build.
Best B660 Motherboards – Our Picks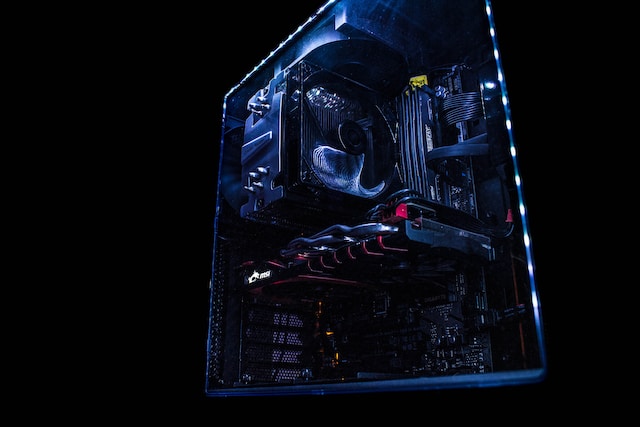 Top Five Best B660 Motherboards
Form Factor: ATX | Chipset: B660 | VRM: 12+1+1 Phases | Memory: 4x DIMM, 128GB, DDR4-4800 (OC) | USB Ports: 5x USB 3.2, 4x USB 2.0, 5x USB headers | Network: Realtek 2.5 GbE LAN, Wi-Fi 6, Bluetooth 5.2 | Storage: 3x M.2, 6x SATA
Pros
Excellent connectivity
Sleek and stealthy design
Robust power delivery
Plenty of fan headers
Great overall value
Cons
MSI's Tomahawk series of motherboards have been largely successful thanks to their abundance of features, excellent power delivery, and sleek design. The B660 Tomahawk is no different, and that's why it was an easy choice for our pick as the best B660 motherboard all around.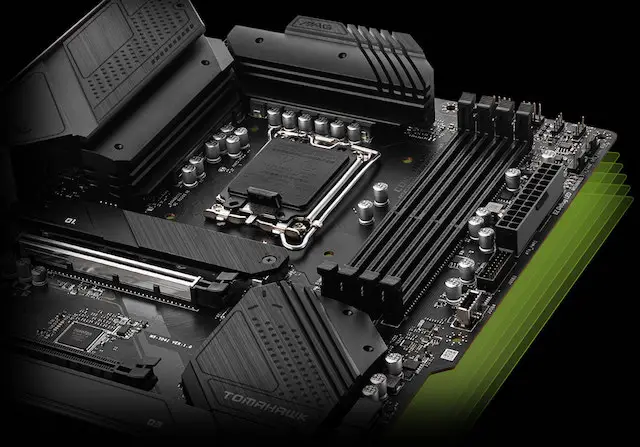 So, what set's this motherboard apart from all of the other B660 boards in the market? To start, in a world where every motherboard manufacturer wants to stand out with a flashy design, the Tomahawk takes a stealthy approach. This has become a standard for the series, and it continues to work well in their favor here.
The Tomahawk is sleek and stylish, allowing it to fit into almost any build thanks to its neutral design. It features a large rear panel cover with minimal branding and gigantic VRM heatsinks that blend right into the design. The chipset heatsink has subtle "Tomahawk" branding over it, and this heatsink design carries over to the M.2 slots as well.
Speaking of which, this board features three M.2 slots, all of which are on the front of the motherboard. One sits above the PCIe x16 slot, and the other two are below the chipset heatsink. All of them feature MSI's "EZ M.2 clips", which allow you to install M.2 drives without fumbling with screws.
The B660 Tomahawk comes with seven 4-pin fan/pump headers, which is an insane amount for a B660 motherboard. This isn't something you'd expect even from an entry-level Z690 motherboard, so it's quite the welcome feature here.
Let's talk about performance. Even though Intel's B-series boards don't support overclocking, the Tomahawk goes a bit overkill with its power delivery. It features a robust 12+1+1 phase VRM configuration, which can easily handle higher-end Alder Lake and Raptor Lake, processors. This is excellent if you want to pair this motherboard with an i7 13700 or i9 13900 (non-K, of course).

Of course, you can still use the K-series chips if you want, but there's no real point since you can't overclock anyway. However, memory overclocking is quite good here, as you can easily crank supported DDR4 kits up to 4800MHz. It supports 128GB of DDR4 memory, and there's also a DDR5 version.
You might be wondering why we'd recommend the DDR4 version over the DDR5 one. It simply comes down to value. A lot of PC games are not optimized well to handle DDR5 memory, so the differences are minimal. On top of that, both DDR5 memory and DDR5 boards are quite expensive right now.
All in all, the B660 Tomahawk is an excellent choice. It is reasonably priced, looks great, and delivers in terms of performance. The Gigabyte B660 Gaming X is also a close competitor, but it falls short in terms of value compared to the Tomahawk. MSI's B660 lineup also includes the B660-A Pro, but the Tomahawk is better in terms of design and VRMs.
Best for: The mainstream gamer or PC builder who wants a perfect blend of performance, design, and value. It is ideal for those who plan to use a high-end processor and want excellent memory overclocking capabilities.
Not suitable for: Users looking for RGB lighting or an over-the-top design.
Ratings
VRM Design: 9/10
Aesthetics: 9/10
Connectivity: 9/10
Value for Money: 8/10
Overall Rating: 9/10
Form Factor: ATX | Chipset: B660 | VRM: 16+1+1 Phases | Memory: 4x DIMM, 128GB, DDR4-5333+ (OC) | USB Ports: 6x USB 3.2, 4x USB 2.0, 4x USB headers | Network: Realtek 2.5 GbE LAN, Wi-Fi 6, Bluetooth 5.2 | Storage: 3x M.2, 4x SATA
Pros
Great support for watercooling
Overkill VRM configurations
Aesthetically pleasing design
Enthusiast-centric features
10 rear USB ports
Cons
If the B660 Tomahawk isn't doing it for you, maybe you need something more flashy, powerful, and catered toward enthusiasts. Well, the B660 Aorus Master is exactly that, and more. If you need a full-featured motherboard and don't mind spending a lot on it, this is the best B660 motherboard for you. Of course, there are a few caveats.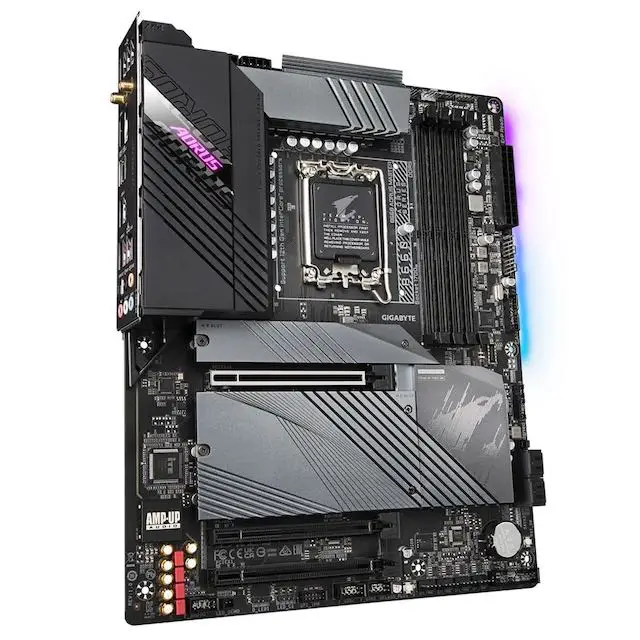 One thing that immediately sets the B660 Aorus Master apart is the fact that its premium 18-phase VRM performs almost if not exactly the same as an entry level Z790 motherboard. Of course, it doesn't support overclocking, but it has everything else you might want out of a gaming motherboard. The overall design is quite interesting, as the gray heatsinks contrast quite a bit with the black rear panel cover.
The RGB lighting around the rear I/O cover, and near the right edge of the motherboard further complements this already flashy design. The large VRM heatsink features Aorus branding that is backlit by RGB LEDs. As for the chipset, M.2, and VRM heatsinks, they are all gray with a grooved design. The chipset heatsink features the Aorus Eagle logo.
Moving on, this motherboard features a 16+1+1 VRM configuration, with 16 dedicated phases for the V-Core. These VRMs are rated at 60A, and this entire configuration is quite overkill for a B660 motherboard. It feels like it was designed with a 13900K in mind, even though this board does not support overclocking.
Memory support is impressive as well, as you can overclock supported DDR4 kits up to 5333MHz. Sure, that won't be practical with most DDR4 kits, but it is possible.
Moving on, this motherboard features three PCIe 4.0 M.2 slots, allowing you to get the absolute best for your storage needs. One odd quirk is the fact that it only has four SATA ports. Most people will be fine with this, but we're unsure why that is the case here. Six SATA ports are standard on nearly every ATX board.
Since the Aorus Master is catered towards people looking for a high-end option, it features a 4-LED debug panel, BIOS flashback, and a flagship audio codec. Speaking of audio, this motherboard delivers quite well in that regard, just like its bigger brother, the Z690 Aorus Master as both motherboards use identical audio codecs (ALC1220-VB).
Finally, this motherboard also excels in connectivity. It features plenty of USB ports, Wi-Fi 6, 2.5Gbps Ethernet, and plenty of fan headers. The latter means that it's also great for watercooling since you get a lot of flexibility for attaching pumps.
As for the competition, the ROG Strix B660-A comes close, but that board is even more pricey and hard to find these days. Gigabyte's lineup also includes the B660 Gaming X, but the Aorus Master features better memory overclocking, RGB lighting, and substantially better power delivery.
Best for: Enthusiasts who want a full-featured motherboard, excellent power delivery, and high-end features such as debug panels and water cooling support.
Not suitable for: Budget-conscious buyers or those who require more than four SATA ports.
Ratings
VRM Design: 9/10
Aesthetics: 8.5/10
Connectivity: 9/10
Value for Money: 8/10
Overall Rating: 8.5/10
Form Factor: mATX | Chipset: B660 | VRM: 12+1+1 Phases | Memory: 4x DIMM, 128GB, DDR4-4800+ (OC) | USB Ports: 4x USB 3.2, 4x USB 2.0, 4x USB headers | Network: Realtek 2.5 GbE LAN, Wi-Fi 6, Bluetooth 5.2 | Storage: 2x M.2, 6x SATA
Pros
Excellent price-to-performance ratio
Industrial design
Superb performance
Six SATA ports
Cons
Only 4 SATA ports
Could use more fan headers
Moving on to something more affordable, the MSI MAG B660M Mortar is arguably the best B660 motherboard out there in terms of overall value. It's like a smaller brother to the B660 Tomahawk we looked at earlier. While it does cut some corners here and there, this is still a great motherboard that will be quite good for most gamers.

Of course, this is a microATX motherboard, so there will be some compromises here and there. However, if you can get by with just two M.2 slots, don't need multiple fan headers, and need something more compact, then this is the board to get. The cherry on top is that you save a lot of money in the process.
While the B660M Mortar is affordable, that does not mean it looks "cheap". The Mortar series has always had an interesting design language, and the same is true here for the B660 version. Thanks to the metallic silver finish on the heatsinks, the motherboard gives off a minimalist and industrial look.
This is a board that can fit well into an all-white theme. All of the heatsinks complement each other beautifully, and even the rear-panel cover goes along with the theme. Branding is minimal, with just an MSI logo on the rear cover and Mortar branding on the chipset heatsink.
As for storage, this microATX motherboard is equipped with two M.2 slots and six SATA ports. It would have been nice to see another M.2 slot here, but the form factor did not allow for that. Apart from that, there are four fan headers, which is a considerably lower number compared to the B660 Aorus Master and B660 Tomahawk above.
Still, that might not be a big issue if you already have a fan controller. Apart from that, there are no real compromises with this motherboard. You're getting a robust 14-phase VRM configuration, and 12 of those phases are dedicated to the V-Core. It's good to see that nearly all B660 motherboards are decent in terms of power delivery, and this one lives up to the standard.
Memory overclocking is also quite good compared to other mATX motherboards. It can handle 128 gigs of DDR4 memory, with a maximum speed of up to 4800MHz. Even though Intel processors work fine enough with lower frequency memory compared to Ryzen, this sort of performance is nice to see on a microATX board.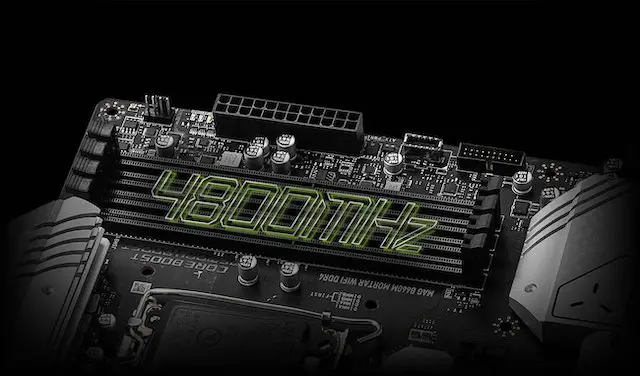 Finally, this motherboard is not lacking in terms of connectivity either. You're getting 2.5Gbps Ethernet, Wi-Fi 6, Bluetooth 5.2, and plenty of USB ports.
This board also compares well against the competition. The ASUS Prime B660M-A is a close competitor, but the Mortar has a better build quality. MSI makes another B660 mATX motherboard, the Pro B660M-A. However, the Mortar is better as it features Wi-Fi, support for faster memory overclocking, and an aesthetically pleasing design.
Best for: Budget-conscious gamers or PC builders who want a great price-to-performance ratio and a compact motherboard.

Not suitable for: Users who need more fan headers or those who require ATX form factor.
Ratings
VRM Design: 8/10
Aesthetics: 8/10
Connectivity: 8/10
Value for Money: 8/10
Overall Rating: 8/10
Form Factor: mATX | Chipset: B660 | VRM: 8+1 Phases | Memory: 4x DIMM, 64GB, DDR5-6200 | USB Ports: 5x USB 3.2, 3x USB 2.0, 3x USB headers | Network: Intel 2.5 GbE LAN, Wi-Fi 6, Bluetooth 5.2 | Storage: 2x M.2, 4x SATA
Pros
Dual M.2 Slots
High-end audio codec
DDR5
Cons
VRMs can get hot
Expensive
Only six USB Type-A ports
When it comes to ITX motherboards, there are only a few options to pick from for the B660 chipset. Out of all of those, the ROG Strix B660-I Gaming is your best bet. If you're looking to put together a compact build, and don't mind spending the money to do so, then this is the best B660 motherboard for you.
However, keep in mind that ITX motherboards come with their compromises. We'll get to that in a bit. First, let's talk about the design. The ROG Strix B660-I certainly has a lot going on. You can see the massive "STRIX" branding over the rear-panel cover, and the bright logo over the chipset heatsink.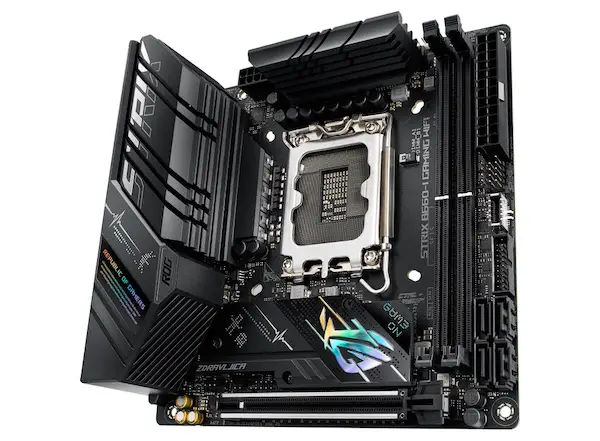 The VRM heatsink on the left blends in with the rear panel cover, and keeps the MOSFETs below cool thanks to its large surface area. At the top, another tall heatsink covers the other set of VRMs. Speaking of which, this motherboard sports an 8+1 phase power delivery configuration, which is quite decent for a mini-ITX board.
However, when paired with a powerful processor like the Core i7 13700, these VRMs can get a bit hot. This does not result in thermal throttling, but just something to be aware of. Of course, this is par for the course for higher-end ITX motherboards, so we can't fault the board too much here.
The board includes two M.2 slots, which is always great to see on an ITX motherboard. Both of these slots are NVMe PCIe 4.0 slots, so you are getting the absolute best in terms of speed and efficiency. Speaking of which, this is also the only motherboard on this list that supports DDR5.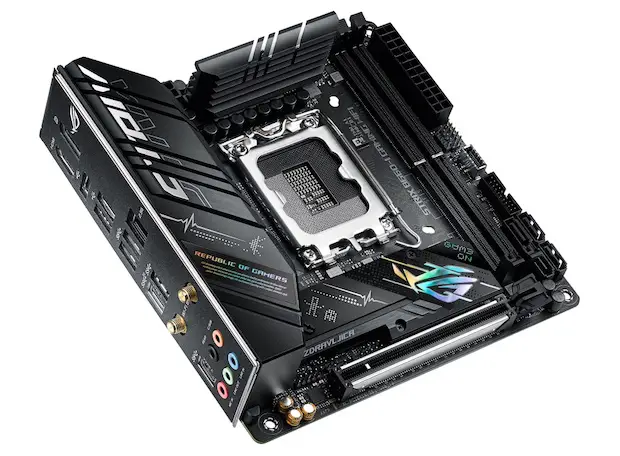 While we don't necessarily recommend buying DDR5 versions of B660 motherboards, this is an exception. As we said earlier, ITX boards are uncommon for the B660 chipset, and this is the best one out there. It just so happens that it supports DDR5 instead of DDR4.
Now, that does make this motherboard expensive, but it is worth the investment. Especially once you consider how overpriced the Z690 version of ITX motherboards can get. If you're planning on building a small form factor build with a 13th Gen processor, this motherboard is the best value you can get.
Even then, it's the priciest board on this list, which is to be expected from a high-end ITX option. These boards can be quite niche in popularity, and as there aren't many options to pick from, prices are higher.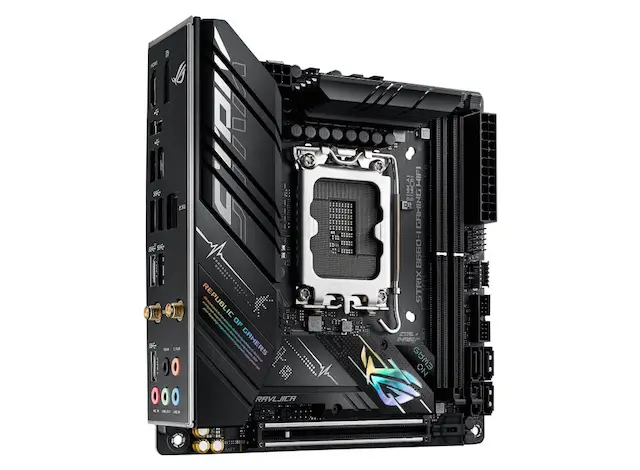 The only real competition to this board is the Gigabyte B660-I Aorus Pro. While that one is a bit cheaper, it lacks DDR5 support and only features one M.2 slot. On that basis alone, the Strix B660-I is ultimately the better pick.
Best for: Builders who want to create a compact, small form factor system, and are willing to invest in DDR5 memory.
Not suitable for: Budget-conscious buyers or those concerned about VRM temperatures under heavy loads.
Ratings
VRM Design: 7.5/10
Aesthetics: 8/10
Connectivity: 8/10
Value for Money: 7/10
Overall Rating: 7.5/10
Conclusion
To summarize, the MSI MAG B660 Tomahawk Wi-FI DDR4 is the best overall B660 for most users, while the Gigabyte B660 Aorus Master is perfect for enthusiasts. The MSI MAG B660M Mortar Wi-Fi is the go-to choice for budget-conscious and microATX builders, and the ASUS Rog Strix B660-I Gaming Wi-Fi is ideal for small form factor system builders.
Latest posts by Konstantinos Chiotis
(see all)