Searching for the best motherboards for Ryzen 5 5500?
If you're planning a PC build with the Ryzen 5 5500 in 2023, choosing the right motherboard is crucial. But with so many options out there, how do you know which one is the best fit for your needs?
That's where we come in. We've done the heavy lifting, sifting through the myriad of options to bring you a comprehensive guide that will help you make an informed decision.
In this article, we'll be breaking down the top motherboards for the Ryzen 5 5500, each with its own unique strengths. Whether you're on a budget, looking for the best value, or willing to splurge on high-end features, we've got you covered.
So, are you ready to find the perfect motherboard for your Ryzen 5 5500? Let's get started.
Before moving on make sure you check the following detailed tutorial on how to choose the best motherboard for you: How To Choose The Right Motherboard For Your Needs: A Comprehensive Guide
Our Top 3 Picks
ASUS TUF Gaming B550-PLUS – Our Top Choice
ASUS Crosshair VIII Hero – Best High End Motherboard For Ryzen 5 5500
Gigabyte B550M DS3H – Best Budget Motherboard For Ryzen 5 5500
Why Should You Trust Us?
When it comes to PC building and motherboards, you're in good hands with our author, Konstantinos Chiotis. His passion for technology and gaming has fueled his dedication to understanding the intricacies of PC components.
He's not just a tech enthusiast; he's a seasoned expert with over a decade of experience in the tech industry.
From the age of 14, Konstantinos has been building PCs, giving him over 20 years of hands-on experience. He's well-versed in the nuances of motherboards, GPUs, and processors, and he brings this wealth of knowledge to his writing.
His detailed hardware comparisons and reviews are informed by his extensive background and genuine passion for technology. Trust us, when it comes to making informed decisions about your PC build, Konstantinos is the guide you want by your side.
How We Choose the Best Motherboards For Ryzen 5 5500
When it comes to selecting the perfect motherboard for the Ryzen 5 5500, we don't take the task lightly. We understand that the motherboard is the backbone of your PC, and the choice of motherboard can significantly influence your system's performance. Here's a look at the key factors we consider in our selection process:
Compatibility: The Ryzen 5 5500 requires an AM4 socket motherboard with a compatible chipset. The 400 and 500-series consumer chipsets, including X570, B550, A520, X470, and B450, are all compatible with the Ryzen 5 5500. However, for the 400-series chipsets, an updated BIOS is required.
Form Factor: We consider the size of the motherboard, which comes in ATX, Mini-ITX, and MicroATX form factors. While ATX is the most common for desktop PCs, Mini-ITX and MicroATX are suitable for mini-PC builds.
Storage Options: We look for motherboards with ample M.2 slots for NVMe M.2 cards, the latest and fastest form of SSD storage. The X570 and B550 chipsets, which support the most PCIe lanes, are likely to offer the most x4 NVMe M.2 slots.
Connectivity: A motherboard should have enough USB ports at the desired speeds. The X570 chipset can support up to 12 USB 3.2 2×1 (10 Gbps) ports, while the B550 supports up to 6 at these speeds.
PCIe Expansion Slots: The X570 and B550 chipsets provide the most flexibility in the 500-series, allowing multiple graphics cards in the dual x8 configuration at PCIe 4.0 speeds. However, the Ryzen 5 5500 only supports PCIe 3.0, so performance will be limited to these speeds.
Audio Outputs: We ensure the motherboard has the necessary audio outputs, especially if you're using a surround sound system. For those with audio equipment that relies on optical input, it's worth considering a motherboard with this specific port.
Value For Money: Given that the Ryzen 5 5500 is a budget processor, we also consider the price of the motherboard. We aim to recommend motherboards that offer excellent performance and features for their price point, ensuring you get the best value for your money.
Do You Want to Learn More About Motherboards? Check This:
THE HISTORY OF MOTHERBOARDS: EVOLUTION OVER THE YEARS
5 Best Motherboards For Ryzen 5 5500 Reviews
Form Factor: ATX | Chipset: AMD B550 | VRM: 8+2 DrMOS power stages | Memory: 4 x DIMM, Max. 128GB, DDR4| Video Outputs:HDMI 2. 1 (4K@60HZ) and DisplayPort 1. 2 | USB Ports: Front panel USB 3. 2 Gen 1 connector, USB 3. 2 Gen 2 Type-C & Type-A ports and Thunderbolt 3 header | Network: 2.5 Gb Ethernet, TUF LANGuard, and Turbo LAN | Storage: 6 x SATA 6Gb/s, 1 x M.2 Socket 3
Pros
Good value for money
Decent VRM Design
Great audio
Cons
Might need to upgrade BIOS For Ryzen 5000 processors
No Wifi
Finding a perfect motherboard for the Ryzen 5 5500 might be a daunting task, but the ASUS TUF Gaming B550-PLUS could be the answer. As the middle child in ASUS's B550 lineup, it brings robustness, superior Ethernet, and a plethora of internal & external connections to the table, giving pricier boards like the MSI MPG X570 GAMING PLUS a run for their money.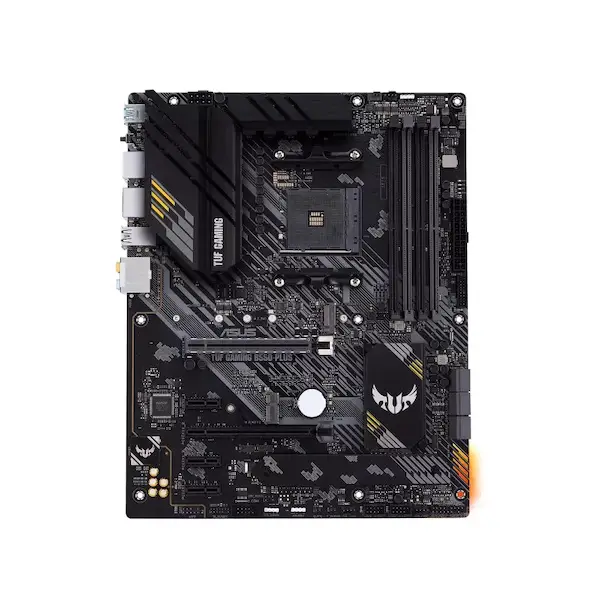 It's noteworthy to mention the 8+2 DrMOS power stages VRM design, offering a substantial 400Amp supply to the CPU and SOC. This is more than enough even for higher-tier processors so it might be even excessive for the 5500, but it's an assurance of stable power supply for the more demanding tasks. Added to this, it sports two sizable heatsinks, engineered with deep diagonal cuts, enhancing airflow and heat dispersion.
The motherboard aligns with the B550 philosophy of less power consumption. It hosts one heatsink each for the two supported M.2 drives, providing ample cooling. It also offers two full-length slots for GPUs and three x1 slots for expansion cards. Keep in mind that even though the Ryzen 5 5500 supports PCIe 3.0, using the top slot is beneficial due to its 16-lane advantage. The storage capacity is further expanded by six SATA ports.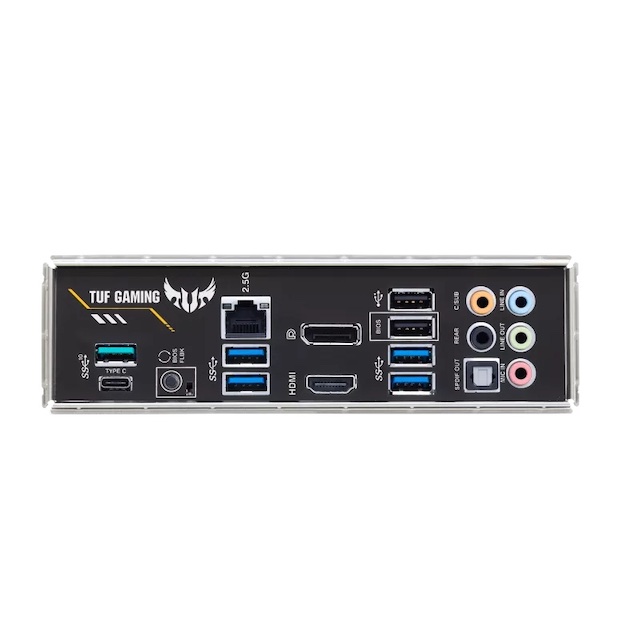 Design-wise, the TUF B550-PLUS is visually appealing with its black PCB, punctuated with yellow and white accents on the I/O shroud and chipset heatsink. The addition of a rich diagonal line pattern on the PCB offsets potential dullness due to component spacing.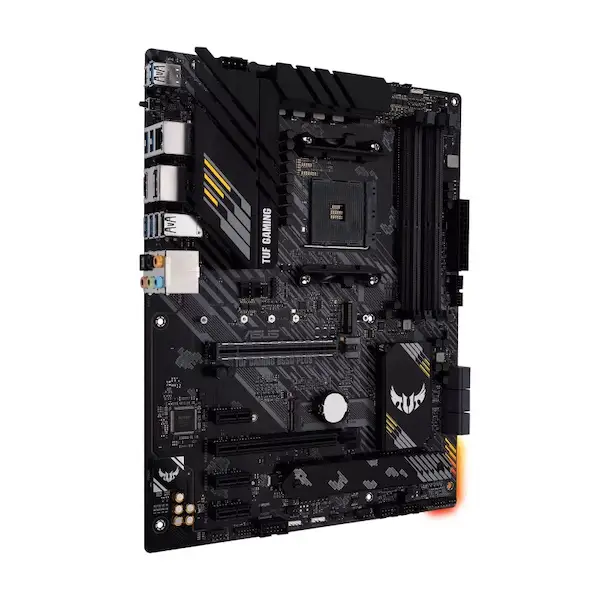 RGB lighting is minimal with a single strip under the PCB, but two regular and one ARGB headers cater for additional visual enhancements. With six dedicated cooling headers, managing the thermal environment won't be a problem. For connectivity, one USB 3.2 internal header is present, complemented with Thunderbolt support and a temperature sensor header for those who wish to keep a close eye on system temps.
Overall with a competitively priced feature-set, the ASUS TUF Gaming B550-PLUS stands out as a cost-effective option without compromising on essential elements, making it my top choice and arguably the best motherboard for the Ryzen 5 5500.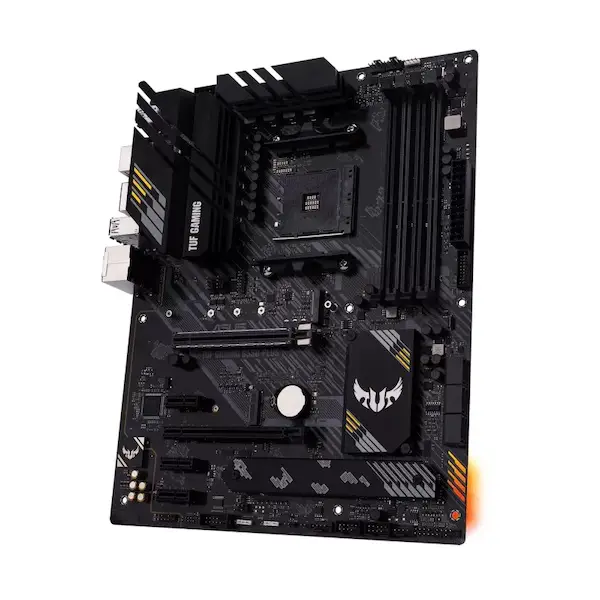 Form Factor: ATX | Chipset: AMD X570 | VRM: 14+2 IR3555 PowIRstages | Memory: 4 x DIMM, Max. 128GB, DDR4 | USB Ports: 4 x USB 3.2 Gen 2 port(s), 6 x USB 3.2 Gen 1 port(s), 4 x USB 2.0 port(s) | Network: Realtek® RTL8125-CG 2.5G LAN | Storage: 8 x SATA 6Gb/s
Pros
Sturdy Power Supply
Abundance of USB Ports
Reliable Connectivity
8 SATA Ports for Ample Storage
Impressive RGB Customization
Cons
High Price Point
Lack of Display Outputs
Stepping into the realm of high-end motherboards for the Ryzen 5 5500, the ASUS ROG Crosshair VIII Hero (WiFi) is a top-tier X570 motherboard that doesn't shy away from flaunting its premium price tag. Yet, it justifies every penny with its remarkable features and a power delivery system that's built to impress.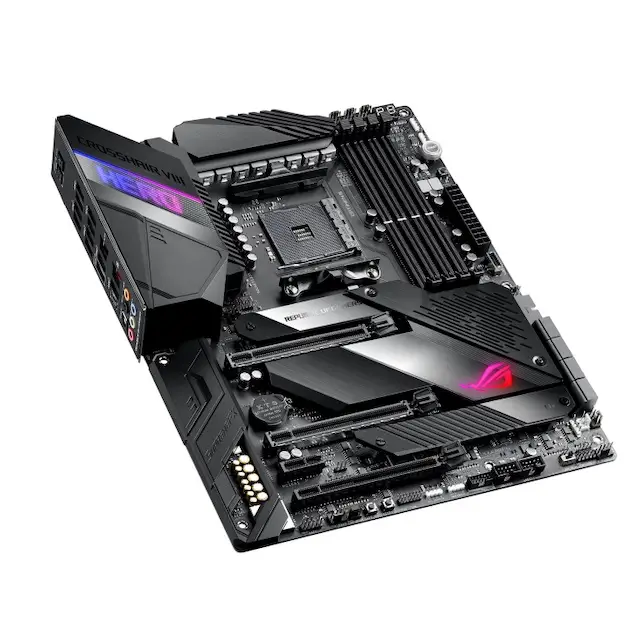 The ASUS ROG Crosshair VIII Hero is a motherboard that's crafted with overclocking in mind. Don't be misled by the seemingly modest "8-phase" VRM layout. ASUS has a unique approach to power delivery system design, making the phase count less significant. The VRM on this motherboard is engineered to ensure dependable power supply to the CPU, particularly during overclocking.
The VRM is composed of superior-grade components, including top-tier MOSFETs and ceramic capacitors. These are cooled by substantial heatsinks that enhance reliability and lifespan. The heatsinks are well-finned, ensuring heat is evenly dispersed to prevent throttling.
The ASUS Crosshair VIII Hero is a gaming motherboard that doesn't compromise on features. It boasts a 2.5 GbE LAN port and WiFi 6, catering to most networking requirements. The eight SATA ports and two M.2 slots provide ample room for storage drives. The rear panel houses three USB 3.2 Gen 2 ports, contributing to the total of 10 rear USB ports. The only thing missing is a display output, which would have been a welcome addition.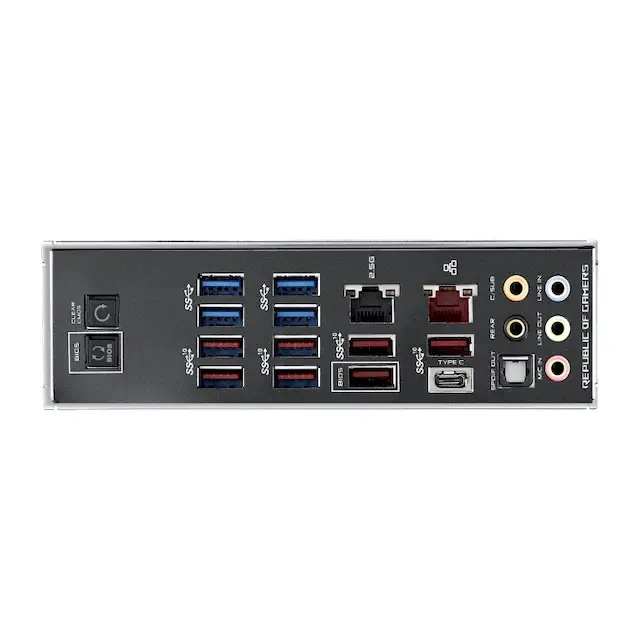 The aesthetics of the ASUS Crosshair VIII Hero are a sight to behold. The sharp, sleek design coupled with the RGB lighting makes this motherboard a standout piece. The black and red color scheme is a perfect match for my build components. The port and connector layout is also visually appealing.
The ASUS Aura Sync software allows you to personalize the RGB lighting, making the motherboard a unique part of your build.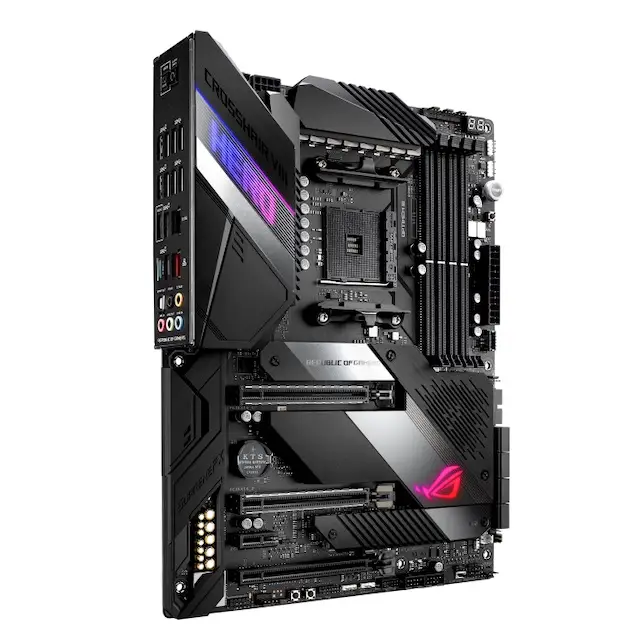 The ASUS Crosshair VIII Hero doesn't just stop at the generational chipset upgrade. It also brings additional enhancements like PCIe Gen 4 and official support for Ryzen 5000 series CPUs, compared to its predecessor, the Crosshair VII Hero.
We opted for the Crosshair VIII Hero over pricier options like the Extreme due to the superior price-to-performance ratio it offers. However, for Ryzen 9 5950X, we did recommend the Crosshair VIII Extreme in our list.
In conclusion, the ASUS Crosshair VIII Hero is the ultimate premium motherboard for Ryzen 5 5500, though it comes with a hefty price tag. While some may argue that it's a bit overkill for a budget CPU like the Ryzen 5 5500, overclocking enthusiasts may find the Crosshair VIII Hero worth considering.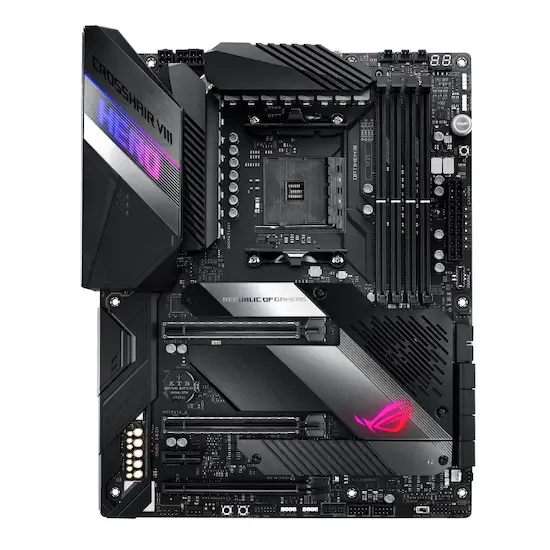 RATINGS
VRM Design: 9/10
Features: 9/10
Aesthetics: 9.5/10
Value for Money: 7/10
Overall Rating: 9/10
Want More Ryzen Options? Check These:
3. Gigabyte B550M DS3H – Best Budget Motherboard For Ryzen 5 5500
Form Factor: ATX | Chipset: AMD Socket AM4 | VRM: 5+3 Phases Pure Digital VRM Solution | Memory: 4 x DDR4 DIMM | Video Outputs: 1 x HDMI port, 1 x DisplayPort | USB Ports: 2 x USB 3.2 Gen 1 ports, 6 x USB 2.0/1.1 ports| Network: Realtek® GbE LAN chip | Storage: 1 x M.2 connector, 4 x SATA 6Gb/s
Pros
Amazing value for money
Features PCIE 4.0 x16 Slot
Diverse Display Options
Cons
No USB Type-C
No Built-In WiFi
If you are looking for an affordable, yet high-performing motherboard, the Gigabyte B550M DS3H raises the bar in terms of value. That's why it's my choice as the best budget motherboard for the Ryzen 5 5500.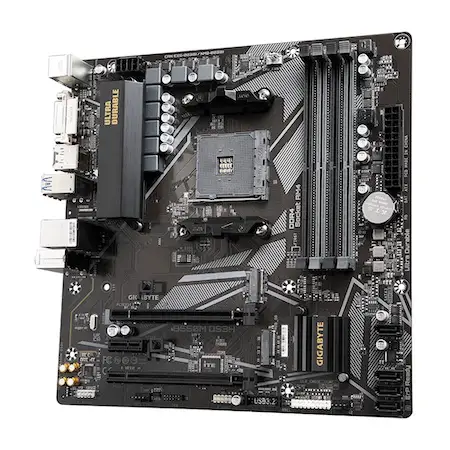 At the heart of this micro-ATX form factor motherboard is the B550 chipset. So it supports all Ryzen 5000 series processors and it features PCIe 4.0 x16 slot, ensuring compatibility with top-tier graphics cards.
Sporting a captivating color scheme of black, gray with a touch of gold, this motherboard is not just about functionality but also flair.
Port-wise, there's no shortage. We have a healthy number of 4 USB 3.2 Gen1 ports, and 4 additional USB ports. Yes, I admit, Gen1 might not match up to the speed of Gen2 ports, but let's be honest – it's more than enough for the average user. Now, you may notice a couple of absentees here – no USB Type-C port, no built-in WiFi. But hey, considering the budget-friendly price, I cannot really complain.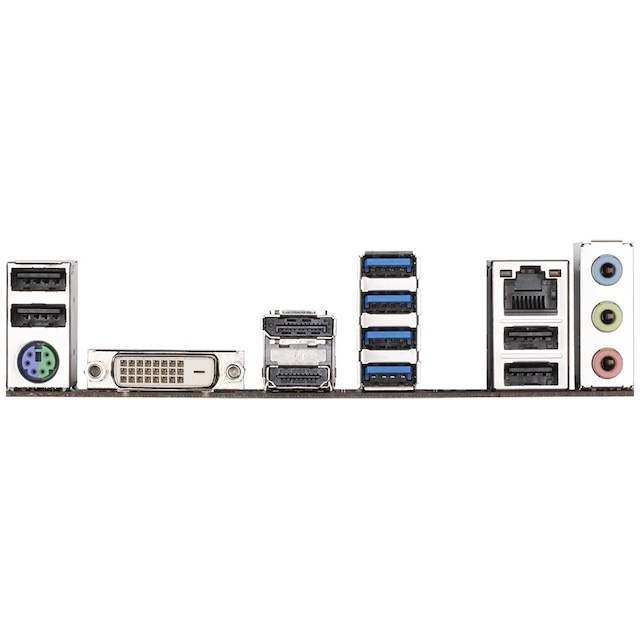 For the RAM-hungry folks, this motherboard won't disappoint. With 4 DIMM slots, you can stuff in up to 128GB of DDR4 RAM at a base speed of 3200 MHz, or even push beyond if you dare to overclock. To sweeten the deal further, it includes a DVI-D and HDMI 2.1 port, the latter allowing you to run monitors at 4K 60Hz. Pretty neat, right?
Let's call it as we see it – this motherboard is a budget gaming PC's best friend. It stands its ground, offering no compromise on essential gaming components, and all without burning a hole in your pocket. The Gigabyte B550M DS3H, with its excellent value for money, affordable price, and the inclusion of PCIe 4.0, may have a couple of shortcomings, but it solidly stamps its place as the best budget motherboard for the Ryzen 5 5500. It's not just about making do, it's about making the most out of your budget.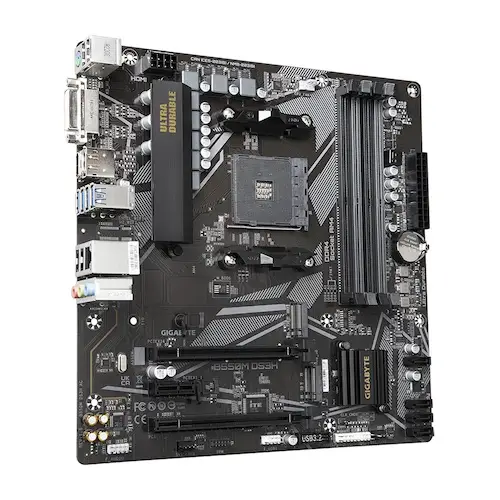 Check These Other Gigabyte Options:
Form Factor: Mini ITX| Chipset:AMD B550 | VRM: 8-phase design that operates in a 6+2 configuration | Memory: Dual Channel ECC/ Non-ECC Unbuffered DDR4, 2 DIMMs | Video Outputs: DisplayPort + Dual HDMI Support | USB Ports: USB 3.2 Gen2 Type-C | Network: Intel® WiFi 6 802.11ax 2T2R & BT5, Realtek® 2.5GbE LAN | Storage: 1 x M.2 connector, 4 x SATA 6Gb/s connectors
Pros:
High-quality, minimalistic design
Capable 8-phase VRMs
Dual M.2 slots and robust wireless connectivity
Impressive memory overclocking
Cons:
Slightly expensive
Could benefit from more USB ports
The Gigabyte B550I Aorus Pro Ax stands tall among the ITX B550 motherboards. While options like the ROG Strix B550-I and the ASRock Phantom Gaming motherboards might spring to mind, the Gigabyte B550I Aorus Pro Ax outshines them in terms of value and features. Here's why it's the top Mini ITX pick for the Ryzen 5 5500.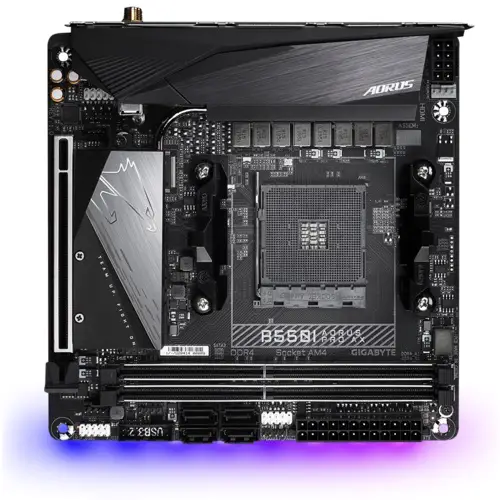 The B550I Aorus Pro Ax exudes a premium vibe. Its rear-panel cover is unusually large for an ITX motherboard, harmoniously blending with the VRM heatsinks. The chipset heatsink, positioned above the PCIe x16 slot, cleverly conceals the M.2 slot beneath.
Despite its proximity to the PCIe x16 slot, the heatsink doesn't contribute to overheating. It effectively dissipates heat, eliminating the risk of thermal throttling, even under heavy GPU usage.
Performance-wise, the Aorus Pro motherboard boasts an 8-phase VRM configuration. This power delivery setup performs admirably, especially for an ITX board. The 8 phases might seem modest, but they capably handle even high-end processors like the Ryzen 9 5900X.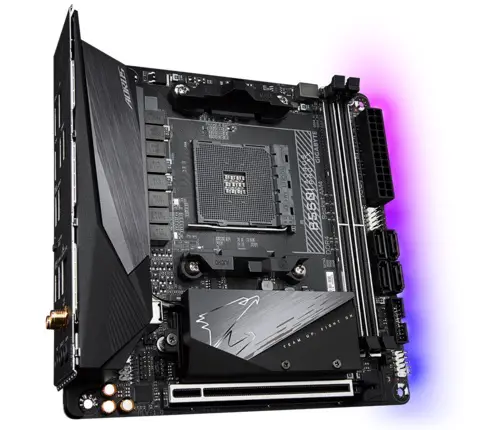 The Gigabyte B550I Aorus Pro AX isn't just about a robust VRM configuration. It's packed with features that make it a stellar choice for a high-performance ITX system. Notably, it includes dual M.2 slots for ultra-fast NVMe SSD storage, a boon for gamers and content creators who need rapid access to large files and applications.
The Aorus Pro also supports Wi-Fi 6 and Bluetooth 5.0, ensuring fast and dependable wireless connectivity. On the rear, you'll find five USB ports and a USB 3.2 Gen 2×2 Type-C port. A few more ports would have been a welcome addition, as most users will quickly utilize the available ones.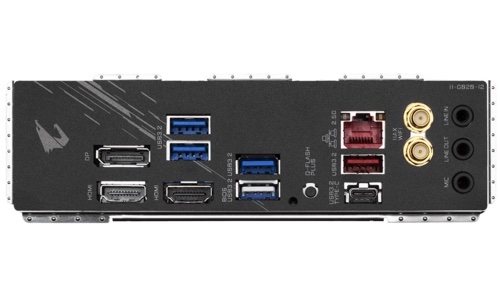 Memory overclocking on this board is commendable. Despite having only two DIMM slots, the B550I Aorus Pro AX supports up to 64GB of DDR4 at a blazing 5300MHz.
The ROG Strix B550-I is a close competitor, but despite its slightly superior aesthetics, it comes with a higher price tag without offering any significant enhancements. The MSI MPG B550I was also a contender, but its fan-based chipset heatsink might deter some users.
In conclusion, the B550I Aorus Pro is the best motherboard for the Ryzen 5 5500 for those planning an ITX build.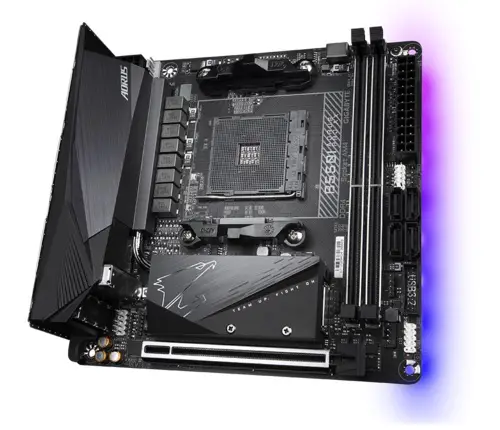 RATINGS
VRM Design: 8/10
Aesthetics: 7.5/10
Connectivity: 8/10
Value for Money: 8/10
Overall Rating: 7.5/10
Check Out More AMD Options Here:
Memory Support: 128GB DDR4 @ 3200MHz | Chipset: AMD B450 | Form Factor: mATX | Voltage Regulator: 4+2 | Storage: 6x SATA, 2x M.2 | Network: Realtek GbE LAN
Pros
Up to 128GB of RAM
Outstanding cost-effectiveness
Distinctive and appealing design
Proven and reliable stability
Cons
Limited overclocking capabilities
Room for BIOS enhancements Lacks
BIOS Flashback feature
The ASRock B450M Steel Legend is a top contender for those seeking the best Micro-ATX motherboard for the Ryzen 5 5500. This motherboard is a treasure trove for value seekers, offering an impressive blend of features and performance at a budget-friendly price.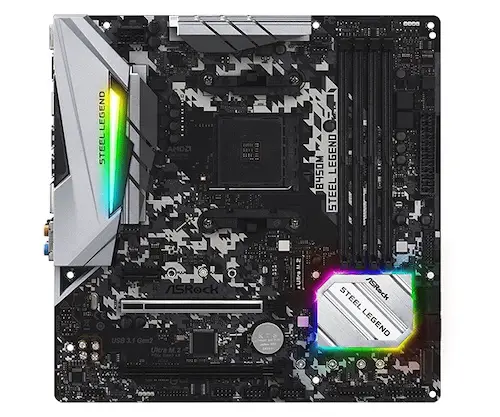 The ASRock B450M Steel Legend is a standout in the B450 chipset micro ATX motherboard category. It's an ideal choice for budget-conscious builders aiming to leverage the B450 platform, and when paired with a Ryzen 5 5500 CPU, it forms the backbone of a powerful budget-friendly machine.
The motherboard's VRM, while not exceptional, is adequate for its price range. The 4+2 phase design can comfortably handle Ryzen 5 and Ryzen 7 CPUs at stock settings, but don't count on it for substantial overclocking feats.
The VRM's thermal performance is managed by a reasonably sized aluminum heatsink. However, under prolonged stress, the motherboard's thermals tend to rise.
Despite its budget-friendly price tag, the ASRock B450M Steel Legend doesn't skimp on features. It boasts two M.2 slots for storage, a rarity for a B450 board in this price range. Its networking capabilities are decent, thanks to the Gigabit port, although the absence of WiFi is a slight letdown.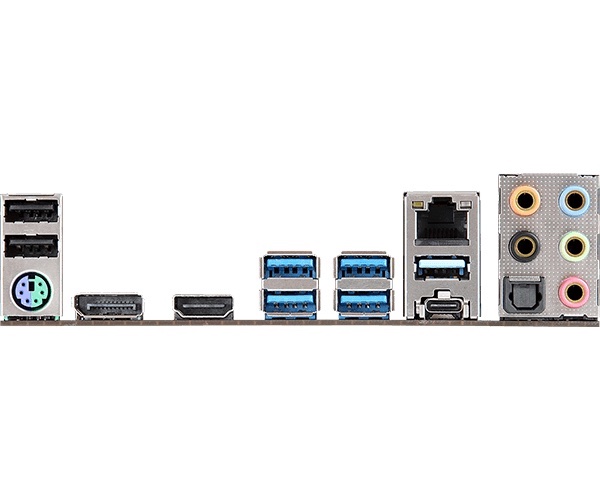 The MSI B450M Mortar is a worthy alternative if you're considering other micro-ATX B450 motherboards. However, the Steel Legend's unique design and diverse feature set make it a more compelling choice.
The ASRock B450M Steel Legend's design is a definite highlight. Its bold, angular aesthetics, combined with a black and silver color scheme, give it a modern edge. The black PCB is offset by silver heatsinks and a gray camouflage pattern, creating a visually striking contrast.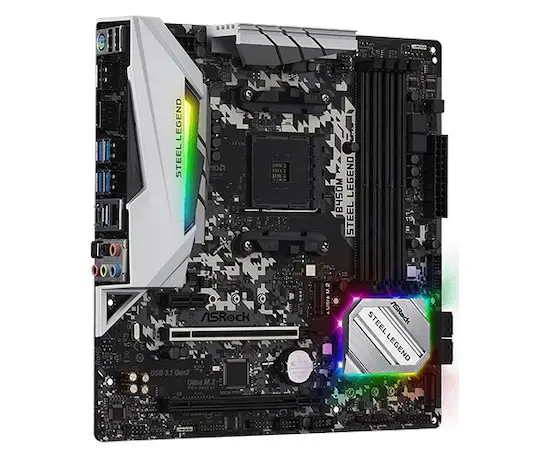 Adding to its appeal, the motherboard features built-in RGB LED lights, customizable via the ASRock Polychrome RGB software. The result is a visually stunning motherboard that will undoubtedly be a centerpiece in your case.
In conclusion, the ASRock B450M Steel Legend is among the best micro ATX motherboards available, making it an excellent choice for a small form factor PC build with the Ryzen 5 5500. It offers a good balance of features and performance at a price point that offers excellent value. This board allows you to leverage the mature B450 chipset for an affordable PC build.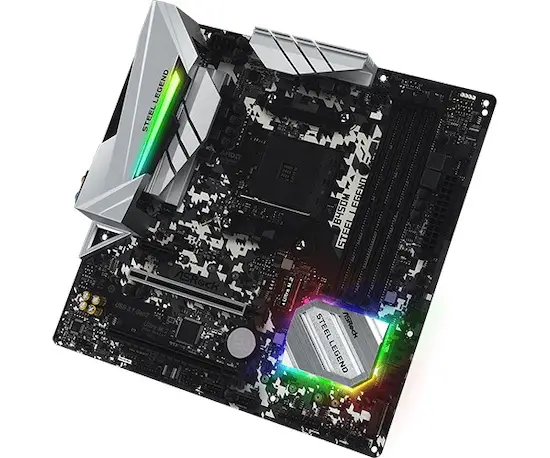 RATINGS:
VRM Design: 7/10
Features: 7/10
Aesthetics: 8/10
Value for Money: 8.5/10
Overall Rating: 7.5/10
Want to Check Out Some Budget Options for Gaming? Check This Out:
BEST BUDGET GAMING MOTHERBOARDS
Latest posts by Konstantinos Chiotis
(see all)