Are you looking for the best PC builds under $1000? When it comes to building a gaming PC, you can do it for as little as $200 or even as much as $20,000 and the performance varies according to the price
Nowadays, in the PC building market, a $1000 budget is very optimal. It can get you a very competent build that can easily output the highest graphical settings at 1080p 60fps and even up to 1440p with some tweaking in most AAA titles.
If your goal is to hit those high framerates in your favorite titles. A $1000 budget is not bad as it is in the sweet spot of price to performance. You can have a comfortable gaming experience without breaking the bank with one of our builds.
In this guide, we're going to give you three powerful $1000 pc builds that will serve you and your gaming needs for years to come. This is because we have handpicked high-performing and future-proof components for these builds which can run most modern games smoothly.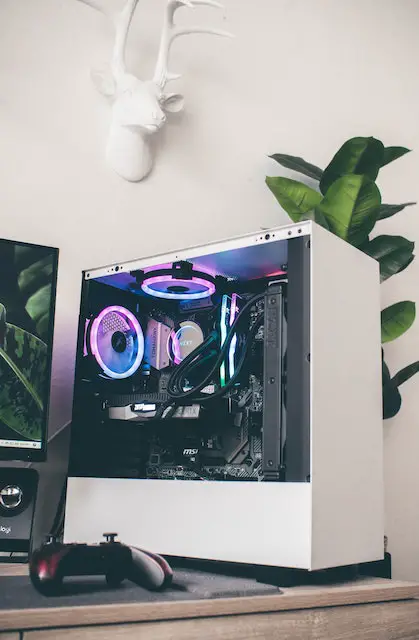 https://unsplash.com/photos/8yesL5ZPjIU
Intel Core i5 13600KF Build – Best Overall
Specs
CPU: Intel Core i5 13600KF | CPU Cooler: Arctic Freezer 34 CO | Motherboard: MSI PRO B660-A | RAM: Corsair Vengeance LPX 16GB 3600MHz | Storage: Crucial BX500 1TB SSD | Video Card: Sapphire Nitro RX 6600XT 8GB | Case: Fractal Design Focus G | Power Supply: ADATA XPG Core Reactor 650W
This build is quite similar to the one we put together for our guide on the best i5 12600K gaming PCs. However, it has a better processor and better graphical performance. Right now, it's the best bang for your buck gaming PC at under $1000.
Intel Core i5 13600KF Build – Overview
For this build, we'll be going with the recently released Intel Core i5-13600KF, alternatively, you can spend a few more bucks by going for the Intel Core i5-13600K instead, which is essentially the same processor but with onboard graphics, however, we won't be needing that because our build will have a dedicated GPU anyway.
It comes with a 14-core count along with 20 threads and a base clock frequency of 3.5 GHz. This CPU is also unlocked, so you can squeeze out even more performance by overclocking it to up to 5.1 GHz. In terms of performance, it beats or matches the Ryzen 5 7600X. An absolute killer value.
Since our processor doesn't come with a stock cooler, we'll need an aftermarket cooler, and a good one at that. So, we went with the Arctic Freezer CO 34. Arctic is already a reputed name and specializes in coolers, and this cheap air cooler does a good job of keeping temps under control while gaming.
For the motherboard, we went with the MSI PRO B660-A. You might have a hard time choosing between B660 vs Z690, but this was an easy choice to make considering the value. The MSI Pro B660-A is one of the best budget motherboards out there.
It supports DDR4 memory with bandwidth up to 4800 MHz, which is more than enough for your memory needs. Furthermore, it comes with 4 Gen4 M.2 slots to ensure you never have any storage problems.
We chose Corsair Vengeance LPX 16GB (8 GB x 2) 3600 MHz ram for our build because 16 GB of ram at 3600 MHz is sufficient to run most modern games without any issues. This kit also overclocks quite well.
As games are evolving, their storage needs are getting higher as well. Therefore, we went with the 1 TB Crucial BX500 SSD. 1 TB is usually enough for most people, but if you want more storage, you can easily get another one as SSDs are not that expensive. We also have 4 slots on our motherboard, which is a plus.
This drive should be more than enough for gaming and average use. We went with an SSD instead of an HDD because in gaming builds, we need every bit of performance we can squeeze out of our build, and SSDs marginally speed up loading speeds, so we'll make use of that while keeping within budget.
One of the key components of our gaming setup is a GPU, which allows us to run our favorite games at high frame rates. To complement our build, we'll be using the Sapphire Nitro RX 6600XT 8GB.
AMD has been stepping up its GPU game for a while now, as its new GPUs deliver good value for money on their cards, and the RX 6600 XT is no exception.
This card is a beast at 1080p and delivers solid performance at 1440p as well. With 8 GB of DDR6 VRAM and a high-core clock, you can enjoy crisp graphics and smooth frames with this GPU in your build.
Considering our budget, this GPU is the best fit for this build, and it'll deliver just what we need.
We chose the Fractal Design Focus G ATX Mid Tower case for this build. It offers good value in the $40–$60 price range.
This case has good airflow thanks to the overall industrial design, not to mention it comes with two pre-installed fans. It also has white lighting and three dust filters to help keep your PC clean and running smoothly.
Our testing tells us that even at the most extreme, our PC will require a maximum of 500 watts. However, we'll give ourselves some headroom and go with the ADATA XPG Core Reactor 650-watt PSU to ensure there won't be any problems.
In terms of performance, it is A-rated on the LTT PSU Tier List. Furthermore, this PSU is also fully modular, which prevents cable clutter and makes cable management easier.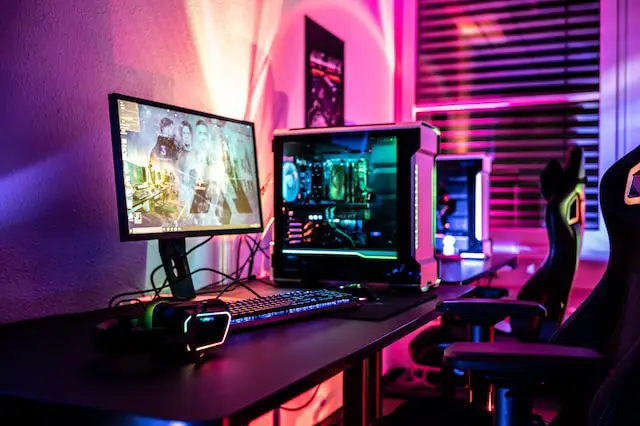 Summary
To sum it up, this build will get you the best possible performance in games at 1080p with high framerates. Newer FPS games like Warzone 2.0, Overwatch 2, and Valorant will run perfectly with this build, so consider pairing it with a high refresh rate monitor.
There's also some good room to upgrade. The 13600KF is a beast of a processor, and can even handle higher-end GPUs like the RTX 4080. However, due to the budget, we went with an RX 6600 XT, which can even outperform the 3060 Ti in terms of rasterization performance.
This is the best PC build in terms of value, gaming performance, and upgradeability under $1000.
Estimated Price for Build: $1000
AMD Ryzen 5 5600X Build – Best AMD Build Under $1000
Specs
CPU: AMD Ryzen 5 5600X | CPU Cooler: N/A | Motherboard: MSI MAG B550 Tomahawk | RAM: Corsair Vengeance LPX 16GB 3600MHz | Storage: Silicon Power A60 1TB | Video Card: Nvidia GeForce RTX 3060 Ti | Case: Corsair 4000D Airflow | Power Supply: EVGA 600BQ
We recently put together a similar mid-range AMD build in our guide for the best Ryzen 5 5600X Gaming PC. Compared to the Intel build above, this one has better graphical performance, at the cost of some CPU performance. If you feel like you don't need all the extra cores of the i5 13600K, this build is a good middle-ground.
AMD Ryzen 5 5600X Build – Overview
Our processor of choice for this build is the Ryzen 5 5600X. The processor has 6 physical cores and twelve threads, which means it can handle multiple tasks simultaneously and is well-suited for tasks such as gaming, video editing, and other demanding workloads.
Despite being two years old, the Ryzen 5 5600X is still considered a strong performer in the market. It offers good value for the price and can keep up with more recent processors in most cases. As a result, it is often considered one of the best processors in its price range.
Of course, the 5600X needs to be paired with a good motherboard. We went with the obvious choice of MSI's B550 Tomahawk, one of the best motherboards for Ryzen 5 5600X. Focusing on the looks, the board fits with our overall theme with a black base having an accent of silver, It also has a backlit ARGB LED installed which is a bonus point.
Coming to the build quality the PCB is made up of 6 layers with thickened copper for durability. It has support for up to 4866 MHz DDR4 RAM. It also features a lightning Gen 4 M.2 slot which is the fastest onboard storage solution with up to 64 gb/s of transfer speed. In other words, it has all of the features you need in a motherboard and is the perfect pick for this build.
We have picked the same RAM from our Intel build, which is the Corsair Vengeance LPX 3600 MHz memory stick. As discussed previously, they're very budget-oriented and decent-looking memory sticks.
The 16GB of 3600MHz RAM is more than enough for most modern games and with such speeds, you'll have no problems running multiple programs at once and multitasking.
With a capacity of 1 TB, the WD Black drive should provide more than enough storage for the average gamer. Most modern games take up several gigabytes of storage space, and with a 1TB SSD, you should be able to store plenty of games without running out of space.
Of course, you could also add a cheaper drive for more mass storage. With that said, this drive is a good choice if you want a higher capacity without breaking the bank. Since this is a PCIe 3.0 drive, it is also quite fast.
In this build, we have chosen the NVIDIA RTX 3060ti series graphics card as it offers excellent performance in 1080p gaming and decent performance in 1440p and 4K gaming with the help of features such as DLSS technology.
Furthermore, with 8GB of GDDR6 VRAM, you will unlikely need to upgrade soon. It provides more than just strong gaming performance. It also has ray tracing and AI-accelerated rendering capabilities, which can be used for tasks like video rendering and content creation. It is a versatile and powerful graphics card that can be used for a variety of purposes other than gaming.
As for the case, we decided to go with the Corsair 4000D Airflow. We've picked the Black version but it comes in white too, and by the looks alone the casing is amazing. It is a Mid-tower ATX case and is very high-airflow optimized thanks to the mesh front and smart airflow routes.
You also get great support for watercooling, excellent cable management, and sleek looks with a slight bit of RGB thrown into the mix.
Finally, we decided to settle with the EVGA 600BQ power supply. It's not a fancy unit, but with a semi-modular design, and an 80+ bronze rating, this PSU has everything that we need for our build. It's also quite affordable.
Summary
In theory, some people could argue that this build is better than our Intel one above, considering this includes a 3060 Ti. However, the Intel build has a better processor, a better power supply, and more room for meaningful upgrades. You could upgrade the 5600X here to a Ryzen 7 5800X3D down the line, but that's about it.
This build does not include an aftermarket cooler either, since the 5600X already comes with a stock cooler. You could get one if your budget allows, but we decided not to since we put that money towards a faster drive. Finally, this is an excellent build for high refresh-rate 1440p gaming.
Estimated Price for Build: $1000
AMD Ryzen 5 5500 Build – Best Graphical Performance
Specs
CPU: AMD Ryzen 5 5500 | CPU Cooler: N/A | Motherboard: Gigabyte B550 Gaming X V2 | RAM: Corsair Vengeance RGB Pro 16GB 3200MHz | Storage: Crucial P2 1TB PCIe 3.0 | Video Card: AMD Radeon RX 6700 XT | Case: Phanteks Eclipse P300A Mesh | Power Supply: Corsair RM750x
If you want to have the highest framerates possible, then this is the build for you. It's comparable to the i5 12400 mid-range build we recently put together. While the GPU is better here, we're giving up on a lot of computational performance on the CPU side.
AMD Ryzen 5 5500 Build – Overview
For this one, we decided to go with the Ryzen 5 5500 for the processor. It's marketed as being a lower clocked 5600X, but in reality, it performs closer to a Ryzen 5 3600. Nevertheless, this is a very cheap processor these days and might be the best value under $100.
It's a six-core processor and can hit a boost clock of up to 4.2GHz. Keep note that the 5600X can hit boost clocks of up to 4.6GHz. Of course, there is a considerable difference in gaming performance, but that gap gets narrower if you turn up the resolution in your games.
So, we would recommend going with a 5600X instead, but going with the Ryzen 5 5500 allowed us to have a higher-end GPU, so there's that. It all comes down to how much you care about the CPU performance, instead of the graphical performance.
As for the motherboard, we decided to go with the Gigabyte B550 Gaming X V2. While you could go with a B450 board as well, this B550 board will work better with the Ryzen 5 5500 out of the box. It's an ATX board with four DRAM slots. It's a decent-looking board, with a large rear-panel cover and good VRM heatsinks.
It also comes with two PCIe x16 slots, two M.2 slots, and support for the fastest DDR4 memory on the market. It's also great for overclocking and gives you a good upgrade path to processors like the Ryzen 7 5800X3D. The beefy VRM configuration here will come in handy if you do decide to upgrade your processor down the line.
Next up, we decided to go with the Corsair Vengeance RGB Pro kit for memory. This is a 16GB kit with a speed of 3200MHz. It also features a low CAS latency of CL16. While 3600MHz is usually the sweet spot for Ryzen processors, you won't notice any real-world difference with this 3200MHz kit.
For storage, we again decided to stick a 1TB PCIe 3.0 drive. This time around it's the Crucial P2 SSD. Again, 1TB of storage should be enough for all your programs, games, and Windows. You could also buy more storage down the line if need be. For now, you're getting a fast and responsive drive that will give you lower loading times in every game out there.
Now, let's talk about the star of the show. By going with a cheaper processor and motherboard combo, we were able to squeeze in a Radeon RX 6700 XT. In terms of value, this might be the best graphics card you can buy for 1440p gaming. You're getting a whopping 12 gigs of GDDR6 memory, and fantastic performance thanks to the Navi 22 processor inside.
The only downside is the fact that this GPU is not as good in terms of ray tracing compared to the 3060 Ti. However, in terms of pure rasterization performance, it leaves the Nvidia card behind. Of course, you are giving up on the Nvenc Encoder and other exclusive Nvidia features such as DLSS 2.0.
Still, if you care about getting the highest possible framerates at 1440p, then this is the card to get. Pairing it with the i5 13600KF we mentioned above would be even better, but that's a compromise we had to make for the price.
As for the case, we went for the timelessly reliable Phanteks Eclipse P300A Mesh. It includes a classic tempered glass side panel, a mesh front panel, excellent cable management, and superb airflow. With a bit of RGB and high-quality fans were thrown into the mix, this case is a winner considering the price.
Finally, we decided to go with the Corsair RM750x for the power supply. This is a 750W PSU with an 80+ gold rating, a fully modular design, and superb reliability. It's a tier-A PSU on the LTT PSU tier list and is the perfect choice for our power-hungry RX 6700 XT.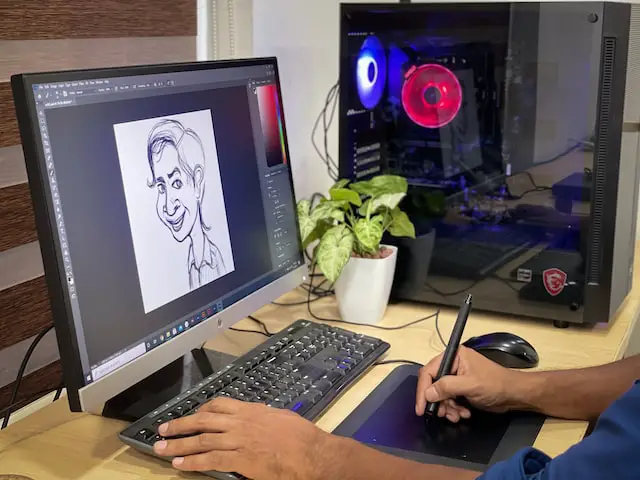 Summary
So, this final build is a great option for those who want the best graphics card possible with a build under $1000. Of course, the Intel build is still a better choice if you're into streaming, video editing, and other CPU-intensive tasks. However, if you only care about gaming, then this build is still a great choice.
Estimated Price for Build: $950 – $1000
Latest posts by Konstantinos Chiotis
(see all)