Are you looking for the best Z590 motherboard for your gaming rig?
The Intel 11th Generation CPUs codenamed "Rocket Lake" are ideal for high-end gaming PCs as well as home productivity machines. The new and improved Z590 chipset provides a number of upgrades over the older Z490 standard.
With the 11th Generation of Intel processors, you now get full PCIe Gen 4 functionality across the board, which is quite an important feature. Intel is late to the party when it comes to PCIe Gen 4 as competitor AMD has had this technology for a while now.
Z590 motherboards also provide a host of improvements over the older chipset which makes them an ideal pairing for the new Rocket Lake processors.
If you are in the market for a high-end gaming PC with an Intel 11th Generation processor, then our selection of the best Z590 motherboards is exactly what you need. Let's get started.
Before moving on make sure you check the following detailed tutorial on how to choose the best motherboard for you: How To Choose The Right Motherboard For Your Needs: A Comprehensive Guide
The Best Z590 Motherboards – Compared
ASUS ROG Maximus XIII Hero (WiFi 6E)

Extraordinary VRM Design.


Best Budget Z590 Motherboard
Why Should You Trust Us?
When it comes to Z590 motherboards, we understand that you need a source of information that is not only knowledgeable but also reliable and experienced. That's where Konstantinos Chiotis comes in. With a passion for technology and gaming that has fueled his dedication for over two decades, Konstantinos has been a PC builder since the age of 14.
This extensive experience, coupled with his deep understanding of components such as motherboards, GPUs, and processors, allows him to provide detailed and insightful hardware comparisons and reviews.
Moreover, his decade-long tenure in the tech industry has equipped him with the expertise to discern the best from the rest. In this article, he has meticulously analyzed the top Z590 motherboards, considering factors such as VRM quality, power delivery, connectivity, storage options, and aesthetics.
His recommendations are not just based on specifications but also on real-world performance and user experience. So, when Konstantinos says these are the best Z590 motherboards, you can trust that they truly are the best in the market.
How We Choose the Best Z590 Motherboard
Our selection of Z590 boards in this roundup reflects the most important factors that you should consider while shopping for a new motherboard for a high-end gaming processor. It is imperative that the 11th Generation Intel CPUs be kept in mind while browsing Z590 motherboards.
We laid a specific focus on the VRM quality and power delivery system of the Z590 boards we selected. In 2022, it is extremely important that even regular users be aware of the motherboard's VRM quality and how it affects performance.
Since the 11th Generation Intel CPUs are high-end gaming processors, we selected only the Z590 boards that can handle these CPUs at high overclocks for extended periods of time. VRM cooling was also a big part of our consideration.
Our next focus was on the feature set of the Z590 motherboards in question, particularly focusing on the connectivity and storage options they offered. We only selected motherboards with 2.5 GbE LAN as a minimum, with 10 GbE LAN as a bonus if present.
For storage, we did not consider any board that did not offer at least 3 M.2 slots and 6 SATA 6Gbps ports. Thunderbolt 4 was also given consideration and motherboards with Thunderbolt support were prioritized. These features are considered mainstream in 2022.
Aesthetics were also a part of our consideration, although this ranks at the very bottom of the priority list since looks are a subjective matter. However, we did take a look at any distinct visible features or "brave decisions" that the manufacturer might have taken.
Finally, the price of the product and the value proposition was given high priority. At the end of the day, the price-to-performance ratio dictates our purchase decisions and we wanted our selections to reflect that.
Considering the aforementioned points, these are the best Z590 motherboards on the market. Let's dive right in.
Top 5 Best Intel Z590 Motherboards Reviews
Chipset: Z590 | Memory: 4x DIMM, 128GB, DDR4-5333 | Video Outputs: 2x HDMI 2.0 and 2x Thunderbolt 4 | USB Ports: 10x rear IO, 9x internal | Network: 2x 2.5GbE Ethernet, 1x Wi-Fi 6E | Storage: 4x M.2, 6x SATA
Pros:
Best-in-Class Power Delivery
Highly Robust Feature Set
Excellent Aesthetics
Two Thunderbolt 4 Ports
Extraordinary Connectivity
Cons:
Very Expensive
Lack of 10 GbE LAN at this price
The ASUS Maximus XIII Hero delivers all the premium features that you would expect from a high-end Z590 motherboard with the Maximus badge but tends not to go overboard with gimmicks and unique flairs like the Formula or other variants.
What really separates the Maximus XIII Hero from the rest is its unique blend of high-end features and extraordinary power delivery. This trend can be seen in the feature set that ASUS has provided, albeit at a bit of a price premium.
We chose another Maximus product in our roundup of the best motherboards for i9 10900K.
The highlight feature lies in the connectivity, with the addition of Wi Fi 6E being showcased in the product name as well. ASUS has gone with a couple of 2.5 GbE LAN ports to complement the Wi Fi, which makes up a really strong connectivity suite.
However, at this price point and considering the times, a 10 GbE LAN port would have been right at home in the ASUS ROG Maximus XIII Hero. Competitors are providing the 10 GbE LAN option, which leaves the Hero at a disadvantage.
Storage is handled by the 4 M.2 slots found on the PCB directly, there is no DIMM.2 application on this board. Four slots should be plenty for any regular PC builder, be it for gaming or for productivity tasks. The Z590 chipset also brings with it PCIe Gen 4, which can be accessed through two of these four M.2 slots.
The addition of Thunderbolt 4 is a nice touch by ASUS, as Thunderbolt is an incredibly handy connection that can help you in a multitude of ways.
Two rear-facing Thunderbolt 4 ports can be used for high-bandwidth connections to external devices and even as display outputs to monitors.
Speaking of USB ports, the Hero is not lacking in that aspect, as you can help yourself to 10 rear USB ports and 9 internal USB port options.
When it comes to aesthetics, it is a bit of a subjective matter. However, one would be hard-pressed to argue that the ASUS ROG Maximus XIII Hero looks bad in any capacity.
ASUS has gone with an aggressive design language, with the majority of the board being covered with a black plastic shroud.
The RGB lighting is tastefully implemented in areas where it is effective yet it does not provide a jarring effect. The diagonal lighting strips over the I/O cover and the VRM heatsinks look particularly impressive.
Of course, all the lighting on the board and the 12V and 5V lighting headers can be controlled through the ASUS Aura Sync software.
Conclusively, the ASUS ROG Maximus XIII Hero is one of the most premium Z590 motherboards on the market and it would be hard to go wrong with this choice for your 11th Gen CPU from Intel. Even for the most demanding Intel chips.
However, the steep pricing of the Maximus Hero is a concern as most gamers might not be comfortable spending a hefty chunk of their budget just on the motherboard.
Still, it is an enthusiast-grade excellent motherboard that provides an unmatched feature set and a reliable VRM design which is certainly something to take into account. All in all, this is arguably the best overall Z590 motherboard on the market.
RATINGS:
VRM Design: 9.5/10
Features: 9/10
Aesthetics: 9/10
Value for Money: 6/10
Overall Rating: 8.5/10
2. MSI MEG Z590 ACE – Best Premium Z590 Gaming Motherboard
Chipset: Z590 | Memory: 4x DIMM, 128GB, DDR4-5600 | Video Outputs: 1x HDMI 2.0 and 2x Thunderbolt 4 | USB Ports: 8x rear IO, 7x internal | Network: 1x 2.5GbE Ethernet, 1x Wi-Fi 6E | Storage: 4x M.2, 6x SATA
Pros:
Robust Power Delivery System
Four M.2 Drive Slots
Inclusion of Thunderbolt 4
Impressive Connectivity
Attractive Lighting Choice
Cons:
Extremely Expensive
Controversial Aesthetics
The MEG lineup from MSI delivers some of the most extreme gaming motherboards on the market, hence complementing the name "MSI Extreme Gaming". The MSI MEG Z590 ACE is another fabulous example from MSI's premium lineup that makes an excellent case for being the best Z590 motherboard on the market.
Primarily, the power delivery of the MSI MEG Z590 ACE makes it a cut above the rest. Much like the aforementioned Maximus XIII Hero, the VRM design is top-notch and should be able to handle pretty much anything you can realistically throw at it.
An overclocked 11th Gen flagship 11900K CPU should not pose any problems for the VRM of the MEG Z590 ACE.
Additionally, VRM cooling is taken seriously by MSI as evidenced by the massive VRM heatsinks which are not only large in size but also contain numerous fins to expand the surface area and maximize heat dissipation.
This is important as you can have an excellent VRM design but without proper cooling, it will throttle the CPU and lead to unstable overclocks.
The ACE keeps up with the times by providing a versatile feature-set as well, which complements its premium price. Starting with the connectivity, MSI has included the options of Wi Fi 6E as well as a 2.5GbE LAN port.
Considering the pricing of the motherboard and the advancements in PC technology, a 10 GbE LAN port would have been more appropriate, just like our complaint with the Maximus XIII Hero.
The similarities between our two top picks continue, as two Thunderbolt 4 ports make an appearance on the rear I/O of the MSI MEG Z590 ACE.
Seems like Thunderbolt separates the really premium motherboards from the rest, and it can be a really handy feature if you require high bandwidth data connections to external devices or displays. The M.2 slots are covered with large metallic heat spreaders which can aid in heat dissipation.
Of course, MSI boards are known for their unique aesthetic choices and the trend continues with the MSI MEG Z590 ACE.
The board is clad in several plastics and metallic shrouds which combine to completely obscure the PCB from view.
Speaking of MSI, you may also be interested in the MSI products we recommended in our best motherboards for i7 10700K roundup.
The RGB implementation is a bit controversial, as it can be seen as a bit childish and gamer-centric. You might want to avoid this board, and especially its fancier Gold and Silver special edition if you want to build a stealthy workstation or just a simple system with an industrial theme.
Of course, you can also completely turn off the RGB lighting using the MSI Mystic Light software. It is a bit of a buggy mess, however, and MSI does not seem particularly keen on fixing it any time soon.
At the end of the day, the decision comes down to the price-to-performance ratio and the MSI MEG Z590 ACE does not perform admirably in this regard.
Although it is rife with features and has an extraordinary power delivery system, the price for this board is just too high to make it a default recommendation.
However, it does make an argument for being the best premium Z590 motherboard on the market, aimed squarely at enthusiasts.
RATINGS:
VRM Design: 9.5/10
Features: 9/10
Aesthetics: 8/10
Value for Money: 6/10
Overall Rating: 8/10
Chipset: Z590 | Memory: 4x DIMM, 128GB, DDR4-5133 | Video Outputs: 1x HDMI 2.0 and 1x DisplayPort 1.4 | USB Ports: 7x rear IO, 7x internal | Network: 2x 2.5GbE Ethernet | Storage: 3x M.2, 6x SATA
Pros:
Affordable
Neutral Aesthetics
Decent Power Delivery
High Price To Performance Ratio
Cons:
Lack of Wi Fi
No Thunderbolt 4
No RGB Lighting
The ASUS TUF Gaming motherboard lineup is known for its value-oriented offerings that are aimed at mid-range gaming PC builders. The TUF series falls right under the Strix series but is a more premium option than the barebones PRIME series from ASUS.
This makes the ASUS TUF Gaming Z590 Plus an excellent mid-range option when it comes to the Z590 chipset.
Starting off with the power delivery system, it is obvious that ASUS has had to cut some corners in order to comply with the pricing restraints. The VRM design, however, is still quite impressive considering the value-oriented nature of the board.
You should not expect it to be on par with the ROG Maximus XIII Hero or ASUS ROG Strix z590 E Gaming series boards, but it can get the job done just fine provided you are careful with the overclocking aspect.
The flagship Core i9 11900K CPU should not be paired with this board as the VRM might not be able to handle heavy overclocks on that CPU, which is a highlight selling feature of that processor.
The ideal pairings for the ASUS TUF Gaming Z590 Plus include the Core i7 11700K and Core i5 11600K CPUs. This mid-range combination will be extremely potent for gaming for years to come.
On a related note, we have also selected the best motherboards for i5 10600K that feature similar products.
ASUS has further provided a decent feature set for the TUF Gaming Z590 Plus as well. However, Wi Fi connectivity and Thunderbolt 4 ports are completely missing from the board which is a big miss in 2022. But, still, the board punches above its price tag when it comes to features.
In terms of aesthetics, the board sports a stealthy, industrial design with black plastic and metallic shrouds all over the place.
It would go nicely with blackout builds or workstation PCs with a neutral aesthetic. However, RGB lighting is remarkably scarce, which is rare to see on an ASUS motherboard.
The ASUS TUF Gaming Z590 Plus is another remarkable value offering from the TUF lineup from ASUS, like the ASUS Prime, and it can be considered the best budget Z590 motherboard on the market as well. It does cut some corners with features and power delivery, but the overall package is really impressive and worth a recommendation.
RATINGS:
VRM Design: 8.5/10
Features: 8/10
Aesthetics: 7.5/10
Value for Money: 9/10
Overall Rating: 8/10
Chipset: Z590 | Memory: 4x DIMM, 128GB, DDR4-5400 | Video Outputs: 1x DisplayPort 1.2 | USB Ports: 10x rear IO, 9x internal | Network: 1x 10GbE Ethernet, 1x Wi-Fi 6E | Storage: 3x M.2, 6x SATA
Pros:
Extraordinary VRM Design
10 GbE LAN Port
Versatile Feature Set
Impressive Aesthetics
Cons:
Very Expensive
No Thunderbolt 4
Only 3 M.2 Slots at this price
The Gigabyte AORUS Master Z590 separates itself from the others by offering an unusual VRM design that is unlike anything that is available on the premium Z590 market around this price point.
The aforementioned ROG Maximus XIII Hero comes close, but benchmarks show that the AORUS Master can sustain higher overclocks for longer on the Core i9 11900K, while keeping the VRM modules a touch cooler. This feature makes it the best overclocking Z590 motherboard on our list.
A similar Gigabyte product was selected in our best motherboards for Ryzen 9 5950X roundup.
The VRM heatsinks are adequately finned to maximize heat dissipation, and the I/O cover is prevented from being a heat blanket which is a problem with so many modern intel motherboards.
When it comes to features, the Gigabyte AORUS Master Z590 is a bit of a mixed bag. Don't get us wrong, it is still an extremely premium feature set, but it does have some glaring deficiencies.
The lack of Thunderbolt 4 just does not make sense at this price point, since the Gigabyte AORUS Master Z590 is often seen selling for more than the Maximus XIII Hero.
Furthermore, Gigabyte has only provided three M.2 slots on the AORUS Master Z590, which would have been fine if this was a midrange motherboard. However, competitors in the premium Z590 space are offering 4 M.2 slots, which puts the AORUS at a disadvantage again.
You also don't get eight SATA ports here, you get six SATA ports.
Coming to the looks of the AORUS Master Z590, it is certainly an impressive specimen. AORUS is known for its aggressive, angular design language and that trend is certainly seen here.
Maybe users would have liked a bit more RGB lighting on the board, but it is not a necessity. The black and silver color combination on the chipset and M.2 heatsinks is an excellent design choice.
All in all, the Gigabyte AORUS Master Z590 is a really premium motherboard option that can be considered if you have certain needs.
If you really require the 10 GbE connectivity on the Z590 platform, then this motherboard can be your pick. However, the price is quite steep so you should take a look at other options as well.
RATINGS:
VRM Design: 9.5/10
Features: 8.5/10
Aesthetics: 8/10
Value for Money: 5.5/10
Overall Rating: 7.5/10
Form Factor: Mini-ITX | Chipset: Z590 | Memory: 2x DIMM, 64GB, DDR4-5300+ | Video Outputs: HDMI | USB Ports: 8x rear IO, 7x internal | Network: 1x 2.5GbE LAN, 1x Wi Fi 6E | Storage: 2x M.2, 4x SATA
Pros:
Excellent Choice for Compact Builds
Impressive Connectivity Suite
Acceptable Power Delivery
Thunderbolt 4 Port
Cons:
Quite Expensive
Only 2 DIMM Slots
Only 4 SATA Ports
The small form factor pick for Z590 motherboards in our roundup comes from ASUS. The ROG Strix Z590-I is a premium mini-ITX motherboard that is ideal for compact high-end gaming PCs.
ASUS has provided an above-average 8+2 phase power delivery system which is generally acceptable but you cannot expect any extreme overclocking with this VRM design. This setup is more suited for stock use or light overclocking on mid-range CPUs such as the Core i5 11600K.
We also used a similar ASUS motherboard in our roundup of the best motherboards for Ryzen 5 3600.
The VRM heatsinks are rather small and do not contain any substantial finning to increase surface area. Temperatures of the VRM modules might get out of control under extended loads and increased CPU voltage.
The feature set, however, is rather impressive. ASUS has provided a 2.5 GbE LAN port along with a Wi Fi 6E module to handle all the networking for this board. Furthermore, there are 8x rear USB ports including a Thunderbolt 4 USB-C port for high-speed connectivity.
On the flip side, there are only 2 M.2 slots and four SATA ports which might be a bit of a struggle in terms of storage and upgradability. The 2 DIMM slots will also prevent you from doubling your memory down the line if you plan to run a dual-channel configuration. These, however, are limitations of the mini-ITX form factor itself.
The ASUS ROG Strix Z590-I, is a very attractive motherboard when it comes to design and aesthetics. The mild RGB implementation over the M.2 cover looks sophisticated and goes against the traditional design language of a ROG product. However, the board will still look perfectly at home in a premium gaming machine.
ASUS has priced the ROG Strix Z590-I among the most premium ATX Z590 motherboards, and that means it is not a particularly great value for money. However, if you want the best mini-ITX Z590 motherboard and money is no issue, it is hard to argue against the ROG Strix Z590-I.
RATINGS:
VRM Design: 7.5/10
Features: 8/10
Aesthetics: 8/10
Value for Money: 6/10
Overall Rating: 7.5/10
Best Z590 Motherboard Buyer's Guide
In today's consumer-centric PC hardware market, it is really hard to judge whether or not a product is good just by looking at its product page. Especially for Z590 boards, it is almost impossible for novice buyers to distinguish the actual "features" of the product from the various "gimmicks" that are tacked on.
We have devised a concise buyer's guide for Z59o motherboards that will help you judge a board's quality before buying so you can select the perfect Z590 motherboard for your gaming PC.
We'll walk you through thermal performance, Internal headers, chipsets and form factors. Let's get started to make you a gaming force, or to find the best fit for your work computer!
Chipset Differences with Gen Intel CPU
Whether you have a 10th Gen or an 11th Gen Intel CPU, you need to know the differences between the various chipsets that support these CPUs. You will find commonly three different types of motherboards for this platform.
Z590
The Z590 chipset is the premium chipset that can be considered the flagship for this platform. It is fully unlocked and supports both CPU and memory overclocking. You should pair your unlocked K-series CPUs with a Z590 motherboard.
Z590 has 24 PCIe 3.0 lanes and can support a maximum of 3 USB 3.2 Gen 1×1 ports.
H570
In H570, you will find intel motherboards that fall in the mid-range and budget categories. There is no CPU overclocking support, but you can overclock your memory. This board is best paired with a midrange locked Intel CPU like the Core i5 11400.
You get a total of 20 PCIe 3.0 lanes in H570 and the board can support a maximum of 2 USB 3.2 Gen 1×1 ports.
B560
B560 is the entry-level or value-oriented chipset in the 500-series motherboards. It also does not support CPU overclocking, but it can perform memory overclocking which is neat.
The number of PCIe 3.0 lanes get reduced to 12 and you only get 2 USB 3.2 Gen 1×1 ports.
VRM Quality
One of the first things you should consider when buying a Z590 motherboard is the VRM quality of the board. The VRM or the "Voltage Regulating Module" is a set of electronic components that switch and divide the power coming from your power supply and feed it to the CPU. It is essentially the power delivery mechanism of the motherboard.
Power Delivery and VRM Temperatures
The task of the VRM is to provide clean, stable power to the CPU as it demands when it demands. The VRM power delivery is essential for the task of CPU overclocking, and the 11th Gen Intel CPUs are quite sensitive to changes in VRM temperature as well.
Therefore, you should definitely do your research on the VRMs of Z590 boards that are on your shopping list.
This information cannot usually be found on product pages but it can be easily accessed in the form of videos and articles on enthusiast forums and websites.
It is rare for Z590 motherboards to have completely unusable or dangerous VRM designs, but it does occasionally happen from time to time so research is key.
You might don't want something with huge VRM heatsinks that makes it look like a monstrous motherboard, but you do want a reliable VRM heatsink.
Connectivity
We are now seeing a lot of high-speed Ethernet ports on consumer-grade Z590 motherboards as well, with 2.5 GbE LAN ports being very common. You can also get 10 GbE LAN support in some premium motherboards, so definitely keep an eye out for those. WiFi 6E technology is also fairly mainstream in Z590 motherboards nowadays.
Gaming WiFi and overall Wi-Fi connection is also important. A good gaming motherboard should have both Wi-Fi and ethernet.
Storage and SATA Ports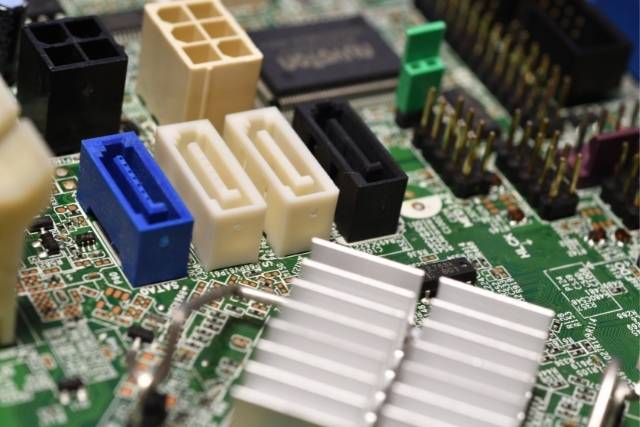 When purchasing a Z590 motherboard, always take a look at the number of PCIe slots the motherboard offers. This will depend on the chipset, but make sure that you are not buying a variant that only offers one M.2 slot as that will make it essentially non-upgradeable.
Thunderbolt 4 Support
Look out for modern Thunderbolt 4 ports as well, as they can be an excellent addition to your motherboard's feature suite. Up to three ports is ideal. These multipurpose ports are mainly found on premium Z590 motherboards, but they are very handy if you need a high bandwidth connection to an external device or even a display.
Upgrade Path on Z590
It is extremely important to judge the upgrade path before pulling the trigger on a capable motherboard purchase. Nowadays, upgrade paths are extremely confusing on modern Intel introduced platforms like Z590. So you need to do your research beforehand about what CPUs are supported on your particular motherboard chipset.
Intel usually offers 2 generations of CPUs on the same chipset, such as the 10th and 11th Generations on the Z590 chipset. However, the upgrade path of a Z590 chipset ends at the 11th Generation since the 12th Gen Intel CPUs use a completely different socket.
While purchasing a Z590 motherboard, you should consider how many years you expect to keep using the same CPU. Not to mention upgraded power solution options on new motherboards and other board features or options like AI overclocking. This evaluation can help you decide whether or not you should invest in the Z590 platform.
FAQs:
Is Z590 Better Than Z490?
Z590 is better than Z490. In addition to the regular generational improvements, the new Z590 chipset also uses the DMIx8 chipset link instead of the DMIx4 chipset link used in the Z490 chipset.
Does Z590 Support Intel 10th Gen?
Z590 supports Intel 10th Gen processors. You can use both Intel 10th Gen and 11th Gen processors on a Z590 motherboard. If you already have a 10th Gen processor, you can also go for Z490 as a good budget motherboard option.
Is the Intel Z590 Chipset Good?
The Intel Z590 chipset is very good in terms of the features it offers. PCIe Gen 4 is completely supported across the board in Z590, and the supported Intel 11th Generation CPUs also support PCIe Gen 4.
Is Z590 Compatible with DDR5 RAM?
Z590 motherboards are not compatible with DDR5 memory. Only Intel's 600 series such as Z690 and B660 motherboards support DDR5 RAM.
What Processors are Compatible with Z590 Motherboard?
Any processors that use the LGA1200 socket will be compatible with a Z590 motherboard. However, unlocked Comet Lake processors like the 11900K are a better fit. Multi-Core processors for PC gaming also work well with a Z590 motherboard.
How Many PCIe Lanes Does Z590 Have?
Z590 motherboards now feature 20 PCIe lanes that are 4.0, with compatible Rocket Lake CPUs. On most Z590 brands you can find full length PCIe slots.
Latest posts by Konstantinos Chiotis
(see all)