As an Amazon Influencer, we earn from qualifying purchases you might make if you click any of the links on this page.
Are you looking for the best motherboards for the AMD RYZEN 9 7950X?
The AMD Ryzen 9 7950X is one of the most powerful CPUs in the world and is very popular among enthusiasts and those looking to build high-end systems for both productivity and gaming.

When choosing the best motherboard for such a high-end 16-core CPU, you need to eliminate any compromises. This list is hand-picked by me to be the best list of motherboards for the AMD Ryzen 9 7950X. Whether you are looking for a high-end board, a budget-friendly option, large or small form factor, I have got you covered.
Before moving on make sure you check the following detailed tutorial on how to choose the best motherboard for you: How To Choose The Right Motherboard For Your Needs: A Comprehensive Guide
Why Should You Trust Us?
You must be wondering why you should put your trust in us when it comes to picking the best motherboards for the Ryzen 9 7950X.
Our author, Talha Zuberi has been building computers since 2009. That's over a decade of hands-on experience, diving into the nitty-gritty of assembling PCs, troubleshooting, and optimizing performance. He has seen it all – from the early days of dual-core processors to the cutting-edge CPUs we have today.
But it's not just about his personal experience. He is passionate about helping others too and he takes pride in guiding folks like you to choose the perfect parts for your computer, not just the most popular ones. Each individual's needs are unique, and he ensures they get the components that suit their specific requirements like a glove.
Keeping himself updated on the latest news and trends is a non-negotiable for Talha. Technology evolves at warp speed, and he has made it his mission to stay on top of the game. Whether it's the latest CPU releases, groundbreaking graphics cards, or innovative storage solutions, he's got his finger on the pulse. Rest assured, the advice you receive from Talha is always up-to-date and cutting-edge.
How We Choose the Best Motherboards For The Ryzen 9 7950X
The AMD Ryzen 9 7950X is one of the best gaming and productivity CPUs in the world. Taking into account both gaming and productivity, I followed a list of guidelines when choosing the best motherboards for this CPU. These are the guidelines:
Power delivery: The power delivery on any motherboard we choose needs to be exceptional. A high-quality board needs to have at least 10 phases with 60A of power to be considered for the 7950X. If it has 12 phases then at least 50A of power. We cannot skimp on this and won't consider any board with subpar VRM configurations no matter the cost and features. We are dealing with a high-end CPU so the motherboard needs to be ready for any type of load.

Overclocking Capabilities: A good board is not going to just be there to run a high-end CPU, like the 7950X, at stock speeds. It should be ready for the challenge to be tinkered with to provide the best possible performance. The higher the clocks we want to push, the higher the power requirements. The power requirements do not increase linearly, instead, they increase exponentially. A high quality VRM that operates at low temperatures when the 7950X is under full stress at 5.5 GHz for a significant period is the key factor to determine a board's quality.

RAM Support: The AMD Ryzen 9 7950X only supports DDR5 RAM. Keeping that in mind, the memory controller needs to be stable especially while overclocking. We want to ensure that our memory kits can operate at a stable clock of more than 6000 MT/s.

Storage and Expansion Features: Anyone who is building a high-end productivity system with the 16-core 7950X needs to plug in several peripherals and storage devices. A good motherboard must be well-equipped with storage and expandability options. This means plenty of high-speed PCIe slots, USB 3.2 support, and more. All boards selected have PCIe x16 Gen 5 slots and plenty of M.2 slots, and every M.2 slot is Gen 4 with some being Gen 5.

Networking Features: For productivity, we need our boards to have excellent network controllers and support for gigabit ethernet at the very least. All motherboards selected here have excellent networking and all of these boards have built-in WiFi 6E modules.

Other I/O Features: The boards should have a good set of I/O, especially for power users who need to run multiple devices connected to the PC at once. Some of our boards here even include USB 4.0 type-C ports that support Thunderbolt 4 making them exceptionally robust.

X670E over X670: All the motherboards we have selected run on the X670E chipset instead of the X670 chipset. Both chipsets are identical except for one key difference – The X670 chipset has only 4 PCIe Gen 5 lanes while X670E has 20 lanes. This means that at most, you will only be able to plug 1 M.2 NVMe SSD in any X670 board at Gen 5 speeds. When I was picking these motherboards, the X670E motherboards did not have any significant price disparity to X670 boards so naturally it makes sense to get X670E.

Price and Value: The price of the motherboard holds immense significance in our decision-making process. We seek a balance between reasonable cost and essential features, ensuring we get the best value for our investment. Recognizing the 7950X as a high-range CPU, we understand that opting for top-tier options might come with a premium price tag. Nonetheless, we prioritize securing the finest choices to complement and unleash the full potential of this powerful chip.

User Feedback and Brand Reputation: When we pick our motherboards, we consider real-world user experiences and manufacturers' reputations. If the reviews are glowing and the after-sale support is top-notch, you can bet the product quality is on point and customers are happy.
The 5 Best Motherboards for Ryzen 9 7950X Reviews
Form Factor: ATX | Chipset: X670E | VRM: 24+2+1 Phase | Memory: 4x DIMM, 128GB, DDR5-6600+ | Video Outputs: 1x HDMI, 2x USB4 Type-C | USB Ports: 10x rear IO, 7x internal | Network: 1x 2.5 GbE LAN, 1x WiFi 6E, Bluetooth 5.3 | Storage: 4x M.2, 8x SATA
Pros:
The best VRM power delivery
Excellent storage features
Thunderbolt 4 support
Stable and fast RAM support
Cons:
CPU-Managed USB 4 and Thunderbolt
ASRock has consistently improved its motherboards, and with the latest release, they have truly knocked it out of the park. For those looking to build a high-end system, we understand that there is simply no room for compromise and the ASRock X670E Taichi Carrara delivers.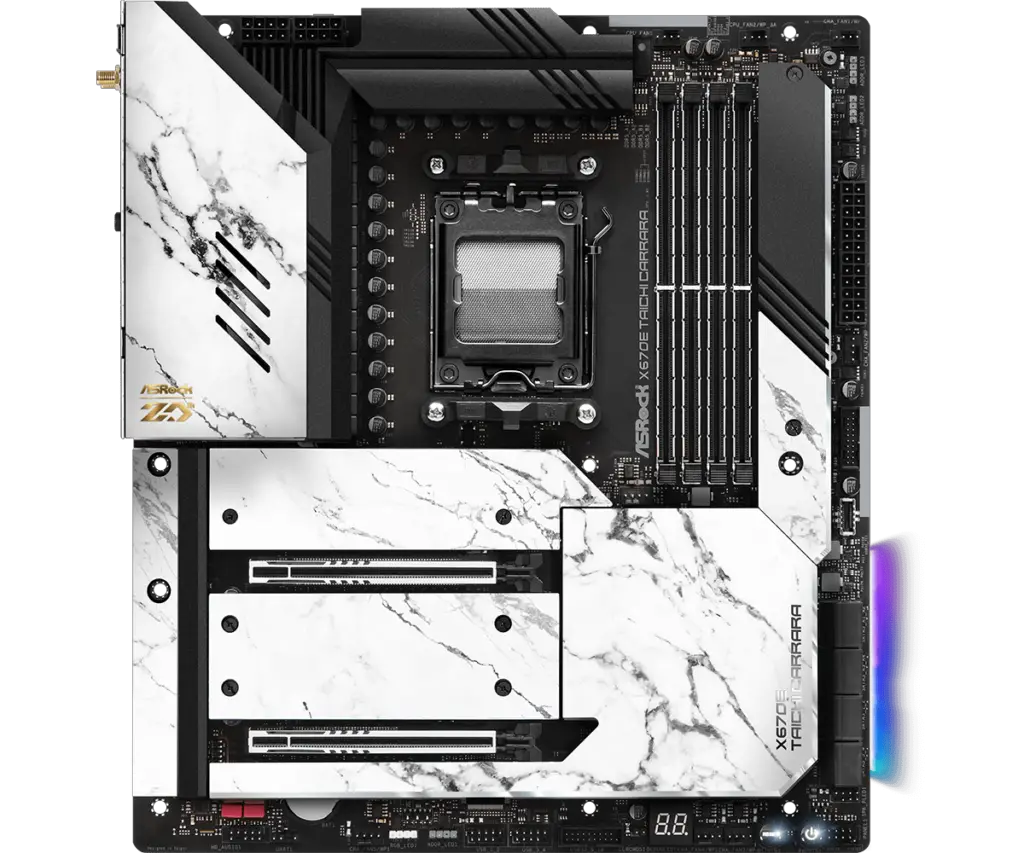 The standout feature of the X670E Taichi Carrara is its ridiculously overpowered VRM, especially given its price point. A 24-phase 105A VRM configuration is undoubtedly going to be plenty for anything that you throw at this board. Since AMD's new CPUs, such as the AMD Ryzen 9 7950X, have a TDP rated at 170 Watts, a board of this caliber is designed to support such a demanding CPU effortlessly. Only the MSI MEG X670E Godlike offers a VRM of such caliber, and that board is 2.6 times more expensive than this. When it comes to memory, the motherboard handles it exceptionally well, officially supporting speeds up to 6600 MT/s.
The ASRock Taichi Carrara doesn't just excel in power delivery; it also boasts an impressive set of features. Equipped with WiFi 6E and Killer 2.5Gb ethernet, the board ensures fast and reliable wireless and wired connectivity. It has 2 full-sized PCIe Gen 5 x16 slots, a Gen 5 x4 M.2 slot, and 3 Gen 4 x4 M.2 slots. I was delighted to see that there are 2 USB 4.0 ports that support Thunderbolt 4.
One minor drawback of the ASRock Taichi Carrara is that the USB 4 and Thunderbolt 4 support are managed by the CPU I/O, rather than the chipset. This can only become a problem if the CPU's I/O is being heavily overutilized.
ASRock continues to impress with the design. Gone are the loud aesthetics of previous versions, the board now features an elegant and uniform all-black PCB with half of the motherboard covered with a ceramic-like white shield. There is also a golden logo on the rear I/O and silver branding of the X670E Taichi Carrara. The iconic gears, which are a hallmark of the Taichi series, are missing on the Carrara but are available on the standard black version. The Carrara's clever ceramic white finish allows it to blend seamlessly into both black and white PC cases.
For a similar price, the Gigabyte X670E Aorus Master or the Asus ROG Strix X670E-E Gaming stand out as excellent options. However, compared to the Taichi, they either don't have as good of a VRM or they lack features that the Taichi offers like USB 4.0.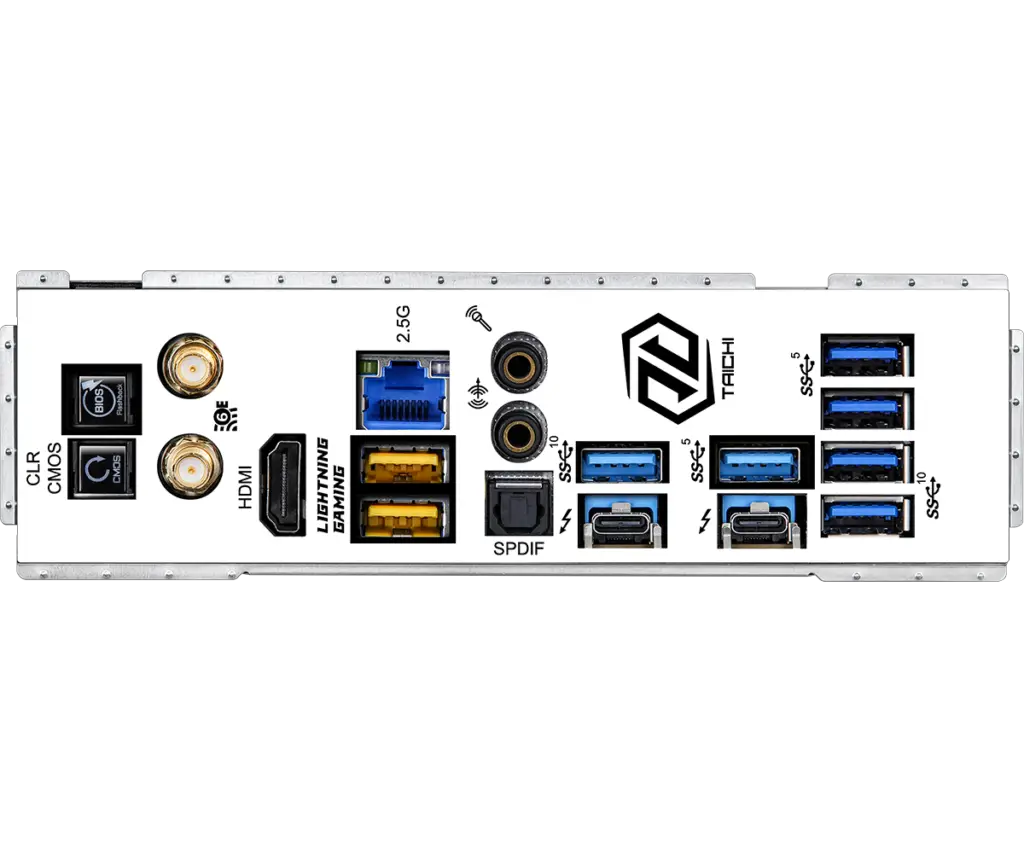 The ASRock X670E Taichi Carrara stands out as an exceptional offering from ASRock, demonstrating their dedication to producing high-quality motherboards. The robust 24-phase 105A VRM configuration ensures efficient power delivery and future compatibility with upcoming AMD CPUs. Its feature-rich design, including Thunderbolt 4 support and WiFi 6E, caters to the needs of power users and enthusiasts. While the minor drawback of CPU-managed USB 4 Thunderbolt ports may be noted, it does not significantly detract from the overall performance and value that the Taichi Carrara offers. With its elegant design and strong performance, the ASRock Taichi Carrara AM5 motherboard is a worthy contender for those seeking a premium AM5 motherboard for their high-end PC builds.
RATINGS:
VRM Design: 10/10
Features: 9/10
Aesthetics: 8.5/10
Value for Money: 8.5/10
Overall Rating: 9/10
3. ASRock X670E Steel Legend – The Best Budget Motherboard for the AMD Ryzen 9 7950X
Form Factor: ATX | Chipset: X670E | VRM: 16+2+1 Phase | Memory: 4x DIMM, 128GB, DDR5-6600+ | Video Outputs: 1x HDMI, 1x DisplayPort | USB Ports: 12x rear IO, 5x internal | Network: 1x 2.5 GbE LAN, 1x 1GbE LAN, 1x WiFi 6E, Bluetooth 5.2 | Storage: 4x M.2, 4x SATA
Pros:
Top-of-the-line VRM power delivery
Dual Ethernet ports
Included GPU holder
Abundant USB ports
Cons:
The design is not very attractive
Odd PCIe layout choice
I'd say that ASRock is pretty bold to call this motherboard a legend, but I don't think they are quite off on that. My pick for the best budget motherboard is yet another entry from ASRock – the ASRock X670E Steel Legend.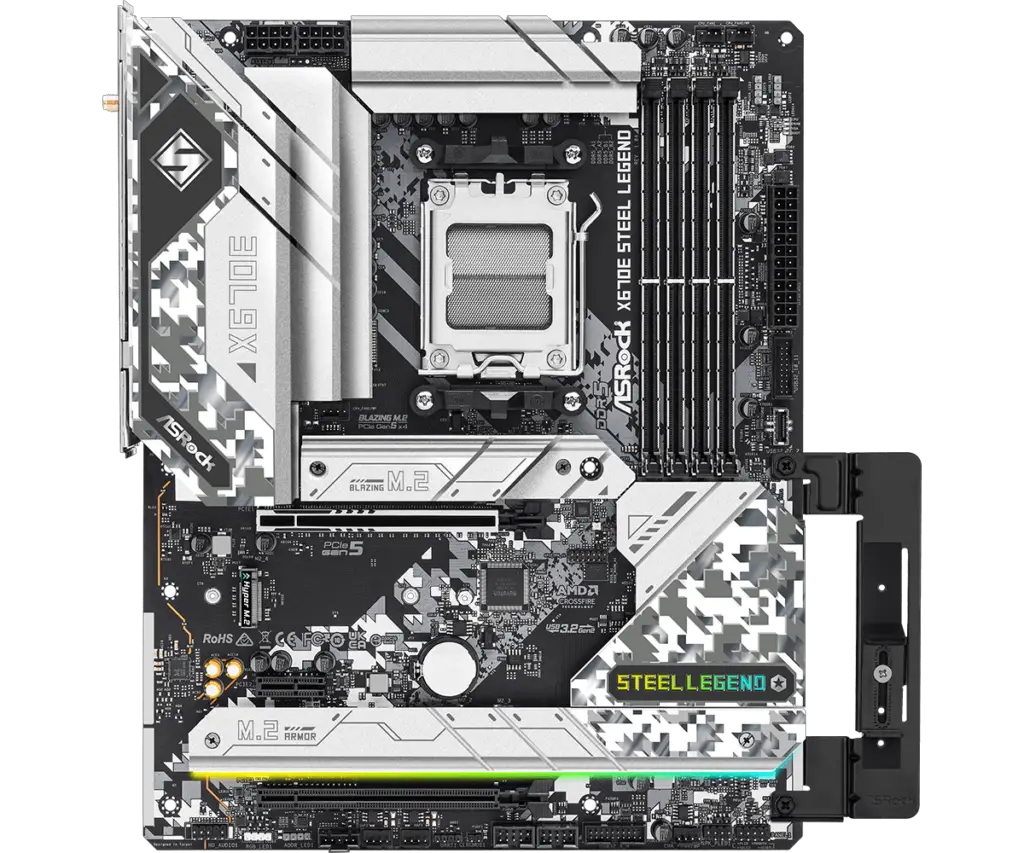 What makes this one of the best budget motherboards available in the market is that this board is complete with all the necessities. It has an excellent VRM design (16+2+1 Phase at 60A) so running the 7950X at high clocks won't be an issue.

A rather rare feature of the Steel Legend is its 2 ethernet ports, one being 1Gb and the other 2Gb. This board also comes with quite a number of USB ports – I counted a total of 12 in the back with support for 5 more in the front. Perhaps my favorite feature of the ASRock X670E Steel Legend is the inclusion of a graphics card holder. This included holder is perfect for giant GPUs like the RX 7900 XTX or the RTX 4090 so that they don't sag. I wish more vendors included this nowadays.

This is truly the best value-seekers board. Reliable power delivery, sturdy board design, overloaded with features, and an excellent price to match – what more can one want?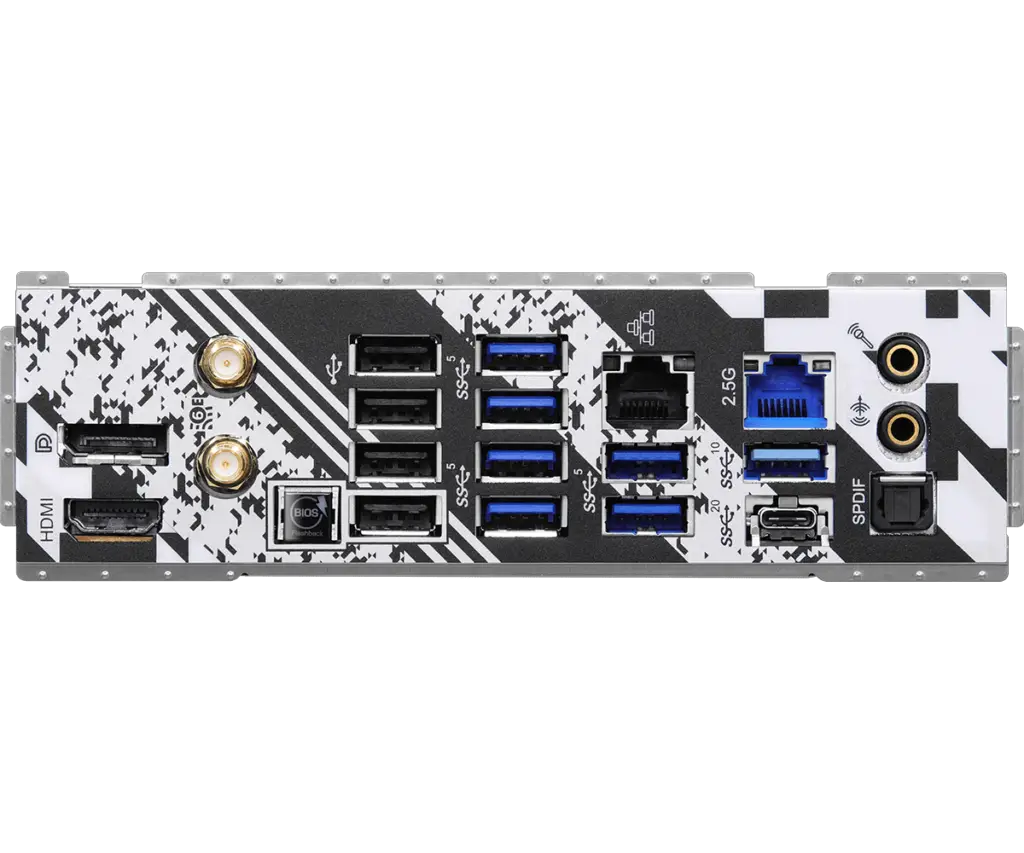 Looking at some of the drawbacks of this board, it has a clunky BIOS which is usual for ASRock boards and I do not find the design attractive. It also lacks a substantial audio interface even though the board is kitted with a premium SteelSeries Nahimic audio driver. And while the main PCIe x16 slot is Gen 5, the other slot is Gen 3, not even Gen 4, which seems quite unbalanced. This is even stranger because this board has 3 Gen 4 M.2 slots along with a Gen 5 M.2 slot. It would have been better if both slots were Gen 4 instead, but then this would be an X670 board and not an X670E board. Or at least run the Gen 5 slots at x8 when both are in use.
For around the price of the ASRock X670E Steel Legend, the other boards we considered that offer a similar experience are the Gigabyte X670 Gaming X AX and the MSI Pro X670-P WiFi. We also saw a handful of boards from Asus and ASRock themselves.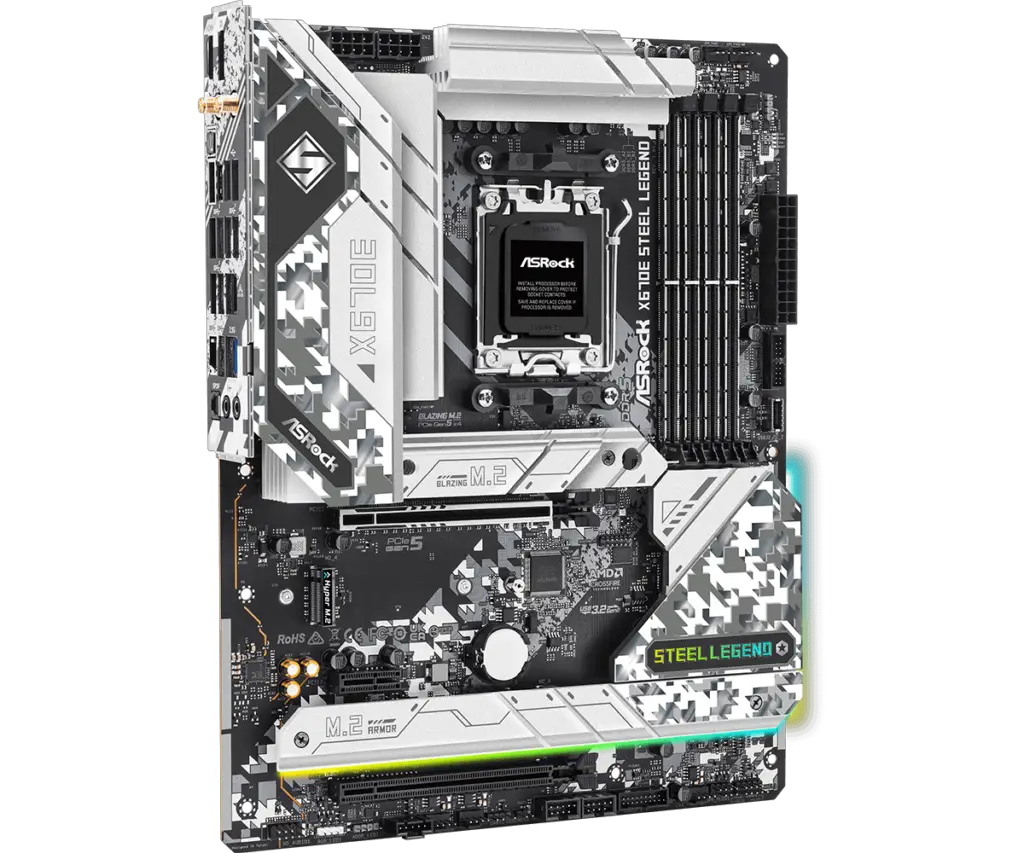 In the end, we went with the ASRock X670E Steel Legend over the other affordable X670 boards. All of these boards can comfortably supply power to the 7950X to run at higher clocks, but it came down to features. Unlike the Steel Legend, most boards in this price range don't offer Gen 5 support on the x16 slot. All in all, we needed a board that would yield the most value. Being a budget board does not mean that it just needs to be cheap and cut corners.
We really wanted to recommend the Gigabyte X670 Gaming X AX as the budget option for the 7950X. Right now, the price of the Steel Legend is just $30 more than the Gaming X and it overshadows the Gaming X in terms of features.
RATINGS:
VRM Design: 8.5/10
Features: 9/10
Aesthetics: 8/10
Value for Money: 9.5/10
Overall Rating: 9/10
Form Factor: Micro ATX | Chipset: X670E | VRM: 16+2+1 Phase | Memory: 2x DIMM, 64GB, DDR5-6400+ | Video Outputs: 1x HDMI, 2x USB4 Type-C | USB Ports: 8x rear IO, 5x internal | Network: 1x 2.5 GbE LAN, 1x WiFi 6E, Bluetooth 5.3 | Storage: 2x M.2, 2x SATA
Pros:
Top-of-the-line VRM power delivery
Excellent storage options
Thunderbolt 4 support
Excellent audio drivers and interface
Cons:
High price point
Max supported RAM is 64 GB
When building a high-performance small form factor PC, we tend to look for ITX options and overlook the Micro ATX options. When I was looking for the best Micro ATX boards for AM5 that can power the 7950X, I was left empty-handed. There aren't any capable X670E or X670 motherboards in a Micro ATX form factor. Thankfully, Asus came to the rescue and saved the day with their Asus ROG Crosshair X670E Gene motherboard.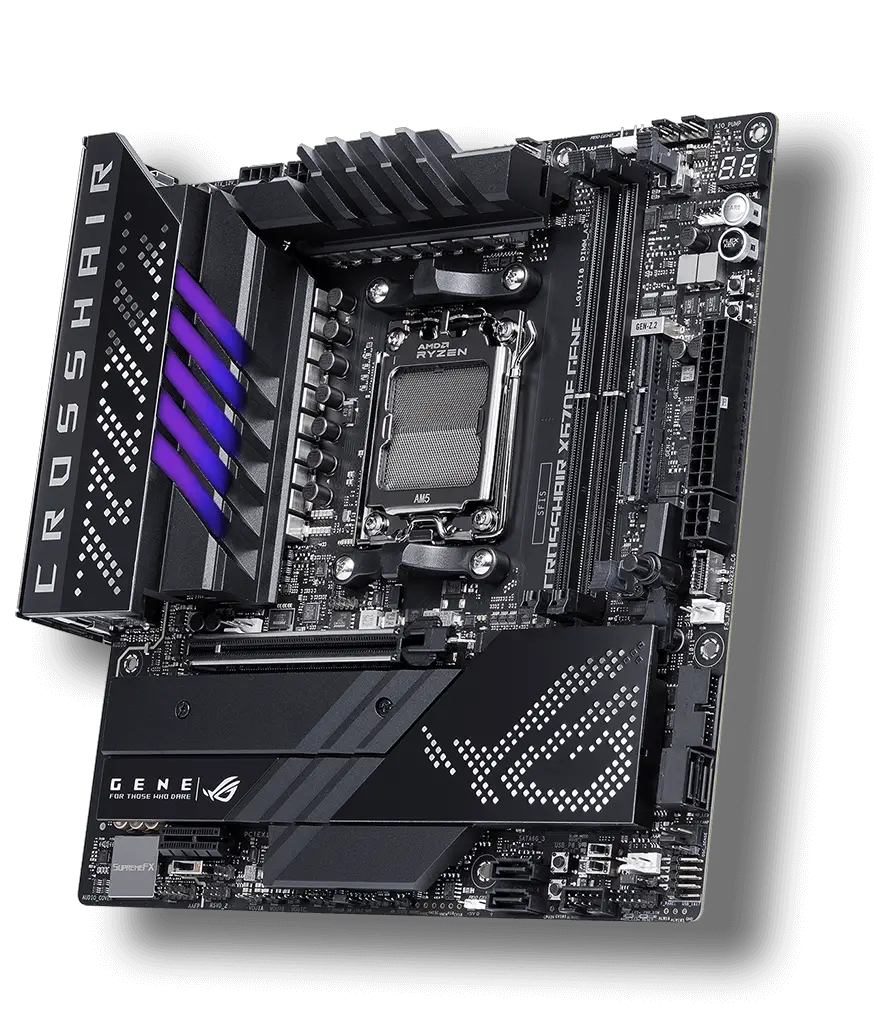 The ASUS ROG Crosshair X670E Gene is a force to be reckoned with. Packing a 16+2+1 110A VRM, it is more than ready to house the 7950X without compromises. The X670E Gene will have no issues powering any AM5 CPU, including the 7950X, even in the long future.
For a Micro ATX board, it packs a lot of features like bigger ATX and E-ATX boards while being much smaller in size. The I/O is rich with 8 USB 3.2 ports, and 2 USB 4.0 ports that support Thunderbolt 4, and it even has a BIOS flash and CMOS clear button on the top of the rear I/O so you don't need to open your case if needed.
Perhaps one of the most underrated features of this board is its excellent audio interface – a feature many boards tend to skimp on because manufacturers expect buyers to use external USB DACs or PCIe sound cards. But due to limited space, there may not be enough PCIe slots for that so Asus decided to jampack this board with great onboard audio so that you have one less thing to worry about.
There aren't any Micro ATX motherboards with the X670E chipset, and when I was looking for a decent B650/B650E board that can power the 7950X, I couldn't find one that didn't compromise on something. The only option I considered was the Gigabyte B650M Aorus Elite AX. It is a significantly more affordable board with a great set of features, but it has a much weaker VRM that will not be able to provide enough power to the 7950X to run at past stock settings, while the Asus ROG Crosshair X670E Gene has no issues overclocking the 7950X way past 5.5 GHz.
This leads us to my gripe with the Asus ROG Crosshair X670E Gene which is its price. It is one of the pricier motherboards for the 7950X and you can pick a similarly capable ATX or E-ATX board for less. On top of that, it only has 2 DIMM slots that support a maximum of 64 GB of RAM, unlike almost every other board that can support up to 128 GB. I understand that the vast majority of people would not be able to utilize even 64 GB of RAM. However, at such a high price, a "non-compromising" motherboard should have support for more RAM.
All things considered, there is no board like this at all. The Asus ROG Crosshair X670E Gene makes up for its expensive price tag by leaving nothing else to be desired like plenty of M.2 slots, PCIe Gen 5 support, error code LED, a no-compromises powerful VRM design, and one of the best I/O options. All the benefits of the bigger boards with the benefit of being closer in size to ITX – truly the best of both worlds.

RATINGS:
VRM Design: 9/10
Features: 9/10
Aesthetics: 8.5/10
Value for Money: 7/10
Overall Rating: 8.5/10
FAQs
What is the difference between X670 and X670E? Both X670 and X670E chipsets are identical except for one key difference – The X670 chipset has only 4 PCIe Gen 5 lanes while X670E has 20.

What factors should I consider when choosing a motherboard for the Ryzen 9 7950X? When choosing a motherboard for the Ryzen 9 7950X there are some key factors that you need to consider. The most important factors are:

VRM configuration – get a motherboard with at least a 10-phase 60A VRM design.
Chipset – for optimal performance and features, get a motherboard with X670E.
Storage options – X670E boards should have one full-sized x16 slot that is PCIe Gen 5 and should have at least 2 M.2 SSD slots (one being PCIe Gen 5 at least and the other Gen 4 at least)
Connectivity – The motherboard should have several USB ports with a few of them at USB 3.2 speeds. Do not consider boards that don't have at least one 1 gigabit ethernet port. Additionally, almost every motherboard comes with WiFi 6E.
On a personal level, you can decide based on form factor (ATX, E-ATX, Micro ATX, or Mini ITX), aesthetics, and value for money.
What is the importance of the VRM design in a motherboard? The VRM (Voltage Regulator Module) is the most crucial part of the motherboard. It determines the motherboard's ability to deliver power to the CPU, especially when overclocking. More phases means a smoother power delivery and more amps means a higher total current throughput.

Can a B650 motherboard handle the Ryzen 9 7950X? The B650 chipset is fully compatible with the AMD Ryzen 9 7950X for general use but pairing the 7950X with a B650 board is not advised at all. Almost all B650 boards have a VRM design strong enough to support the 7950X but they will not have room for overclocking.

What VRM configuration does the Ryzen 9 7950X need? A 7950X processor running at 5.5 GHz or higher may need almost 300A of total current. Any 8-phase VRM with 50A current each will be at full usage. The minimum VRM configuration should be at least a 10-phase 60A VRM which is pretty common.
Latest posts by Talha Zuberi
(see all)