Every year, games continue to amaze us with improvements in gameplay, level design, and of course, graphical fidelity. As the best gaming monitors these days are cheaper than ever before, an enjoyable gaming experience is now accessible to more people. Of course, there are a lot of potential options to choose from, and it can all get a bit daunting for the unaware.
Fortunately, we've got you covered. This guide covers three of the best gaming monitors that you can buy right now. Sure, there are a lot more options to pick from, but our picks should give you a good idea of what to expect across different budgets. Here are the best gaming monitors in 2023.
Our Top 3 Best Gaming Monitor Picks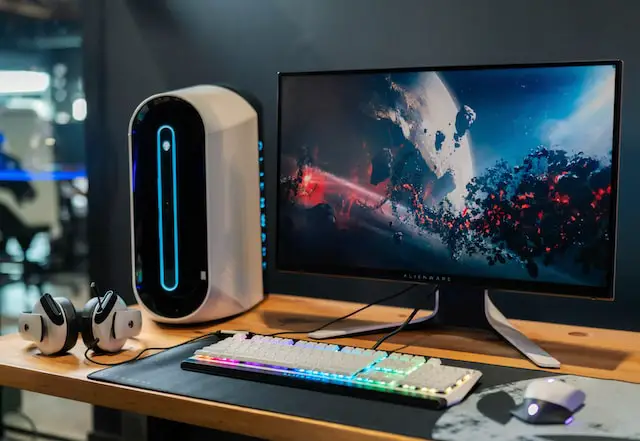 Screen Size: 28-inches | Resolution: 3840 x 2160 | Refresh Rate: 144Hz | Panel Type: IPS | Response Time: 1ms (G2G) | Aspect Ratio: 16:9 | Brightness: 400 nits | HDR Tier: HDR 400
Pros
Superb 4K panel

Fast response time

Competitively priced

Excellent image quality

Best for high-end gaming PCs
Cons
First up on our list is Samsung's Odyssey G70A monitor. Samsung has been making waves lately with their more outlandish gaming monitors such as the Ultrawide Odyssey G8 and "Super Ultrawide" Odyssey CRG9.
Compared to those monitors, the G70A might seem a bit tame in comparison. However, considering this is a high refresh rate 28-inch 4K panel, this is as high-end as it gets at this price. The G70A 4K is a monitor that pairs nicely with high-end builds, especially if your PC can push out high framerates at 4K.
So, what do we have on offer with this one? Well, for starters, you're getting a 28-inch IPS panel that features excellent color reproduction and viewing angles. IPS panels are better than their TN counterparts in terms of colors and image quality. What makes them even better today is the fact that newer IPS panels are even better for competitive gaming.
A couple of years ago, IPS panels had a higher response time, which would cause ghosting. This aspect can be a major dealbreaker for competitive gamers, where every frame counts. Fortunately, the G70A 4K does not have this issue. This monitor features the utmost clarity, even at higher framerates.
It also handles ghosting quite well, thanks to the low 1ms grey-to-grey response time. On top of that, it also supports Nvidia G-sync and AMD Freesync.
Of course, you'll need to pair this monitor with a gaming PC that can do it justice. Fortunately, we have put together a few builds recently that can do just that.
Apart from the excellent 4K IPS panel, you also get a 144Hz refresh rate. However, keep in mind that you will need quite a powerful graphics card to handle high frame rates at that resolution. We recommend the RTX 3080 if you can find that for a good price. Sure, the 4080 is great as well, but it's hard to find right now and a bit overpriced.
Moving on, this monitor is also great in terms of brightness and contrast levels. It features 400 nits of brightness, so it is HDR400 certified. Of course, that's not as good as Samsung's other monitors that feature true HDR with 1000 nits brightness, but those products are almost triple the price of this one anyway.
Finally, this monitor is great for both productivity and gaming. The 28-inch of screen real estate is plenty for most people, and most competitive gamers don't want to go any higher anyway. This is because while a Super-Ultrawide monitor sounds great in theory, it's not the most practical.
So, the question then becomes how it fares well to other monitors on this list. Well, despite the price, it does surprisingly well. The fact that you're getting a high-end 4K monitor at this price is quite a bargain. Sure, not everyone will be able to afford it, but compared to the upcoming OLED and QD-OLED monitors, the value here is much better.
All in all, this is a highly impressive gaming monitor. It's also a worthy upgrade if you have been playing at 1440p or 1080p for a while. The first time you get to experience a game with excellent ray tracing in 4K, it's hard to go back. We highly recommend it.
Screen Size: 34-inches | Resolution: 3440 x 1440 | Refresh Rate: 175Hz | Panel Type: QD-OLED | Response Time: 1ms | Aspect Ratio: 21:9 | Brightness: 1000 nits | HDR Tier: HDR 1000
Pros
QD-OLED is a sight to behold

True HDR support

Excellent brightness and contrast

Ultrawide aspect ratio
Cons
Pricey for the average gamer
Remember those outlandish monitors we mentioned just a few moments ago? Well, this is definitely one of them. While the Alienware AW3423DW might be the most expensive monitor on this list, some might say the high price tag is warranted. That's simply because, in terms of immersion, this is one of the best displays you can buy.
That means that it works well with high-end PCs. You might want to pair it with an RTX 3080 and Intel's newest 13th Gen processors that can take advantage of the new Z790 platform.
The main reason behind that is the QD-OLED panel. If you're not familiar with QD-OLED, don't worry as it is a relatively new technology. First, let's talk about how regular OLED works.
Regular OLED panels use a blue pixel coated in a yellow phosphor to make white light. Then, a color filter produces red, green, and blue colors from that white light. From those primary colors, you can recreate any color you want. However, the color filter saps the display's brightness, and this is why OLED panels use a white sub-pixel to brighten the panel again.
This works well, and thanks to OLED's deep blacks, these panels are favored by users and critics alike. QD-OLED displays also use blue pixels but instead of yellow phosphor, they use a quantum dot sheet in front of the pixels. This is how QD-OLED panels produce color.
Since there is no color filter, these panels are brighter, and that is exactly what makes this Alienware monitor so impressive. Dell was quick to jump on this technology, and it worked well in their favor. If you're still unsure of the benefits, let's take a look at a few reasons why this display is ahead of the curve.
First off, this monitor is extremely bright at 1000 nits and features true HDR 1000 support. The panel also covers 99% of the DCI-P3 color gamut, meaning it is a highly color-accurate display. Furthermore, the contrast levels are amazing with this monitor, thanks to the deep blacks.
So, safe to say, this monitor is great for media consumption, playing games, and productivity. It also helps that it has an Ultrawide 21:9 aspect ratio, meaning movies and games look incredibly immersive when running natively at 21:9. The fact that this is a 34-inch display means you also get plenty of screen real estate for productivity.
There's still more to it. It features a 175Hz refresh rate, a 1ms response time, and highly impressive image clarity even during tense gameplay. It's a superb gaming monitor, and also works well for streaming thanks to the gigantic screen size. Of course, it also features G-sync support.
So, this beast of a monitor sure is expensive but might be worth it to enthusiasts who want the best display out there right now. Of course, the LG monitor below and the Samsung one above are more practical, but if you're looking for something more premium, then this is it.
Screen Size: 27-inches | Resolution: 2560 x 1440 | Refresh Rate: 144Hz | Panel Type: IPS | Response Time: 1ms | Aspect Ratio: 16:9 | Brightness: 350 nits | HDR Tier: N/A
Pros
Excellent overall value

Great image quality

Fast yet buttery smooth

Works well with laptops
Cons
Could be a bit brighter

Included stand is not the best
Last but certainly not least, we have the LG UltraGear 27GN800-B. It's easy to get caught up in the latest and greatest displays, but let's not forget that you can now buy a pretty decent gaming monitor for cheap. While this UltraGear monitor may not be as impressive as the Samsung and Alienware displays above, it is a great display nonetheless.
If you are someone who is putting together a value-focused gaming PC, then this monitor will pair nicely with it. A 1440p resolution is still the sweet spot for gamers in 2023, as it's easier to drive than 4K, and still gives you a lot of image clarity at this screen size.
So, what are you getting with this monitor? Well, to start things off, this monitor uses one of the best IPS panels out there. This panel is made in-house by LG and they are known for making great TV and monitor panels. So, rest assured, this is the best you can get quality-wise.
The monitor provides you with 27 inches of screen real estate, which is plenty for both productivity and gaming. It's a good step up from a 24-inch monitor, but still practical enough that you can use it for competitive gaming. As mentioned before, the monitor features a 1440P QHD resolution.
Apart from that, you're getting a 144Hz refresh rate, and considering even some budget gaming PCs these days can push out high framerates on titles like Overwatch and Apex Legends, you should have no issue playing in 1440p at over 100fps.
That's where this monitor truly shines. Whether you want to play competitive titles or immersive experiences like Red Dead Redemption 2, this monitor won't slow you down. It features a 1ms response time, meaning the panel is not plagued by ghosting or other issues while you are moving around in-game.
It's also good in terms of brightness and contrast, thanks to the IPS panel. Furthermore, the viewing angles are also great. To top it all off, the panel also works with Freesync and G-Sync, so screen tearing should not be an issue.
In comparison to the other two monitors on this list, this one is not nearly as bright, maxing out at 350 nits. Still, if you don't care about HDR content, that should be enough for gaming and general use.
Other great things about this monitor are a bit underrated. For example, LG's OSD menu is easy to navigate, and you can really fine-tune the settings to get a better experience. It has USB ports on the back, can easily connect to a laptop and features a stealthy design.
The only real downside is the fact that the stand is a bit wobbly. This can be easily fixed by VESA mounting it to a better monitor arm, but it's a bit annoying that this was an issue in the first place. Apart from that and the somewhat average brightness, we have no real grievances with this one.
In conclusion, this is an excellent gaming monitor, and probably the one that's the most practical for our audience. While the Dell and Alienware displays above are impressive, this is a better alternative for those on a tighter.
Of course, we'd like to end this by saying that you could always go even cheaper. High refresh rate 1080p displays are cheaper than they've ever been, and they work well with an entry-level gaming PC. Still, if you want to play games at 1440p, then this is your best bet.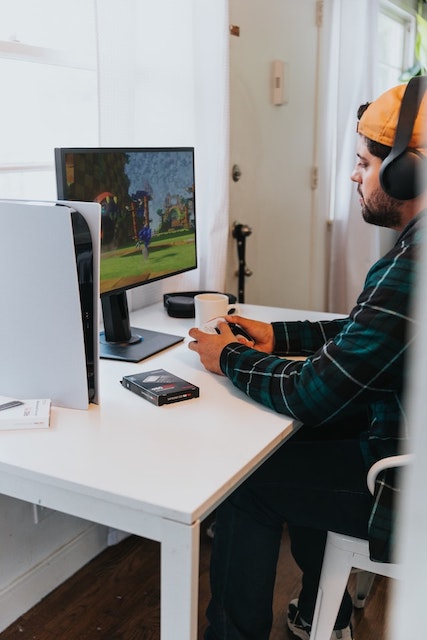 Latest posts by Konstantinos Chiotis
(see all)