As an Amazon Influencer, we earn from qualifying purchases you might make if you click any of the links on this page.
Are you trying to find the Best Motherboards for i7 12700K?
The Intel Core i7 12700K is one of the most powerful gaming CPUs on the market, so it's important to choose a motherboard that allows for the effective use of its capabilities. To achieve this goal, we devised a rigorous list of parameters for the motherboards considered for this roundup.
For a high-end system based on the Core i7 12700K, the motherboards we selected ought to have the latest system capabilities for connection and storage. The main priority was given to features like networking capabilities, connectivity, and the availability of M.2 expansion slots for storage.
Since the VRM layout of the motherboards has a major impact on performance, especially when overclocking the Core i7 12700K, it was one of the main things we looked into. In this respect, the number of phases and the quality of their components are equally significant. For the purpose of evaluating the VRM stability under prolonged load, we gave preference to motherboards that had an efficient cooling system.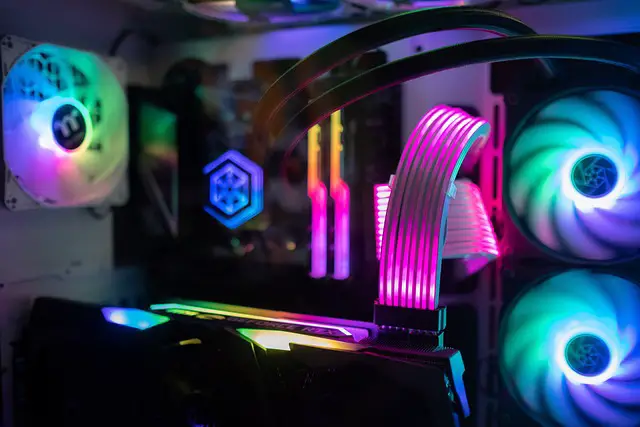 Aesthetic appeal, albeit subjective, is quite crucial to most buyers, therefore we took that into account when evaluating the motherboards. Regarding the design, we made sure to include any significant consumer opinions in the reviews, whether positive or negative.
At the end of the day, the value proposition of each motherboard was our top priority. Our search was for the best-performing, as well as the most cost-effective motherboards for the Core i7 12700K. Naturally, we evaluated several different price brackets for this purpose.
We've used these standards to list the best motherboards on the market for the i7 12700K. Let's begin.
Before moving on make sure you check the following detailed tutorial on how to choose the best motherboard for you: How To Choose The Right Motherboard For Your Needs: A Comprehensive Guide
Best Motherboards for i7 12700K – Our Picks
ASUS ROG Strix Z690-A Gaming – Our Top Choice
ASUS ROG Maximus Z690 HERO – Best High-End Motherboard for i7 12700K
MSI Pro Z690-A WiFi – Best Budget Motherboard for i7 12700K
Form Factor: ATX | Chipset: Z690 | VRM: 16+1 Phase | Memory: 4x DIMM, 128GB, DDR5-5333 | Video Outputs: HDMI, DisplayPort | USB Ports: 10x rear IO, 7x internal | Network: 1x 2.5 GbE LAN, 1x WiFi 6 | Storage: 4x M.2, 6x SATA
Pros:
Striking White Design
Excellent Value Proposition
Reliable Power Delivery
Superior Networking Features
Eye-catching RGB Integration
Cons:
Average VRM Cooling
Slightly Slower DDR5 Speeds
The ASUS ROG Strix Z690-A, a mid-range Z690 motherboard, is an ideal blend of performance and affordability, making it a top choice for gamers and enthusiasts alike who are looking for the best motherboard to pair with the intel core i7 12700k. With only a few minor trade-offs, it delivers an impressive overall package that caters to users who prioritize high-quality components and design.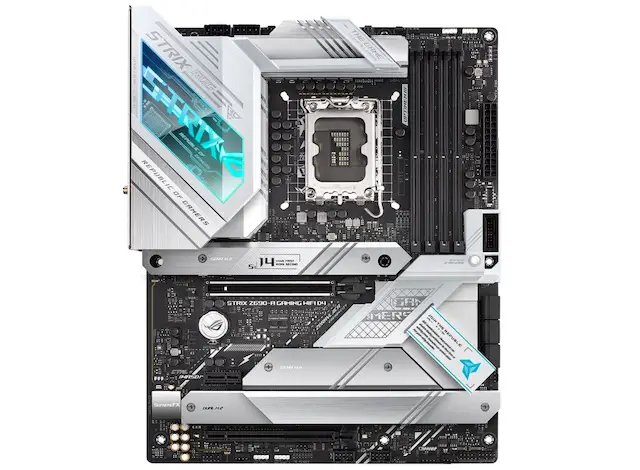 Power delivery is a key aspect of any motherboard, and the ROG Strix Z690-A excels in this department. Its 16+1 phase VRM design is tailored for Intel's Alder Lake platform, supporting even the most demanding processors like the i7 12700K or even the i9 12900k. Even overclocking is a breeze, thanks to the high-quality components and comprehensive cooling solutions that strengthen its capabilities.
The motherboard boasts Intel WiFi 6 and 2.5 Gbps LAN for speedy networking, allowing users to experience faster download speeds and reduced latency during online gaming sessions. Along with ten rear USB ports (including two USB 3.2 Gen 2 ports) for various connectivity options, the Z690-A offers a versatile platform for users to connect multiple peripherals and external devices.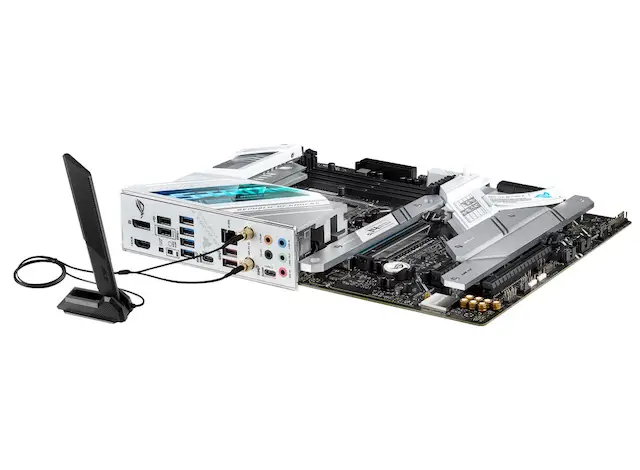 Additionally, the board shines with numerous features that cater to gamers and PC enthusiasts. With four M.2 slots, it supports increased storage capacity and rapid data transfers through high-speed NVMe drives. The inclusion of these slots ensures that users can take advantage of the latest storage technology advancements, making their PC more future-proof.
However, the default memory compatibility speed of 5333 MT/s for DDR5 is somewhat lower than its rivals. While this might not be a deal-breaker for most users, it's worth considering if maximum memory performance is a priority.
Alternatives like the ROG Strix Z690-E or the Z690-F variant from the same lineup offer slight variations in design and feature sets, but neither surpasses the Z690-A in terms of overall value and performance. The Z690-E is quite similar to the Z690-A, with the primary difference being the color scheme. The Z690-F, on the other hand, is a more lightweight option in terms of features compared to the other two.
Perhaps the most alluring aspect of the ROG Strix Z690-A is its distinctive design and color scheme. The white and black base is accented with tasteful blue highlights, creating a truly eye-catching look. This uncommon color combination on a ROG board is truly unique and refreshing in a world where motherboard designs often seem repetitive and uninspired.
Customizable RGB lighting, controllable via Aura Sync software, adds an extra touch of flair to the already striking design. With multiple RGB zones , users can personalize the look of their PC build.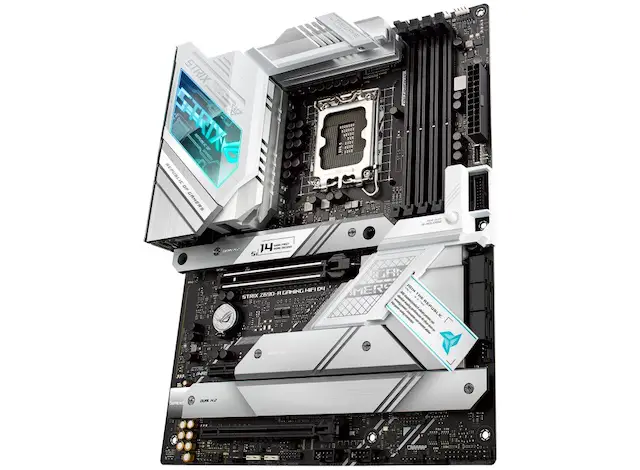 For audio the Z690-A leverages the SupremeFX ALC4080 codec to deliver an immersive sound experience. This ensures that gamers can enjoy crystal-clear audio during their gaming sessions, further enhancing the overall experience and making it an ideal choice for multimedia enthusiasts as well.
Moreover, the board comes with a user-friendly BIOS interface, making overclocking simple even for beginners users. This is another strong selling point for the Z690-A, since it enables enthusiasts to get the most out of PC with minimal hassle. The BIOS also offers a wide range of options for tweaking system performance and customizing various settings.
To top it off, the ASUS ROG Strix Z690-A offers a robust software suite, including Armoury Crate, which centralizes system management and customization. This allows users to easily monitor and control various aspects of their system, such as RGB lighting, fan profiles, and performance settings, all from a single, intuitive interface.
In conclusion, the ASUS ROG Strix Z690-A masterfully balances performance, aesthetics, and value, making it an excellent choice for those building a high-end gaming PC with the 12700k. If you're in the market for a mid-range Z690 motherboard to pair with the 12700k that doesn't skimp on performance or style, the ASUS ROG Strix Z690-A should be your top choice.
Form Factor: ATX | Chipset: Z690 | VRM: 20+1 Phase | Memory: 4x DIMM, 128GB, DDR5-6400 | Video Outputs: HDMI | USB Ports: 11x rear IO, 9x internal | Network: 1x 2.5 GbE LAN, 1x WiFi 6E | Storage: 5x M.2, 6x SATA
Pros:
Exceptional Storage Choices
Sturdy VRM Configuration
Thunderbolt 4 Support
Diverse Networking Options
Eye-catching RGB Illumination
Cons:
Steep Price
No DisplayPort
The ASUS ROG Maximus Z690 Hero stands out as the top-tier Z690 motherboard we've had the pleasure of reviewing thus far. This high-end masterpiece carries a significant price tag, but it's well worth it for its impressive array of features and outstanding performance. Its unique combination of top-notch components and an unmatched VRM design makes it our top choice for the best high end motherboards for the i7 12700K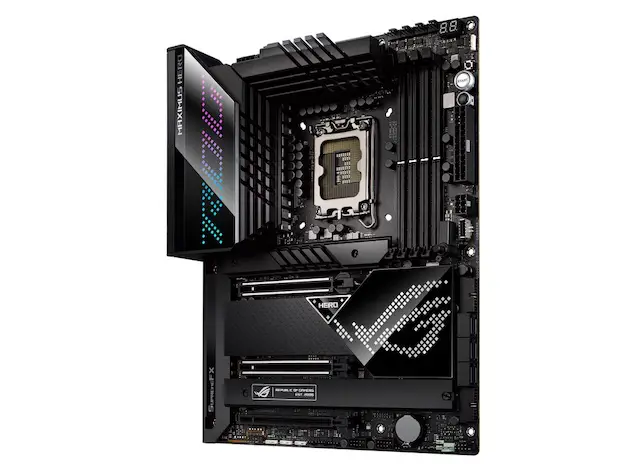 Sporting a 20+1 phase design with premium-grade components, the VRM on the ASUS ROG Maximus Z690 Hero is nothing short of exceptional. Further bolstered by active cooling through two sizeable heatsinks connected by a heat pipe, the VRM can deliver a staggering 600 watts of power to the CPU, making it the perfect choice for overclocking enthusiasts.
When it comes to reliability, the VRM adheres to Intel's VRD12 specifications, ensuring clean and stable power delivery to the CPU even under high-frequency operation. This power delivery setup can comfortably handle the likes of a Core i7 12700K or i9 12900k during competitive overclocking sessions.
We prefer the ROG Maximus Z690 Hero to pricier Maximus options, such as the Z690 Extreme, due to its superior price-to-performance ratio. Another competitor, the MSI Z690 GODLIKE, is also a high-priced alternative that's worth considering.
The Maximus Z690 Hero also graces our list of the finest motherboards for the i9 12900K – and rightly so.
Beyond its performance capabilities, the ASUS ROG Maximus Z690 Hero is a feature-rich motherboard catering to gamers and various users alike. Boasting five M.2 slots for storage and support for up to six SATA drives, it offers an impressive amount of storage options. The addition of WiFi 6 networking and a 2.5 GbE LAN port ensures high-speed connectivity for all your needs.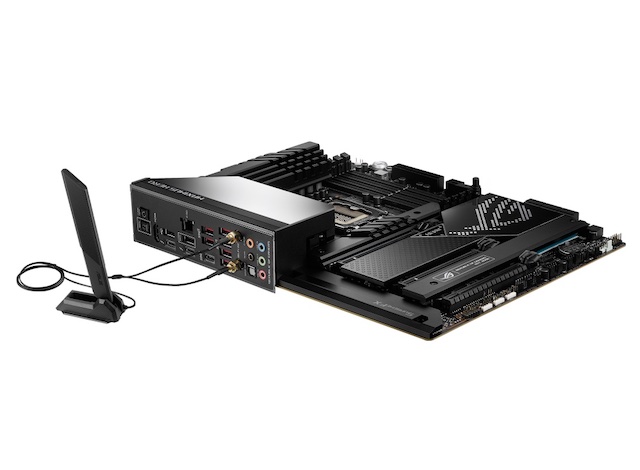 Moreover, the motherboard sports a generous eleven rear USB ports, including multiple USB Type-C connections. The ASUS ROG Maximus Z690 Hero also incorporates advanced features such as Intel's Thunderbolt 4 compatibility and an integrated OLED display. However, the absence of a rear DisplayPort output may be an inconvenience in certain diagnostic situations.
In terms of aesthetics, the Maximus Z690 Hero is a stunning piece of hardware, showcasing a sleek design that commands attention. The black and white color scheme is accentuated by customizable RGB lighting, giving it a touch of elegance.
The I/O shield, chipset heatsink, and M.2 SSD heatsink all showcase a matte black finish, with the ROG theme tying it all together. The glossy motherboard I/O cover is a nice contrast, and the retro design of the ROG logo adds a unique touch to any gaming setup.
In conclusion, the ASUS ROG Maximus Z690 Hero ranks among the elite when it comes to high-end motherboards. Brimming with premium features and offering outstanding VRM performance, even with the most demanding CPUs, it's a force to be reckoned with.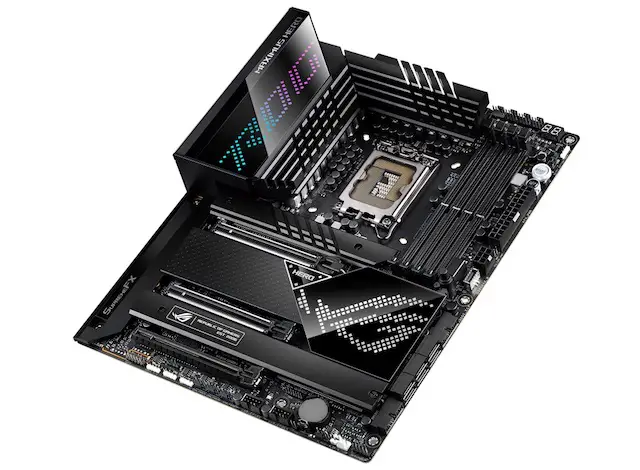 The only area where it slightly lags behind its competition is in terms of value for money. Nonetheless, if you're on the hunt for the absolute best high-end motherboard that money can buy, look no further than the ROG Maximus Z690 Hero. Its top-tier performance, stunning design, and extensive feature set make it a worthy addition to any high-performance 12700k build, solidifying its place at the top of your considerations.
3. MSI Pro Z690-A WiFi – Best Budget Motherboard for i7 12700K
Form Factor: ATX | Chipset: Z690 | VRM: 8+4 Phase | Memory: 4x DIMM, 128GB, DDR5-6400 | Video Outputs: HDMI, DisplayPort | USB Ports: 6x rear IO, 9x internal | Network: 1x 2.5 GbE LAN, 1x WiFi 6E | Storage: 4x M.2, 6x SATA
Pros:
Wallet-friendly
Robust Networking Capabilities
Generous Storage Options
Cons:
Mediocre VRM Design
Lacks RGB Lighting
Scarce Rear USB Ports
Unremarkable VRM Cooling
If you're in search of an affordable yet reliable motherboard for the i7 12700k, look no further than the MSI Pro Z690-A WiFi. While it does have its fair share of compromises, it holds its ground as a respectable Z690 choice for those on a budget.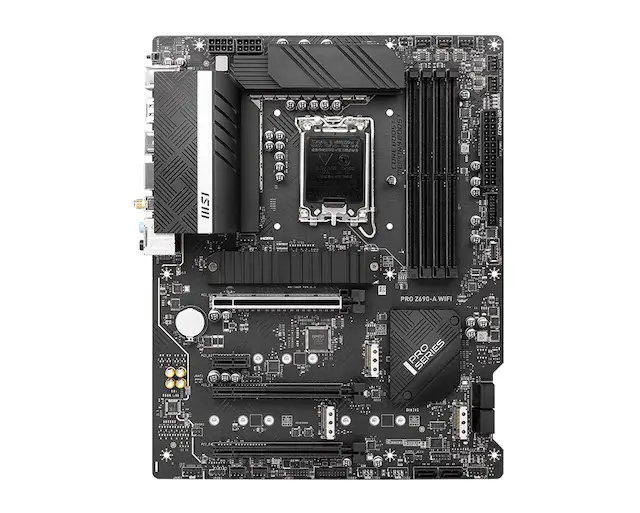 Starting with its VRM, the MSI Pro Z690-A WiFi is well-equipped to handle a wide range of CPUs, even an out-of-the-box 12900K. The 8+4 phase VRM components are made from high-quality materials, ensuring stability and performance. The cooling solution, consisting of sizable heatsinks, effectively dissipates heat to maintain optimal temperatures.
Despite the VRM's ability to remain cool under heavy workloads, it's worth noting that it might struggle when faced with an overclocked i9 12900K for extended durations. This limitation should be considered if you plan on pushing your system to its limits.
In terms of features, the MSI Pro Z690-A WiFi demonstrates its gamer-focused design. With 2.5 Gigabit LAN and WiFi 6E, it ensures fast and reliable network connectivity for online gaming and content streaming. Additionally, the motherboard provides ample storage possibilities with four M.2 slots and six SATA ports, allowing users to customize their storage configurations to suit their needs.
However, the board falls short in the connectivity department, offering only six rear USB ports—a relatively low count for a modern Z690 motherboard. While internal headers can extend your options, having more high-speed USB ports on the rear I/O would have been a welcome addition for users who require multiple peripheral connections.
Aesthetically, the MSI Pro Z690-A WiFi sports a sleek and minimalist design with a black and white color scheme, accentuated by silver touches. It complements stealthy black builds nicely, but might appear mismatched in more vibrant gaming setups.
A notable downside is the absence of RGB lighting, so if RGB customization is a priority for you then you should pick another motherboard.
In terms of competition, the ASUS PRIME Z690-P is similarly priced but it falls short when it comes to the overall feature set and VRM design. The MSI Pro Z690-A's superior VRM design gives it a clear edge.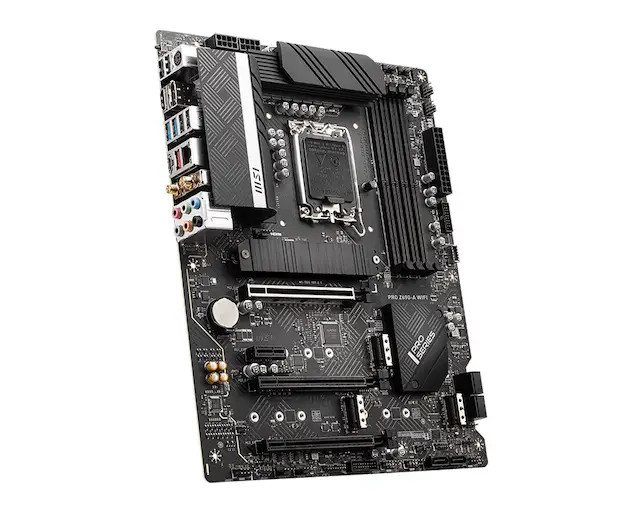 In conclusion, the MSI Pro Z690-A WiFi is a budget-friendly Z690 motherboard that ticks many boxes for gamers who want to stretch their dollar. Although it makes some concessions in areas like VRM cooling and rear USB port availability, its overall performance and feature set are commendable for its price range.
This makes it a solid consideration for most PC builders, especially those looking for a stealthy black motherboard to match their gaming setup. If you can overlook the lack of RGB lighting and are willing to work with its limitations, the MSI Pro Z690-A WiFi is an excellent choice for your next budget gaming build.
Latest posts by Konstantinos Chiotis
(see all)